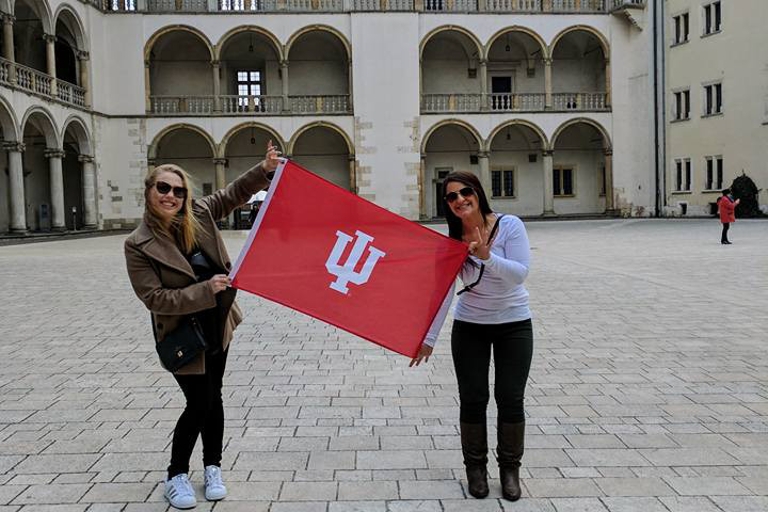 BLOOMINGTON, Ind. – Indiana University is receiving national attention for its commitment to supporting student pursuit of global learning. IU Bloomington ranked seventh among U.S. universities for sending students abroad and 19th in the number of international students, while IUPUI set a campus record for the number of students embarking on study abroad programs.
The Bloomington campus distinction was recognized in the Open Doors 2017 Report on International Educational Exchange, released by the Institute for International Education. At IU Bloomington, 2,720 students attended study abroad programs for 2015-16, the latest school year for which data is available. That marked a 14 percent increase from the previous year and a 26 percent increase from 2012-13. 
At IUPUI, 531 students participated in study abroad programs, a 20 percent increase over 2014-15 and a 48 percent increase over 2012-13. This increase meets IUPUI's 2013 Generation Study Abroad goal of raising study abroad participation by 25 percent – three years ahead of schedule.
"For several years now, IU has pursued a strategic goal of maximizing the number of students who study abroad," said David Zaret, vice president for international affairs. "The increasing numbers, both on the Bloomington and IUPUI campuses, reflect that effort. I am particularly impressed with the variety of innovative study abroad courses developed by faculty members across the campus."
"IU Bloomington's seventh-place national ranking is directly due to the deep commitment of all IU schools and departments to internationalize their students," said Kathleen Sideli, associate vice president for overseas study. "There have been successful efforts to diversify the students as well as their program opportunities along with providing significant financial resources to support their participation.  
"No matter what their major, IU students can find a program to meet their needs – be it a short-term experience embedded in a campus-based course, a semester abroad immersed in another language or a summer internship at an NGO."
Study abroad is a key component of the strategic goal to provide students with real-world global learning experiences, said Gil Latz, associate vice chancellor for international affairs at IUPUI. 
"Study abroad dramatically changes lives and creates the global leaders we need to solve today's greatest challenges," Latz said. "Study abroad teaches students to think in new ways, increases cultural understanding, and helps develop leadership skills, adaptability and independence."
According to university data, students who study abroad are more likely to graduate on time and see higher cumulative GPA and faculty engagement. 
In addition, study abroad alumni are more likely to have a job within a year of graduating, with starting salaries that are higher than the average college graduate.
 IU Bloomington students visited 67 countries in 2015-16; the top three destinations were Spain, the United Kingdom and Italy. The top two schools in terms of number of students participating in study abroad were the College of Arts and Sciences and the Kelley School of Business.
IUPUI students visited 46 countries in 2015-16, with the top three destinations being the United Kingdom, Spain and Germany. The top three schools in terms of number of students participating in study abroad were the Kelley School of Business, the School of Liberal Arts and the School of Science. 
The five IU regional campuses sent a total of more than 300 students abroad in 2015-16, a record for those campuses.
Study abroad is a priority of For All: The Indiana University Bicentennial Campaign, with matching funds set aside by President Michael A. McRobbie for endowed funds for study abroad.