BLOOMINGTON, Ind. – Efforts at Indiana University's Kelley School of Business to foster greater diversity among the Hoosier state's real estate professionals received new support through gifts totaling $500,000 from Indianapolis civic leaders Al and Shary Oak and Lacy M. and Patty Johnson.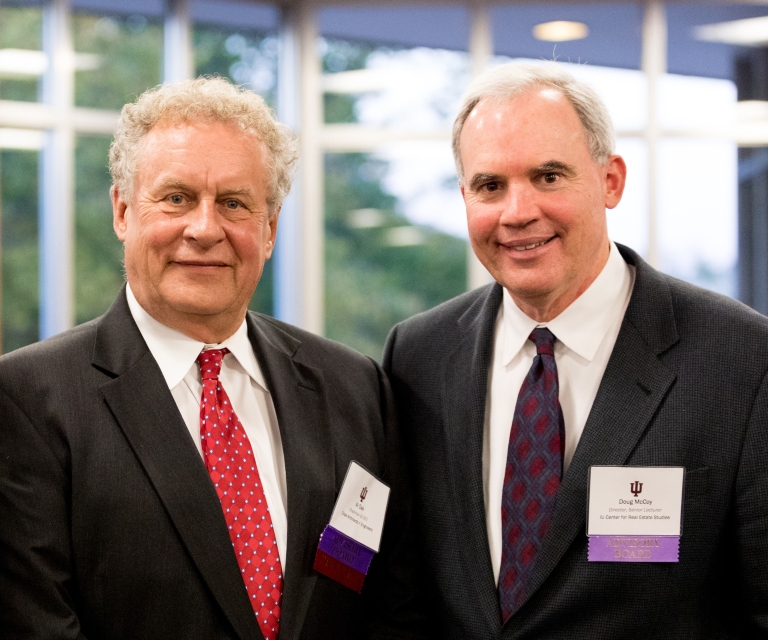 In addition to providing financial support for students during their internships, the gifts also will provide for much-needed programming support and expansion of the real estate workshop at the Kelley School at IUPUI. The directorship for the Kelley School's Center for Real Estate Studies – currently held by Douglas M. McCoy – will be named in the Oaks' honor.
Since 1985, the Center for Real Estate Studies has provided support for a variety of research and educational activities for Kelley students. Directed by McCoy, the center provides students with immersive opportunities to interact with faculty, industry leaders and potential employers, including mentoring activities.
"We're very excited and proud to receive these generous gifts from Al and Shary Oak and Lacy and Patty Johnson," said Idalene "Idie" Kesner, dean of the Kelley School of Business and the Frank P. Popoff Chair of Strategic Management. "The support in naming the directorship will help take our real estate program to the next level. The gifts will also increase diversity, enhancing the experience for all students."
Per the donors' wishes, earnings from the gifts will be used to support students and student education, with special emphasis placed on helping African-Americans or women. This will be done in the form of scholarships and other financial assistance for internship recipients.
Through their gifts, the Oaks and the Johnsons also wish to honor three prominent Hoosiers:
Joyce Rogers, former president and CEO of the Indiana Black Expo and now vice president for development and external relations in the IU Office of the Vice President for Diversity, Equity and Multicultural Affairs.
Sarah Evans Barker, senior U.S. district judge for the southern district of Indiana.
John Tinder, a retired circuit judge of the U.S. Court of Appeals for the 7th Circuit.
Al Oak, who received a Master of Business Administration from Kelley in 1972, is chairman and CEO of Cripe in Indianapolis.
He also serves on the boards of ECO Oxygen Technologies LLC and Old National Bank. He received the Legacy Award from the Center for Real Estate Studies, of which he also serves on the advisory board.
His wife, Shary, is a member of Cripe board of directors. Both are graduates of Purdue University.
"From our perspective, the education and relationships developed as a result of the Kelley experience were exemplary," Al Oak said. "We hope to provide assistance to others, so they may enjoy the same opportunity."
Lacy Johnson, a graduate of the IU Robert H. McKinney School of Law and of Purdue, is a partner at Ice Miller LLP, where he serves as co-chair of the Public Affairs and Gaming Group. He previously served as an attorney in the government relations services practice at Sagamore-Bainbridge Inc.
He was director of security for the Indiana State Lottery, a liaison with the Indiana General Assembly, and lieutenant colonel and deputy superintendent for support services for the Indiana State Police. He is a former lieutenant commander of the U.S. Naval Intelligence Reserves.
Patty Johnson is past president of the Women's Assistance League of Indianapolis, a national women's organization focused on serving the needs of children and adults through ongoing philanthropic programs developed and managed by its members.
"We are proud to offer our support, with the Oaks, in order to foster diversity among students entering Indiana's real estate profession and, in doing so, honor prominent Hoosiers," Lacy Johnson said. "The immersive opportunities and financial support provided through the Center for Real Estate Studies at the IU Kelley School of Business enrich and strengthen the entire community."
In addition to awarding scholarships to Indianapolis Public Schools students in honor of Rogers, scholarships will also be awarded to students from the Warrensville, Ohio, and Jackson, Mississippi, public school districts in honor of U.S. Rep. Marcia Fudge and U.S. Rep. Bennie Thompson, respectively, because of their commitment to the students from the areas they serve.
"I am honored that students from my home district of Jackson, Mississippi, will have the chance to be educated at such a bastion of academic excellence as the Kelley School of Business," Thompson said. "The skills they learn at IU Bloomington will allow them to flourish as professionals in the real-estate industry, so I'm very thankful to Lacy, Patty and the Oaks for these incredible gifts."
"Creating this pipeline from the public school district in Warrensville, Ohio, to higher education in Bloomington, Indiana, is incredibly important, especially as it relates to the need for diversity in fields like real estate," Fudge said. "I'm quite humbled that Lacy, his wife and the Oaks would afford students from my hometown the tremendous opportunity to learn at the prestigious Kelley School of Business."
These gifts count toward the $3 billion campaign, For All: The Indiana University Bicentennial Campaign, and qualifies for the campaign's match, effectively doubling the impact of the gifts.
For All: The Indiana University Bicentennial Campaign is taking place on all IU-administered campuses including IU Bloomington, IUPUI, IU East, IU Kokomo, IU Northwest, IU South Bend and IU Southeast. The campaign will conclude in December 2019 to coincide with IU's bicentennial year celebration in June 2020. To learn more about the campaign, its impact and how to participate, visit forall.iu.edu.