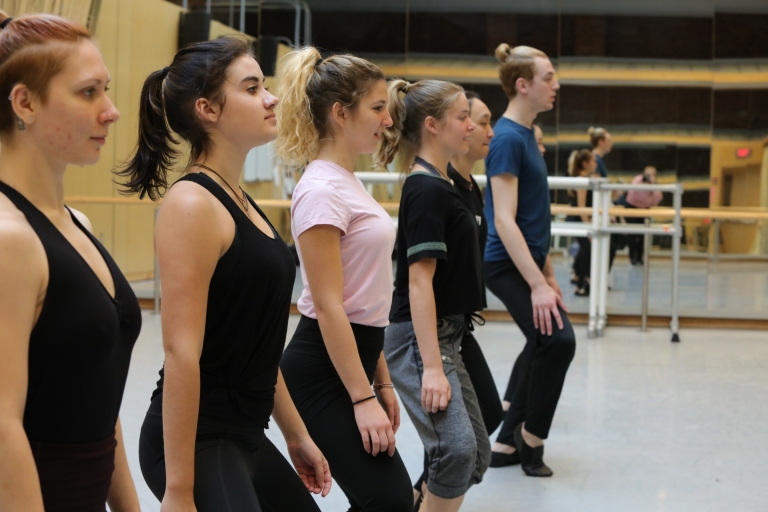 Indiana University first-year student Emma Williamson has debated with classmates this fall and applied mathematical models – not in a business or politics class, but in a dance class offered only on the IU Bloomington campus: "Fundamentals of Movement and Creativity: Twyla Tharp."
"It's an exciting challenge to accept that there are no wrong answers when it comes to interpreting the dances," said Williamson, a theater major in the College of Arts and Sciences. "There are times when some of my classmates and I see something in different ways and have to try and explain to each other why we thought we were right. I'm surprised by how much this class has helped me with collaboration skills."
IU is home to the world's first academic course focused on the work of dance luminary Twyla Tharp, whose unique approach to choreography continues to inspire fresh creativity in the performing arts world. Tharp's direction, choreography and dancing on stage and screen have earned her two Emmy Awards, a Tony Award, 19 honorary doctoral degrees, a Kennedy Center Honor and a MacArthur Foundation Fellowship, among many other accolades and honors.
"Ms. Tharp, who holds an honorary doctorate from Indiana University, is a living legend in the art of dance," said IU President Michael A. McRobbie, who awarded Tharp the IU President's Medal in 2015. "A true innovator known for her extraordinary creativity and for developing new movement styles built on the technical precision of ballet, Ms. Tharp is also one of the country's leading advocates for dance education and has generously shared her time with IU students during her multiple visits to the Bloomington campus. Indiana University is honored to host the first college course created by and with her influential and visionary work."
McRobbie worked with Tharp to bring the class at IU, an effort that sparked a collaboration between the Jacobs School of Music and the Contemporary Dance Program in the Department of Theatre, Drama and Contemporary Dance, where the course is officially housed.
"Fundamentals of Movement and Creativity: Twyla Tharp" is distinct in that it is specifically designed for  both non-dance and dance majors. The course highlights the crucial importance of movement as it relates to life and to all academic areas – for disciplines as varied as business and biology. Students are learning to be fully present in their bodies, building critical-thinking and problem-solving skills that arise when trying to move with great precision.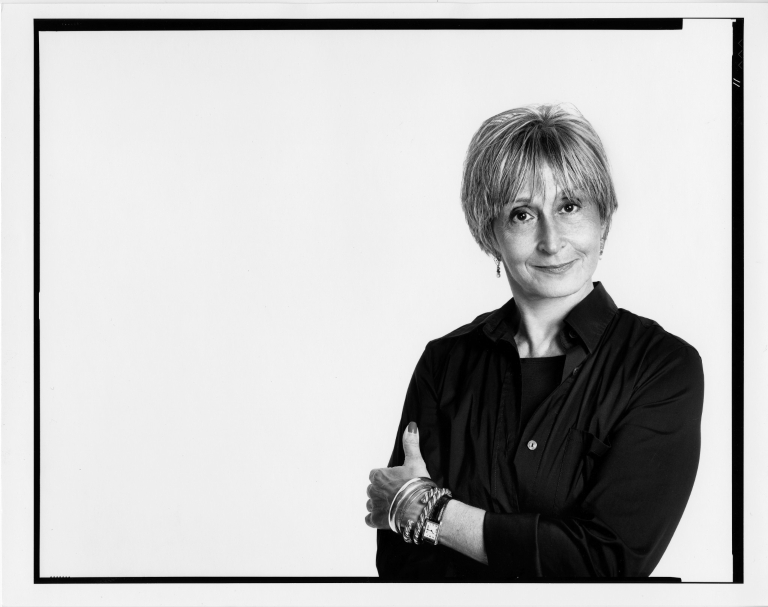 Tharp was born on an Indiana farm in Portland. She later graduated from Barnard College in 1963, created her first dance in 1965 and founded her New York City-based company, Twyla Tharp Dance. She went on to choreograph more than 160 works – including dances, TV specials, films, ballets, Broadway shows and figure-skating routines – with some pieces set to the music of performers including Billy Joel, David Byrne and Frank Sinatra.
At 76, Tharp recently joined her dancers on stage this fall (Sept. 19 to Oct. 8) for performances at the Joyce Theater in New York. She will choreograph a premiere at the Royal Ballet in London in November and will bring a lecture-performance to the Chicago Museum of Contemporary Art on Dec. 7 to 10, focusing on the dances she choreographed from 1965 to 1970.
Tharp will return to Bloomington on Dec. 12; more details about the visit will be announced closer to that time.
"Twyla Tharp is a genius," said IU Bloomington Provost and Executive Vice President Lauren Robel. "Her work is challenging and surprising, and her commitment to taking serious inquiry about movement and the body to those undergraduates who are not dancers is amazing. We are incredibly fortunate to have her partnership and investment of time and energy in this breakthrough program."
Part of what makes the course interesting is pulling students away from distraction and technology and into a moment in time, said the course instructor, Shawn Stevens, ballet mistress in IU's Jacobs School of Music. (Tharp does use current technology to meet students where they are, designing apps for sections of the dances and archival records, and video from the original performances are digitally available.) Stevens danced for George Balanchine in the New York City Ballet and joined Twyla Tharp's company in the 1990s for five years; she is a répétiteur – essentially, someone who stages other people's choreography – for the works of both Balanchine and Tharp.
Working with non-dancers for the first time has been eye-opening and exhilarating, Stevens said.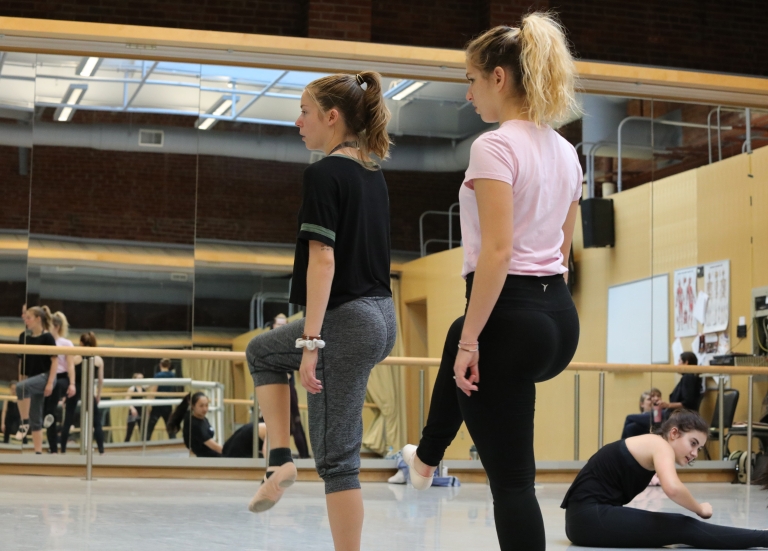 "These students didn't come in with a concept of what dance is or isn't," she said, adding that learning to focus on unexpected combinations of everyday gestures pushes people to move beyond what they thought was possible. "You don't have to be a dancer to take this course and benefit from it. Whether you're a lawyer, a mathematician, a football player, an actor … this course will make you better in anything you do."
The class is reading Tharp's book "The Creative Habit" (Simon & Schuster, 2003), viewing historical videos, photos and writing excerpts, and blogging about the experience of trying to still their minds and focusing on the human body in motion. 
The students are learning two of Tharp's best-known dances over two semesters:
Torelli, a two-part dance in which students first dance in unison, then explore their own creativity by choosing reversals and inversions, as well as other new combinations and restructuring of these phrases.
The One Hundreds, a 20-minute dance and exercise in muscle memory composed of 100 short phrases and at least 100 dancers with no music, using everyday movements such as walking, skipping, baseball, boxing, tennis, cheerleading and tap. The One Hundreds will be taught in the spring semester.
The students prepare for these works by studying Tharp's signature Treefrog technique, in which the dancers' feet act as if suction-cupped to the floor, like a frog, using resistance to support their movements to think, act and move with resilience and specificity. The class will perform at 7:30 p.m. Dec. 9 in the Studio Theatre within the Lee Norvelle Theatre and Drama Center. The event is free and open to the public.
Twyla Tharp Dance has performed at IU Auditorium, in 1978, 1982, 2003 and 2015. The Broadway musical "Movin' Out," based on her chorography paired with the music of singer-songwriter Billy Joel, was staged at IU Auditorium in 2008. During Tharp's 1982 visit, she staged The One Hundreds, using mostly volunteer dancers of all ages and levels of experience from the community.
During a recent Skype session with the IU class, Tharp had the students run in place for 45 minutes during the discussion (the class, after all, is about the rigor of the mind and the body).
"Twyla is all about the human body in motion and living a meaningful life," said Selene Carter, faculty member in the IU Department of Contemporary Dance. "This is relational mathematics. It's physics. It's arts. And it's not high art; anybody can move."
Tharp is a member of the American Academy of Arts and Sciences and the American Philosophical Society and an honorary member of the American Academy of Arts and Letters. In addition to choreographing for her own company, she has created dances for The Joffrey Ballet, American Ballet Theatre, The Paris Opera Ballet, The Royal Ballet, New York City Ballet, The Boston Ballet, The Australian Ballet, Hubbard Street Dance Chicago, The Royal Ballet in London, The Martha Graham Dance Company, Miami City Ballet, Pacific Northwest Ballet, Atlanta Ballet and Royal Winnipeg Ballet. 
Jennifer Piurek is director of communications and special projects for the Office of the Provost and Executive Vice President.