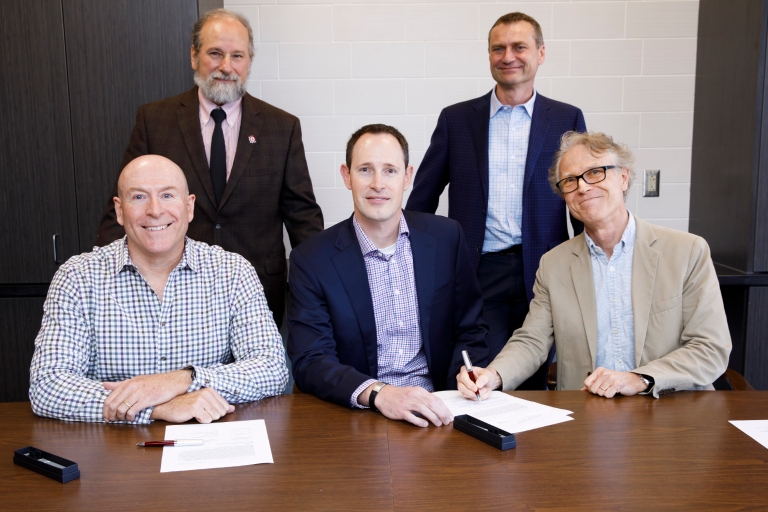 The Indiana University School of Optometry has renewed a multiyear agreement with one of the world's leading contact lens manufacturers to advance research.
Leaders at the school met with representatives from CooperVision Inc. on the IU Bloomington campus on Nov. 3 to sign a five-year agreement to support research and related development activities. CooperVision is one of the world's leading manufacturers of soft contact lenses and related products and services, with products sold in over 100 countries around the globe.
"IU has collaborated in both early-stage investigation and clinical development of many CooperVision products over more than the past decade," said Dr. Pete Kollbaum, associate dean for research and director of the Borish Center for Ophthalmic Research at the IU School of Optometry. "This new agreement will allow continued collaboration and exploration on many core areas of vision and visual corrections necessary to provide optimized care for patients all over the world."
CooperVision's relationship with the university extends back to 2000 when the company Ocular Sciences, later acquired by CooperVision, reached out to Kollbaum and the IU School of Optometry because of their unique skill in basic science optical research and clinical implementation.
"CooperVision decided to continue to commit to a long-term partnership with IU due to their unique combination of optical and clinical expertise, as well as their ability to help with all stages of the product development process – from ideas and testing protocol development to carrying out laboratory and clinical studies and critically evaluating the results," said Arthur Back, chief technology officer at CooperVision.
Another partner on the project is Arthur Bradley, professor in the IU School of Optometry. The agreement is expected to partially support the work of Kollbaum's and Bradley's research groups, including several Ph.D., Doctorate of Optometry and undergraduate students. Several staff researchers are also expected to be hired in targeted areas related to this research.
This type of mutual commitment to industry-supported research between IU and CooperVision enables consistency in establishing core skills and programs that are "far more mutually beneficial than a project-to-project mentality," Kollbaum said.
"Support of this type is integral to the research that we do at IU not only in terms of helping support the exploration of collaborative research ideas but also in terms of providing us the ability to hire and retain the extremely qualified people needed to complete advanced cutting-edge research projects," he added.
The five-year contract between the IU School of Optometry and CooperVision officially began Nov. 1.