When the 15 members of the inaugural MBA for Educators class – all public-school administrators and educators – prepared to receive their Indiana University Kelley School of Business degrees last week, they heard some familiar instructions.
"If the students will line up on my left in alphabetical order – I bet you're more used to giving that instruction than hearing it," Kelley School Dean Idalene "Idie" Kesner said with a chuckle. "When we're all set, we'll call each graduate forward."
The graduates are public-school administrators and educators from five districts across Indiana – Carmel Clay Schools, Hamilton Southeastern Schools, Northwest Allen County Schools, Porter Township School Corp. and School Town of Munster – and last week they completed requirements for the new degree.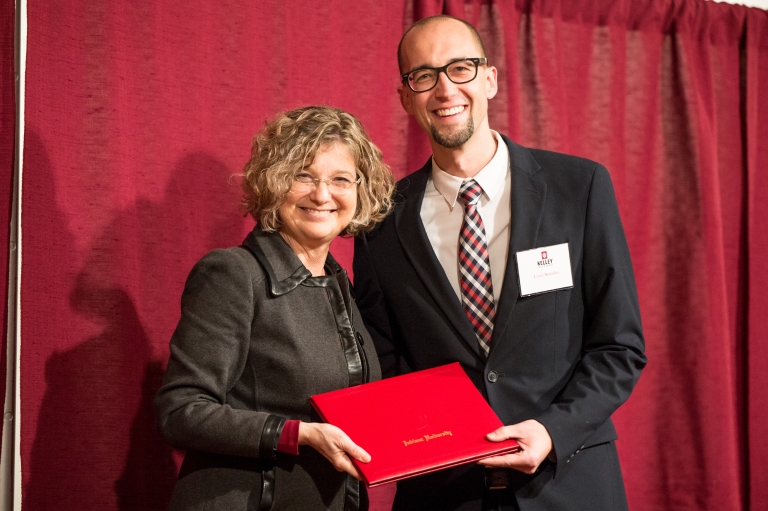 The MBA for Educators program was established in 2015 through support from the Woodrow Wilson National Fellowship Foundation. At the time, foundation President Arthur Levine said, "IU and Kelley will help set a new standard for principal and superintendent education across the nation."
Delivered by full-time Kelley faculty over a 15-month period, the degree program is designed to prepare education leaders to drive innovation; expand the use of analytics and evidence-based practices; raise student performance to international standards; and improve the quality of school systems and teaching over time.
The intensive, highly selective program blends an education-based business curriculum with clinical experience in schools, corporations and nonprofits and gives fellows exposure to innovative schools.
"The experience to return to graduate school – particularly at the Kelley School of Business – was incredible," said Kyle Goodwin, an English teacher at Fishers High School. "After spending so much time as a teacher, I forgot what it was like to be a student. In many ways, it made me more grateful for the educational process in general, and it reinvigorated a love of learning in me."
Ramona Rice, who began the MBA program as an English teacher and department chair at Carmel High School, said she was particularly interested in the "challenge of applying business principles in an educational context."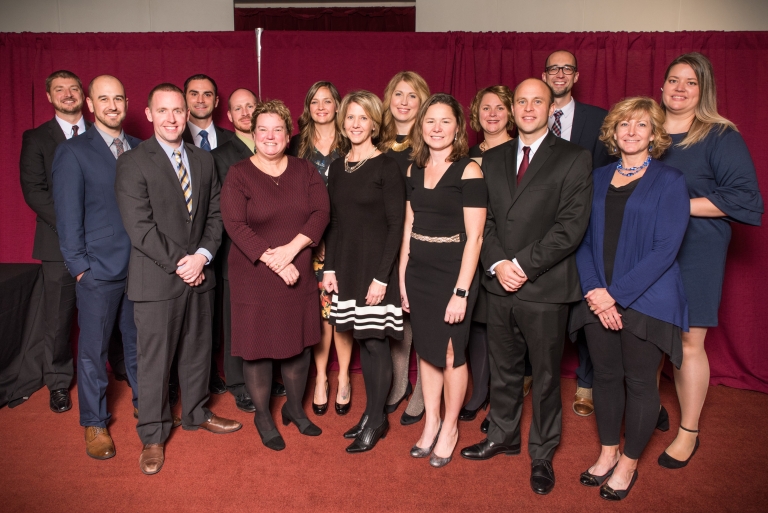 "The problems of education are complex – some might even say 'wicked' – so an opportunity to approach this complexity with innovation was especially appealing to me," Rice said. "I'm naturally optimistic, and I look for ways to move beyond the barriers to student success. The MBA for Educators combines the very best from two distinct fields to meet the needs of today's learners."
Rice, who accepted a position as supervisor of learning this summer, said she appreciated the leadership development activities at Kelley, which she called a "deep dive into self-awareness."
"The MBA program begins by exploring emotional intelligence, personality types, understanding ourselves in conflict and how we currently lead. This kind of reflection is critical for anyone who seeks to lead others toward change," said Rice, who also has Bachelor of Science in secondary education from IU.
"As a district curriculum administrator, I research instructional best practices and create professional development that will improve teaching and learning. Leading change initiatives is a core component of what I do."
Goodwin had a similar thought.
"One of the biggest takeaways, content-wise, for me was a fundamental understanding of human motivation and why it's important to understand people before hoping to work closely with them," he said. "Additionally, some of the knowledge gained about change management and organizational innovation transcends disciplines and certainly can be applied to variety of contexts, especially in my world of public education."
At Saturday's graduation ceremony, Kesner commended the students for taking on and accomplishing a new chapter in their education and careers, calling it "a wonderful example of your commitment to your field and a positive sign for the future of education."
George Vlahakis is associate director of communications and media relations for the IU Kelley School of Business.