Indiana University Opera Theater at the IU Jacobs School of Music will present the collegiate premiere of Jake Heggie's "It's a Wonderful Life" opera at 7:30 p.m. Nov. 10 at the Musical Arts Center in Bloomington.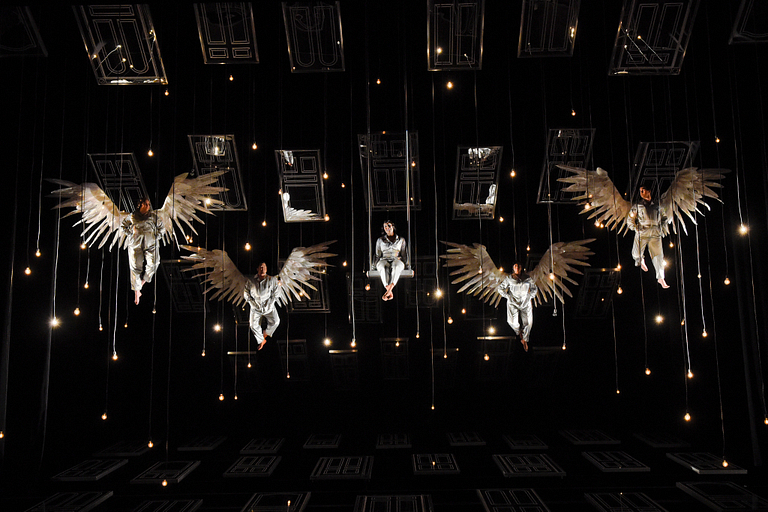 The Jacobs School of Music joined Houston Grand Opera and San Francisco Opera as a co-commissioner and co-producer of this work based on Frank Capra's iconic 1946 film of the same name. The opera received its world premiere at Houston Grand Opera in December.
Additional performances at the Jacobs School will be at 7:30 p.m. Nov. 11, 16 and 17 at the MAC. The Nov. 10 and 11 performances will be video-streamed live via IU Music Live.
The IU Opera Theater production will feature several of the same artistic team members from Houston: director Leonard Foglia, set designer Robert Brill and costume designer David Woolard. New Jacobs faculty member David Neely will conduct.
Jacobs alumnus Patrick Summers, artistic and music director of Houston Grand Opera, conducted the December production and was the first to approach Jacobs Dean Gwyn Richards about a possible partnership after speaking with Heggie in 2010.
"My great friend and collaborator Patrick Summers invited me to participate in a project at Houston Grand Opera to create a family-friendly holiday piece," Heggie said. "We considered beloved stories that return every Christmas. I knew 'It's a Wonderful Life' was exactly the story I wanted to pursue – it is emotionally big enough to fill an opera house, and to me it makes sense for these characters to sing, not just speak."
'It's a Wonderful Life' ticket giveaway
Driving the plot in Heggie's version is upwardly mobile angel Clara, intent on earning her wings. She is given the chance to do so if she can help George Bailey as he stands on a bridge on Christmas Eve and contemplates jumping into the river below to end his life.
"The big challenge was to find a way to reconceive the story as an opera," Heggie said. "That meant lots of changes, cuts and tough choices. One of the most obvious is that Clarence, the angel in the movie, has become Clara, the angel in the opera. Vocal casting is everything in opera, and this allows us to have a soprano voice, Clara, and a tenor voice, George Bailey, as our two leads instead of two male voices."
Heggie and librettist Gene Scheer have been rehearsing with the IU Opera Theater cast as well as interacting with other Jacobs students in various events, including a voice master class, a composition forum and an entrepreneurial panel discussion and luncheon.
Heggie said that after the Houston premiere last year, he and Scheer knew they had some work to do to make the opera stronger. They cut about 10 percent of the original and then expanded Act 2 for character and story development.
"The IU rehearsals have been extremely helpful and the singers incredibly game to try additional cuts and changes," Heggie said. "I think we rewrote two key lines plus cut another 30 to 40 measures of music – all of it to help streamline the piece and move the story along.
"You can only learn these things when hearing the piece done, so this has been an incredible opportunity for us creatively. I think we are just about set with it; we'll know for sure when we see it performed on the stage in front of the audience here. In any case, the piece is quite different from the premiere last year."
"What an unforgettable experience it has been for our students to work directly with the creators of 'It's a Wonderful Life,' Jake Heggie and Gene Scheer," said Richards, the school's David Henry Jacobs Bicentennial Dean. "Rarely does an artist, this early in their career, have a firsthand view of the creative process, as our students have had with this production. And to have this opportunity with such fine people, in such an engaging musical and dramatic creation, is the experience of a lifetime."
Linda Cajigas is an editor and publicity/media relations specialist for the Jacobs School of Music.