Behind almost every successful person is a mentor who shared knowledge, offered encouragement and helped make dreams become reality.
More than 100 faculty members across the Indiana University Bloomington campus are recognizing this by paying it forward as mentors in the Faculty Mentoring Initiative.
The initiative, hosted by Mentoring Services and Leadership Development in the Office of the Vice President for Diversity, Equity and Multicultural Affairs, aims to promote retention and timely degree completion by pairing undergraduate students with faculty mentors.
"Studies show that positive faculty interactions and engagement with students are leading factors in student success," said Arnell Hammond, director of Faculty Mentoring Initiatives. "It's extremely important for students to have those supportive relationships with faculty outside of the classroom and know that faculty members care and are there for them."
Some students seek specialized mentors in their field of study who can help them choose important courses, seek out internship opportunities and plan for careers and graduate programs. Others search for mentors who know the breadth of resources at IU and can help students navigate their options. Only in its second year of operation, the initiative has served more than 200 students.
Aligning interests
For junior Nancy Kanu, an email promoting the Faculty Mentoring Initiative could not have entered her inbox at a better time. She was just starting her sophomore year and was feeling lost after recently deciding her plans to study exercise science weren't going to work out.
"Freshman year was so full of huge adjustments," said Kanu, who came to IU from Virginia. "I didn't know what I wanted to do, I didn't know where I wanted to be, so Kathy's mentorship came at the perfect time."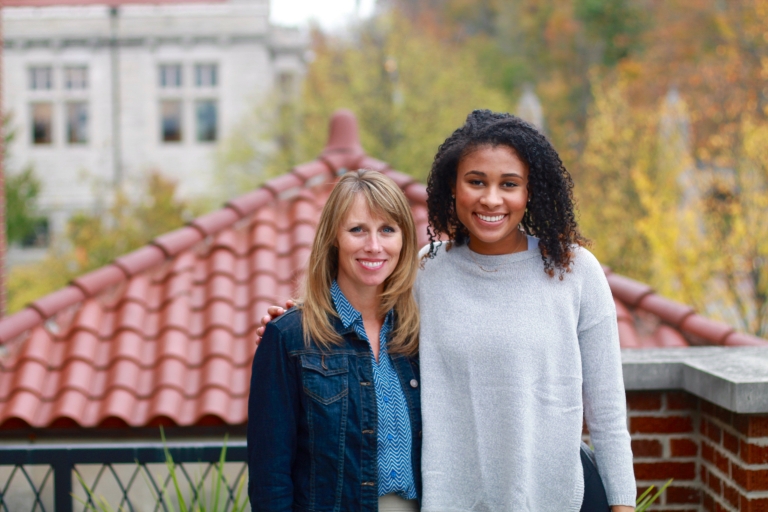 Kathy Finley, who is a lecturer and the internship coordinator for the community health degree in the School of Public Health-Bloomington, also found out about the initiative via email. Most of the students she interacts with as an internship coordinator are nearing the end of their college career, and she thought the initiative would be a great way to gauge the needs of underclassmen.
In their first few meetings, after Kanu discussed her interests and goals and Finley shared the opportunities available in the community health major, it became clear that it was the right academic path for Kanu.
Kanu – who plans to take a gap year after graduation before pursuing a joint postgraduate degree in law and public health – said she's now more comfortable asking for help and talking to professors thanks to the mentoring initiative and her relationship with Finley.
"When you've been around the university for a long time, there are things that we know that aren't necessarily written down or easy for students to know about," Finley said. "To create an open conversation with students and see them be successful is priceless."
Sharing wisdom
The Faculty Mentoring Initiative is by no means Arnell Paul's first experience with mentorship. The senior studying human resource management participated in the Starfish Initiative and the Indiana CPA Scholars Program in high school and was herself a peer mentor in Mentoring Services and Leadership Development's Faculty and Staff for Student Excellence group.
Candis Smith, lecturer in African American and African Diaspora studies, has still made a huge impact on Paul's experience at IU. She's helped Paul make the most of the resources available at the university and eased the stresses that come with being a first-generation college student.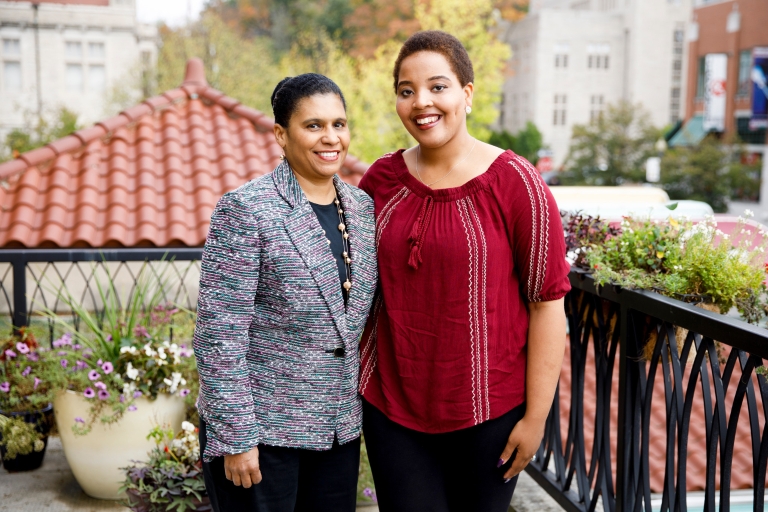 "Dr. Smith has been someone who is there to tell me 'I did it, so you can do it,'" Paul said. "She's someone who's honest with me when I need advice, and when I fall, she's there to listen and then make a plan to move forward."
Whether she's meeting with Paul in person or answering quick questions about career and academic planning via email, Smith said that being Paul's mentor is as beneficial for her as it is for Paul.
"Being a mentor can give you a better idea of what the students' generation finds important, how they see things and how they interpret events," Smith said. "Sometimes as a faculty member you just don't understand that, but you need to be aware because some day they'll be coming up and replacing you."
Faculty members hoping to become a mentor or students looking for a mentor can contact Hammond at hammonda@indiana.edu or 812-855-3540.