This semester has been filled with reminders of just how special the Bloomington campus is, particularly for those who love the arts and humanities. We are a beacon for artists, scholars and cultural luminaries not only here in the Midwest but across the globe. This is apparent in the impressive list of visitors who have come to our campus throughout the fall.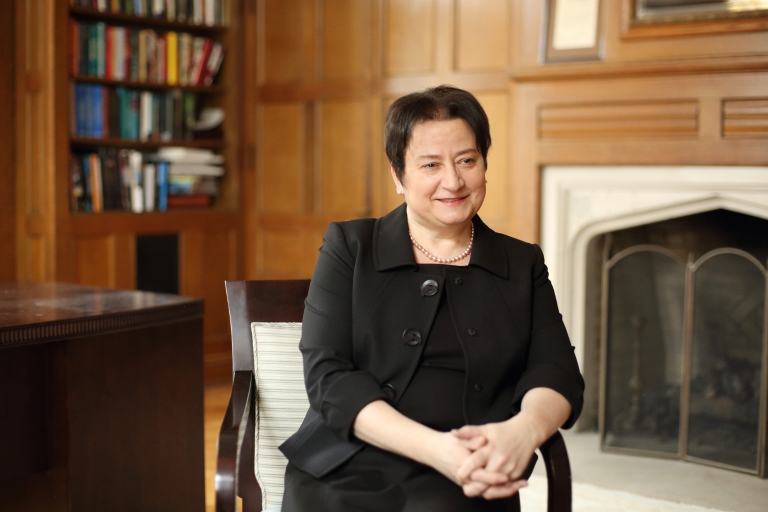 We had the honor of hosting two Booker Prize-nominated authors within just a few weeks of one another: Mohsin Hamid, nominated in 2007 for "The Reluctant Fundamentalist" and short-listed this year for "Exit West"; and George Saunders, who won this year's prize for the amazing "Lincoln in the Bardo" shortly after his visit (helped along, perhaps, by a little residual Bloomington magic). Emmy Award- and Tony Award-winning actress Glenn Close returned to campus to continue our yearslong collaboration with her Bring Change 2 Mind program to destigmatize mental illness and showed her appreciation for our dedication to the arts by donating her personal costume collection to the School of Art, Architecture + Design's renowned Sage Fashion Collection. This year's Themester on "Diversity, Difference, Otherness" brought Pulitzer Prize-winning author Viet Thanh Nguyen to campus to share stories and insights with our students and the entire community.
This week, the Jacobs School of Music and the School of Global and International Studies are hosting world-renowned composer and conductor Krzysztof Penderecki. I had the pleasure of representing our campus when President Michael A. McRobbie presented him with an honorary degree Monday. Penderecki will engage in a public discussion with Jacobs School composers before leading the Oratorio Chorus and Philharmonic Orchestra on Wednesday night in a performance of his seminal work "St. Luke Passion." You may know Penderecki's work in a different way, as the terrifying soundtrack to many chill-inducing movies and television shows, including "The Exorcist," "The Shining," "Twin Peaks" and "Shutter Island."
That is just a small sampling of the acclaimed figures who visited IU Bloomington this semester because of the strength and vitality of our commitment to the arts and humanities. No other college campus in our state can boast of such an impressive list of visitors; indeed, few cities in the region can attract artists of such wide diversity and far-reaching influence. These guests are drawn here by our stellar reputation, built over nearly two centuries, as a community that values, nurtures and supports innumerable forms of creative expression and offers unique contributions to our national and global cultural conversations.
This semester has seen an outpouring of outstanding artistic and cultural activity from groups and individuals all across our campus. We have produced too many excellent events and programs to list in full here, but two in particular are worth noting for the ways in which they embody the unique resources of the Bloomington campus and position IU as a force for positive change in the world.
The incomparable Lilly Library collaborated with our ambitious Media Digitization and Preservation Initiative to launch Orson Welles on the Air. The website features more than 300 rare master recordings from Welles' personal collection, which is held in the Lilly's archives and digitized through the Media Digitization and Preservation Initiative. These recordings were previously available only to those who visited the Lilly in person, and many went unheard for decades due to the delicate nature of the media on which they were preserved. Now, they are easily accessible to scholars and Welles fans worldwide, a truly profound contribution from one of our campus's most cherished resources.
Over the weekend, the Ostrom Workshop, the Office of Sustainability and several other campus partners collaborated with the Ivy Tech John Waldron Arts Center to present "Map of My Kingdom," a play by Iowa Poet Laureate Mary Swander about the inheritance of family farms. It was presented in conjunction with a workshop that helped local farmers address issues associated with passing on small farms and sustainable farming values. This project is a wonderful example of the arts intersecting with the spirit of community engagement that drives the Ostrom Workshop and so many other programs at IU Bloomington.
We have much to look forward to in the immediate future. Twyla Tharp, arguably the world's most influential living dancer and choreographer, will visit campus in December for a performance by students in "Fundamentals of Movement and Creativity: Twyla Tharp," a class offered this year on the Bloomington campus that is the first academic course devoted solely to her work. An Indiana native and longtime friend of IU, Tharp has not only transformed American dance; she has also been a staunch advocate for creativity in all forms with her acclaimed book "The Creative Habit." Her visit will offer an emphatic exclamation point for what has been an enlightening and enriching semester of arts on campus.
After winter break, the spring semester will see the return of our campuswide Global Arts and Humanities Festival with India Remixed, which will bring yet another Booker Prize-winning author to campus: Sir Salman Rushdie. The semesterlong program devoted to the contemporary art and culture of India will also feature visits from cultural luminaries such as Academy Award-nominated filmmaker Mira Nair, comedian Vir Das and famed artist Bharti Kher.
As incredible as this semester has been for the arts and humanities on campus, we can rest assured that there are always more great visitors, events and programs in our future. I, for one, am extremely grateful for the many unique cultural experiences found on our campus, and I hope you'll join me in enjoying some of the tremendous experiences yet to come this academic year.
Lauren Robel is provost and executive vice president at Indiana University Bloomington.