Indiana University Bloomington recently honored staff, faculty and students for their contributions to campus sustainability at the sixth annual Campus Catalyst Awards.
The awards, hosted by the Office of Sustainability, recognize people who go above the work required of them by their discipline or department. Honorees were faculty member Sanya Carley, student Olivia Ranseen, staff members Lea Woodard and Rahul Shrivastav, and the Biddle Hotel staff, led by Mike Campbell.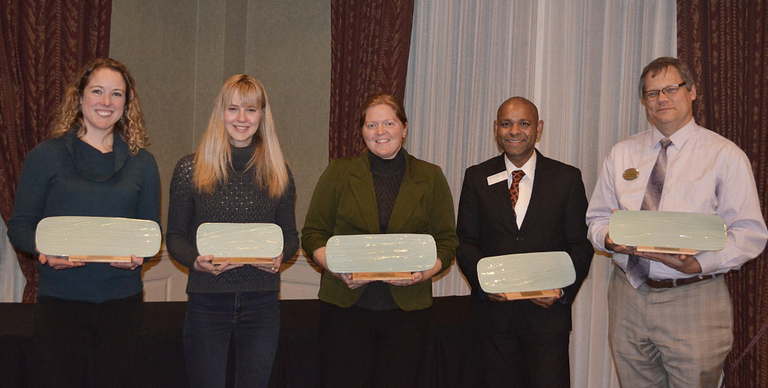 Carley, associate professor in the School of Public and Environmental Affairs, was presented the Excellence in Teaching Award for her outstanding contributions in scholarship, student mentorship and leadership. Nominated by Associate Dean for Faculty Affairs Kristen Grønbjerg, Carley helped conceive of and design SPEA's energy concentration within the Master of Public Administration program, with the goal of preparing IU students to work in the energy industry. The six-course concentration includes options focusing on energy markets, energy policy and energy analysis.
"Teaching sustainability is so broad and complex that no instructor will know it all," said Andrew Predmore, IU Bloomington director of sustainability. "So teaching sustainability requires humility and a spirit of lifelong learning. Sanya Carley is tackling these challenges magnificently."
Ranseen received the Student Leadership Award. Ranseen is a junior pursuing a Bachelor of Science in public affairs and is chief of sustainability of the IU Student Association. She spent her summer working with the City of Bloomington as an Indiana Sustainability Development Program Scholar, an inaugural program funded by the McKinney Family Foundation. Ranseen was nominated by associate professor Paul Brunner in the Department of Theatre, Drama and Contemporary Dance, who was her mentor during her work as a 2020 Sustainability Scholar.
"Olivia's research into sustainable design and production in the IU Department of Theatre, Drama and Contemporary Dance has made a lasting impact on how we think about theater, Brunner said. "Our theater stage managers are working toward paperless prompt books, rechargeable batteries and more thoughtful approaches to scenery design and construction."
Woodard, Hilltop Garden coordinator, received the Staff Innovator Award.
"Lea epitomizes dedication, innovation and passion for sustainability innovation," said nominator James Farmer, co-director with Woodard of the IU Campus Farm at Hinkle-Garton. "Her multiple roles have her facilitating experiential learning opportunities for students, assisting faculty in research and creative activities at the garden, teaching community members about sustainable gardening through 'Bugfest,' and now creating IU's Campus Farm."
The Excellence in Leadership Award was given to an individual who has only been at IU for a short time. Shrivastav, director of RPS Dining, was nominated by Resident Hall Association students for his commitment to transition RPS dining halls to "zero-waste" by sourcing compostable dining materials, decreasing food waste and engaging students in research using campus as a lab.
The Team Award was given to Biddle Hotel staff, led by Mike Campbell, associate director of the Indiana Memorial Union. The Biddle Hotel partners with nonprofit organization Clean the World to recycle used hotel soap, which results in an estimated 3,500 pounds of waste diverted from the landfill each year. Additionally, during the Biddle Hotel renovation, used furniture and mattresses were donated to Habitat for Humanity ReStore and St. Vincent DePaul, respectively. Each of these diversion efforts are tracked for the university's Sustainability Tracking, Assessment and Rating System.
Awardees were nominated by peers and chosen by the IU Office of Sustainability. Many awardees are members of Sustainability Working Groups, which are open to faculty, staff and students from all departments.
Makayla Bonney is the assistant director of the Indiana University Office of Sustainability.