From Ho Chi Minh city to Bloomington: Top officials get executive training at IU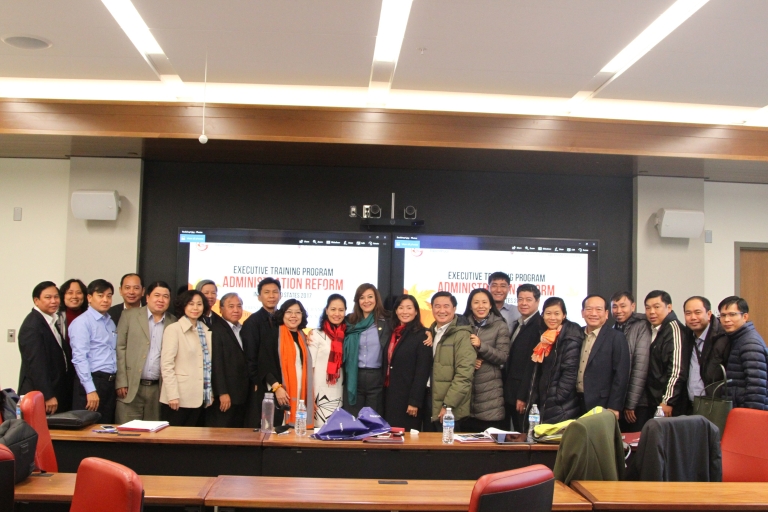 From touring the state capitol in Indianapolis to walking a campus ablaze with autumn colors, high-ranking officials from Ho Chi Minh City in Vietnam got a brief but intense taste of all that IU has to offer during their recent visit.
IU's School of Public and Environmental Affairs brings delegations from Vietnam to the U.S. for two-week executive training programs. This time, the delegates are leaders of Ho Chi Minh City, the wealthiest city in Vietnam, with a population about 10 million. While in the U.S., the officials get classroom instruction in public administration reform and field trips to government offices in Bloomington, Indianapolis and Chicago.
The visitors learn how the U.S. public sector functions and meet with local and regional government leaders. The program is part of IU's Vietnam Initiative, a global hub for research and training in development policy that is based at SPEA.
"It's rewarding to welcome these distinguished guests and then play a part in helping them improve the quality of their city's government," said Anh Tran, an associate professor at SPEA and director of the Vietnam Initiative. "They learn from us and our students and faculty learn from them. It's a partnership funded by IU and the Vietnamese government that's paying dividends for everyone involved and for two communities."
The two-week programs began with a mix of morning lectures at SPEA and afternoon visits to Bloomington's city hall, the state human resources office in Indianapolis and other public-sector institutions including health care facilities and schools. The program ended with a day in Chicago and meetings with city and state government leaders. Then the participants boarded a flight back to Vietnam and the opportunity to put into practice the skills they learned.
Campus Catalyst Award winners
Indiana University Bloomington recently honored staff, faculty and students for their contributions to campus sustainability at the sixth annual Campus Catalyst Awards.
The awards, hosted by the Office of Sustainability, recognize people who go above the work required of them by their discipline or department. Honorees were faculty member Sanya Carley, student Olivia Ranseen, staff members Lea Woodard and Rahul Shrivastav, and the Biddle Hotel staff, led by Mike Campbell.
Awardees were nominated by peers and chosen by the IU Office of Sustainability. Many awardees are members of Sustainability Working Groups, which are open to faculty, staff and students from all departments.
IU Press announces 2017 Holiday Sale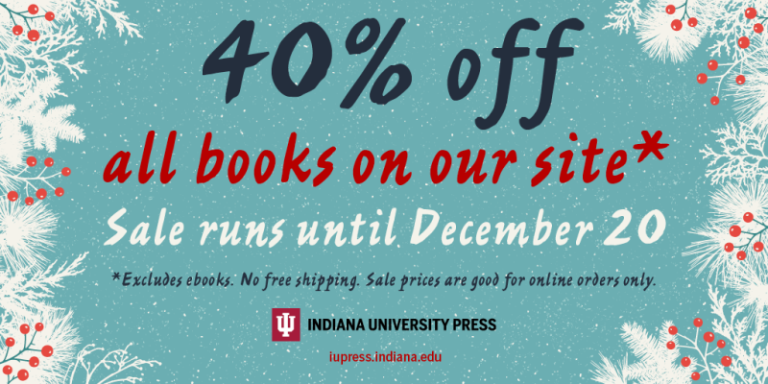 IU Press is will host its 2017 Holiday Sale until Dec. 20. As part of the sale, a 40 percent discount will be applied to all orders placed through the IU Press website.
Orders must be placed via the website, and the sale does not apply to shipping, e-books or other electronic media, including DVDs.
Recreational Sports adds volleyball to faculty and staff intramural sports
IU Recreational Sports will now offer intramural volleyball on Tuesdays at Court 5 in the Wildermuth Intramural Center. Faculty and staff hoping to join do not need a team to play.
Cost is free for Recreational Sports members, but participants are encouraged to RSVP by 5 p.m. on the day before you play to help staff create teams. Faculty and staff who are not members are invited to play by purchasing a $5 pass at either the Student Recreational Sports Center or Wildermuth Intramural Center.
To view all the details and RSVP, visit the Recreational Sports website's intramurals page, email imsport@indiana.edu or call 812-855-2371.
Five IU Bloomington faculty members named AAAS fellows
Five faculty members from IU have been named fellows of the American Association for the Advancement of Science, a distinction that recognizes outstanding contributions to the progress of science and research.
The 2017 fellows include L. Jean Camp, professor in the IU School of Informatics, Computing and Engineering; Matthew W. Hahn, professor in the IU Bloomington College of Arts and Sciences' Department of Biology and the IU School of Informatics, Computing and Engineering; and professors Andrea S. Wiley of the Department of Anthropology, Chen Zhu of the Department of Earth and Atmospheric Sciences and Adam Zlotnick of the Department of Molecular and Cellular Biochemistry, all in the IU Bloomington College of Arts and Sciences.
Founded in 1848, AAAS is the world's largest general scientific society and publisher of the journal Science. The five faculty members' election brings the number of AAAS fellows affiliated with IU to 99.
Media School course wins study abroad curriculum design award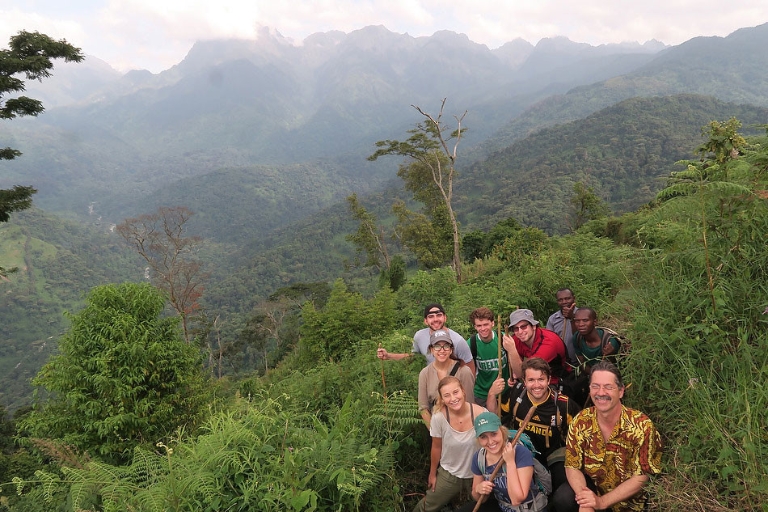 Media School associate professor James Kelly has received national recognition for the study abroad curriculum design for his course, Reporting HIV/AIDS in Africa, which takes students to Kampala, Uganda, for four weeks to report on health stories with reporters at the Daily Monitor newspaper.
During International Education Week, the Forum on Education Abroad announced Kelly as the winner of the Award for Excellence in Education Abroad Curriculum Design. Kelly will receive the award March 23 at the forum's annual conference in Boston.
Kelly serves as the Media School's director of undergraduate studies. His teaching areas include photojournalism, graphic communication and publication design, and the mass media's role in society.
SNAAP national survey finds arts alumni give back to community
A report released by the Strategic National Arts Alumni Project at the IU School of Education found that individuals with arts degrees are engaged with the arts in their communities at a rate much higher than the general population.
The research, based on a national survey of arts graduates, demonstrates that arts majors continue to make art, teach, manage, volunteer, attend events and donate to the arts in their local communities. The study also provides data that can help educational institutions and local arts organizations provide better services to support the artists working in their communities. For example, social networks are an important career resource for artists.
SNAAP is a collaboration between the Center for Postsecondary Research at the IU School of Education and the Herberger Institute for Design and the Arts at Arizona State University. SNAAP is governed by a National Advisory Board.
IU receives $1.3 million grant to develop student learning assessments
Researchers from the IU School of Education have been awarded over $1.3 million to study and validate tests that are designed to measure student learning in middle and high school science classes.
The research will focus on what the Next Generation Science Standards refer to as crosscutting concepts, which bridge disciplinary boundaries throughout much of science and engineering. In particular, the researchers will examine two crosscutting concepts: systems and system models; and structure and function.
The grant, through the Institute of Education Sciences in the U.S. Department of Education, will help researchers develop assessments to align student performance with the Next Generation Science Standards.