BLOOMINGTON, Ind. – Indiana University Dance Marathon raised more than $4.2 million over the weekend for Riley Hospital for Children at IU Health, a record for the annual fundraising event.
This year's 36-hour dance marathon, which took place Nov. 10 to 12 at the IU Tennis Center, raised exactly $4,203,326.23. The theme for this year's marathon was "Founded in Family."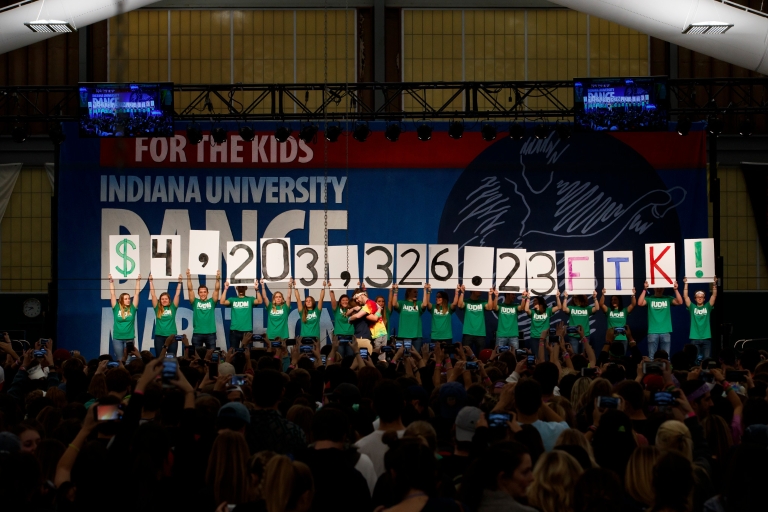 "Each year we just hope that we can continue to make a difference for the kids and families at Riley Hospital for Children, and we are so honored and proud that we were able to raise another record-breaking total," said David Leubbe, IUDM vice president of internal. "It's incredible that thousands of college students give up their time all year for a cause so much bigger than themselves, and we are so lucky that we have so many people who come together and care about this cause."
This year's event raised nearly $51,000 more than the 2016 IU Dance Marathon, which was the first year the total surpassed the $4 million mark. This year's $4.2 million represents the total raised at all events throughout the year, including funds raised by similar dance marathons at partner high schools in the area. The final 23 cents is donated to represent each member of IU Dance Marathon's executive council, who worked alongside thousands of committee members, volunteers and dancers to make the event a reality.
"We've been working since the day the 2016 marathon ended to make sure that our fundraising total didn't plateau and that we could make even more of an impact for this hospital and these kids," said Shelbey Vandenbroucke, IUDM director of public relations. "To see it all pay off here with all of these amazing students who do so much good, it was just so much fun and the coolest experience in the world."
IU Dance Marathon was created by former IU student Jill Stewart Waibel in 1991 in honor of Ryan White. The second-largest student-run philanthropic organization in the nation, IU Dance Marathon has raised more than $32 million since its inception.
About Riley Children's Foundation
Riley Children's Foundation supports Riley Hospital for Children at Indiana University Health, Camp Riley and the James Whitcomb Riley Museum Home. As Indiana's only comprehensive hospital dedicated exclusively to the care of children, Riley Hospital has provided compassionate care, support and comfort to children and their families since 1924. Each year children from all 92 Indiana counties turn to Riley Hospital and its regional clinics throughout the state more than 300,000 times. Riley Hospital's partnership with Indiana University Health and its strong affiliation with the Indiana University School of Medicine make Riley Hospital the leader in pediatric care in the state and the region.