BLOOMINGTON, Ind. – Indiana University Bloomington is home to a wealth of cultural and artistic venues and activities, including IU Cinema, the Mathers Museum and India Remixed, this spring's global arts festival. Now they have a new champion: Helene O'Leary has been named to a newly created position to garner private support for campuswide arts and humanities initiatives.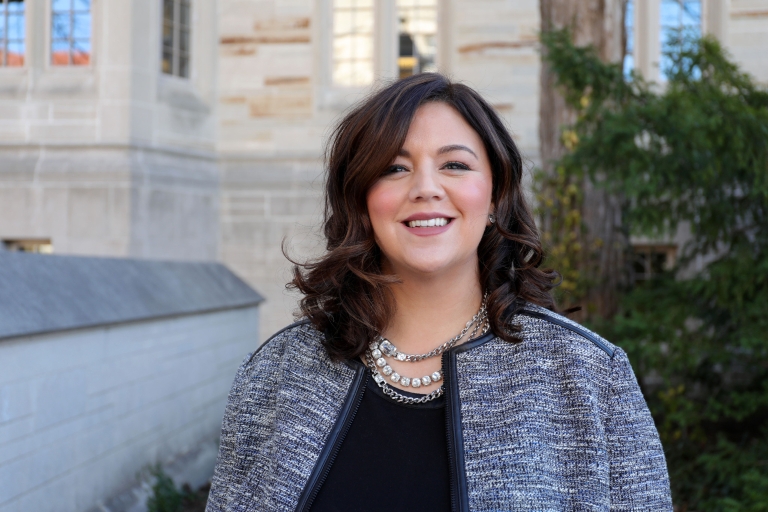 In her new role, Assistant Provost for Strategic Campus Advancement O'Leary will ensure that these institutions and initiatives have the support to serve not only the campus's 65,000 students, faculty and staff, but also the Indiana communities and K-12 schools that depend on the university's museums and performances as a key part of the creative and cultural landscape of southern Indiana.
The arts and humanities are a historic strength for the campus.
"I want all students to graduate from IU Bloomington with an understanding of and appreciation for the arts and humanities, and as passionate advocates for humanistic and artistic expression," IU Bloomington Provost and Executive Vice President Lauren Robel said. "I am delighted to welcome Helene's expertise in supporting this essential part of our campus identity."
O'Leary's new role supports a key goal of the Bicentennial Strategic Plan for Indiana University Bloomington, which calls for the university to highlight the historic academic strength of arts and humanities on the campus while laying the groundwork for further growth in these areas. In 2015, in response to the campus strategic plan, IU Bloomington established the Arts and Humanities Council, led by Associate Vice Provost for the Arts and Humanities Ed Comentale in the Office of the Vice Provost for Research.
The council brings together faculty, staff, students and visitors to help make IU's humanistic and cultural assets accessible and visible through campuswide thematic programming; to expand students' engagement with all cultural institutions on campus; and to provide more comprehensive public-facing programming and outreach for the state of Indiana.
The council has initiated a multitude of successful programs, including First Thursdays, a public festival that regularly brings together arts and humanities offerings from across campus on the arts plaza, and the Global Arts and Humanities festival each spring. The council also organizes such events as "The Moth" story slam and forms interdisciplinary partnerships with such units as the IU Office of Science Outreach, with which the Arts and Humanities Council planned CelestFest, a solar eclipse event in August that included celestial poetry and dance music.
In addition to supporting the work of the Arts and Humanities Council in general, the position supports development efforts for the following, all of which are represented by the council: the IU Eskenazi Museum of Art, IU Cinema, IU Auditorium, Mathers Museum of World Cultures, WFIU/WTIU, African American Arts Institute and the IU Libraries, which includes the Lilly Library, IU Press, Moving Image Archive, Wylie House and University Archives.
The Bloomington campus attracts renowned artists and humanists from across the globe, including, in the past year, Booker Prize-winning author George Saunders and Booker nominee Mohsin Hamid; Emmy Award- and Tony Award-winning actress Glenn Close, who donated her personal costume collection to IU; and renowned composer and conductor Krzysztof Penderecki, whose work has been showcased in classic thrillers and TV programs including "The Shining," "The Exorcist" and "Twin Peaks." IU is also home to a first-of-its-kind class based on the work of dance world luminary Twyla Tharp, who is scheduled to visit IU Bloomington in December, and world-class academic programs in the arts and humanities.
O'Leary said she plans to bring together high-level expertise from across IU's arts and humanities spectrum to build an infrastructure that can better connect passionate donors with opportunities that have a real impact, from the classroom to the community. She also plans to foster programs that bring IU Bloomington's arts and humanities programming out to surrounding counties and beyond.
O'Leary has served in development roles for IU for two decades, securing $47 million in support of multiple schools and university priorities including the IU Libraries, the School of Optometry, Women's Philanthropy, IU Cinema and the Kinsey Institute, and as part of the IU Foundation's Major Giving and Annual Giving teams. During her tenure, O'Leary has led her teams to meet their goals in the Matching the Promise Campaign. In the recent "For All" bicentennial campaign, the IU Libraries became the first Bloomington unit to surpass its goal.
"Both President McRobbie and Provost Robel have a profound understanding of the intersection of art and culture with nearly every other discipline on campus," O'Leary said. "At a time when other universities are walking the other direction and cutting funding for arts-related programming, they ran toward it, boldly and with a sense of confidence and purpose that inspired me. The challenge that lies before me is to capture the energy of the extraordinary innovation and groundbreaking discoveries of today and make sure we build the infrastructure to carry them far into future."