BLOOMINGTON, Ind. – Saturn and Mercury will disappear into the glow of sunset at the start of December. After that, no bright planets will be visible in the night sky for more than nine hours, until Mars rises during the hours before dawn.
Mars will appear low in the east along with the background stars of the constellation Virgo the Maiden around 3 a.m. local time in early December. The ruddy planet will be just 3 degrees to the left (east) of Virgo's bright blue-white star Spica.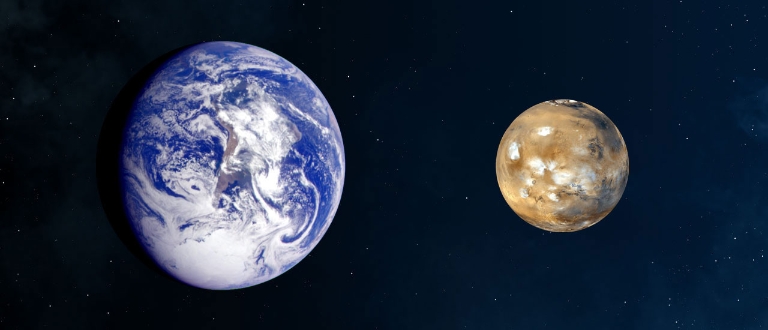 Brilliant white Jupiter will rise about 80 minutes after Mars on Dec. 1. The gap between Jupiter and Mars will close rapidly as the month passes until Jupiter is just 3 degrees east of Mars on Dec. 31. They will be even closer during the first week of January.
Venus will rise only about 45 minutes before the sun as December begins, and it will be lost in the solar glare by mid-month as it passes behind the sun. It will return to view in the evening sky after sunset in late February.
Mercury will reappear before dawn in late December. By Dec. 31 it will gleam 9 degrees above the eastern horizon 45 minutes before sunrise.
Meteor shower
The Geminid meteor shower will peak on the night of Dec. 13-14, when moonlight won't interfere. The "shooting stars" will seem to radiate from the constellation Gemini the Twins, which will rise around sunset and be nearly overhead by 2 a.m. The best display will be between midnight and 4 a.m., when those watching may see up to 120 meteors per hour in a clear dark sky.
Solstice
The sun will reach the December solstice at 11:28 a.m. EST (16:28 Universal Time) Dec. 21, marking the start of winter in the Northern Hemisphere and summer in the Southern Hemisphere. For the next six months in the Northern Hemisphere, the days will be getting longer.
Moon
The moon will be full on Dec. 3, at third quarter on Dec. 10, new on Dec. 18 and at first quarter on Dec. 26.