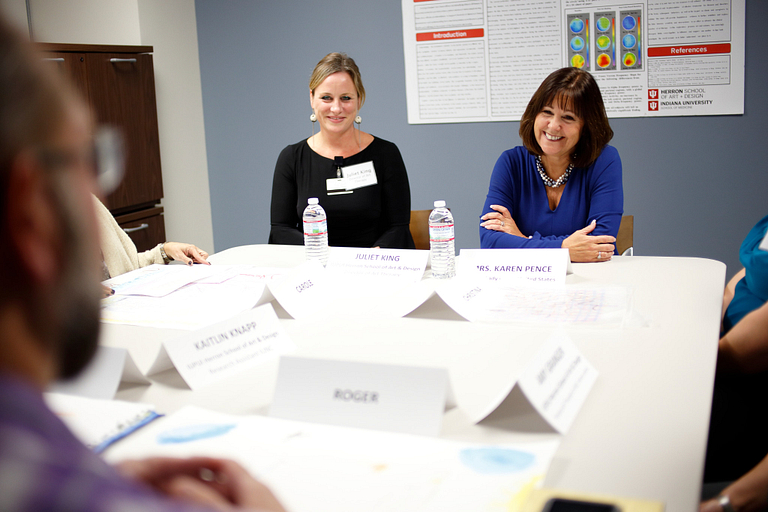 Everyday life can be a challenge for Roger J.
The self-described "adrenaline junkie" once worked as a machinist and an engineer, often on projects under the tightest of deadlines. Now, having battled Parkinson's disease for 13 years and undergone deep-brain stimulation surgery last spring, Roger has a new job: overcoming physical and emotional obstacles.
What helps as much as anything today is creating a drawing or molding a lump of clay for a few minutes, and sharing the art with a licensed mental health counselor. Art with a purpose of improving mental health and one's outlook on life. Put succinctly: art therapy.
"It's almost a miracle in itself," said Roger, 59, of Rossville, Indiana (his last name is being withheld for privacy reasons). "It helps me look at things from a different angle."
Art therapy isn't a widely known method of treatment, but momentum for the field is growing, and U.S. second lady Karen Pence is leading the drive to create awareness.
The second lady visited the Indiana University Health Neuroscience Center on Thursday, Nov. 9, meeting with four art therapy patients and practitioners to further her signature program.
"We just want more people to know about it," Pence said. "This is a profession that people don't understand – it's not arts and crafts. I want to get behind the science, and it is science. It's so fascinating to look at how art is changing your brain. Your brain is malleable; it can change."
Patients shared their works of art with Pence, along with uplifting stories of how art therapy has made a positive impact.
"It's taken me from 'I can't' to 'I can,'" Roger said.
In Indianapolis, the Herron School of Art and Design at IUPUI and the IU School of Medicine Department of Neurology have forged a dynamic partnership to train art therapists, treat patients with the methods and conduct research.
Herron offers a Master of Arts degree in art therapy, the only in-residence program in Indiana. The two-year program provides students with academic, clinical and research experience in preparation for credentials of registration as an art therapist according to the educational guidelines established by the American Art Therapy Association and also prepares them for licensure as mental health counselors in the State of Indiana. Its students are placed in internships with various organizations such as hospitals, clinics and nonprofits.
"Herron is earning recognition as a national leader in the education and placement of professional art therapists because of its partnership with more than 30 health care organizations throughout Central Indiana, including the IU School of Medicine," said Valerie Eickmeier, dean of the Herron School of Art and Design. "Herron's art therapy program has the potential to provide groundbreaking leadership in clinical services and research."
Art therapy is just as it sounds, yet complex in its application and evaluation. Through the creative practice of painting, drawing or working with materials such as clay, a patient's emotions and thoughts are expressed, further clarified and processed with the support of an art psychotherapist.
"It is important to offer people a range of expressive tools as we go about the courageous work of self-awareness. Too often we don't have the words we need to accurately define where it is we are coming from," said Juliet King, director of art therapy and professor at Herron School of Art and Design and assistant professor in the Department of Neurology at the IU School of Medicine.
"How it is that we are feeling, what it is that we are thinking – there is often great difficulty in navigating physical challenges and the emotional impact they present. Having alternative forms of expression is crucial, and when explored in the context of the therapeutic relationship, they provide unlimited capacities for healing and personal growth."
The collaboration between Herron's art therapy program and faculty, physicians and staff from the IU School of Medicine at the IU Health Neuroscience Center has proven especially beneficial.
"In many of our most complex patients, especially those who struggle with verbal expression, we have found that working in collaboration with the art therapists leads to meaningful improvement in patient care and clinical outcomes," said Dr. Robert Pascuzzi, chair of the Department of Neurology at the IU School of Medicine. "And in an effort to better understand how creative arts work to improve human lives, we have the ability to conduct thoughtful research on the neuroscience involved with art therapy – the goals being to prove how well it works and in which patients and to study its mechanisms, test and perfect the methods, and enhance and enrich art therapy applications in the management of our patients and their families.

"The whole of this collaboration is a perfect example of something far greater than the mere sum of the parts."