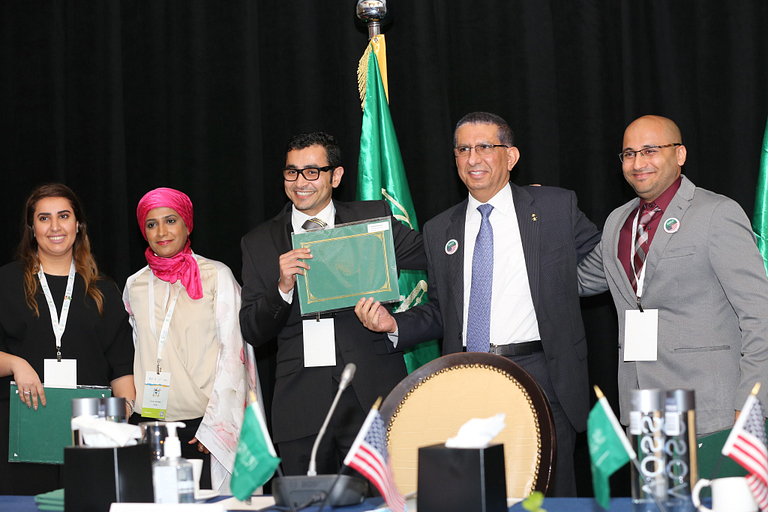 The IUPUI Saudi Students Club was honored by the Saudi Arabian Cultural Mission to the USA as the leading student organization in the country. The award recognized this group of Jags for its commitment to giving, community and positive change.
During his 2016 term as president, doctoral student Abdullah Alzeer guided the Saudi Students Club through much of its outreach. It hosted 167 events, many of them social but others focused on academics, community support, personal development and cultural outreach. One key to this was the creation of Al-Majlis, or Saudi Clubhouse, which allowed for fellowship among IUPUI's Saudi population and the city, regardless of national or religious background. This was the overarching mission of the Saudi Students Club.
"We can be a great component of the community of Indianapolis as well as maintain our identity as Muslims from Saudi Arabia," said Alzeer.
Al-Majlis made one of its largest impacts during Ramadan last year. Renting the building for the first time, the Saudi Students Club worked with the neighborhood to host a family-style Ramadan celebration. This included logistics as mundane as obtaining the use of parking lots to maintaining late-night quiet hours to encouraging community members to celebrate with the club.
"It was really one of those golden moments to me, when Muslims and Christians, despite their differences in religion, help each other to be more faithful to what they believe in and reach peace," said Alzeer. "We had many guests from the neighborhood during our Ramadan breakfast."
Saudi Students Club in Indy
It sounds simple on paper, but putting this outreach into action is rife with difficulties. Alzeer, however, sees only opportunities and is determined to make the most of his time in the United States while also helping other Saudi students to do the same.
IUPUI is host this fall to 385 students from Saudi Arabia. That contributes to the university's record 2,087 international students, three times the 2000 academic year's total, according to Chancellor Nasser H. Paydar in his State of the Campus address Nov. 7.
In May, the Saudi Students Club hosted Artal, an event dedicated to volunteering. The IUPUI club invited individuals from the nearly 370 Saudi clubs nationwide and provided a forum for speakers and poster sessions that showcased the importance of volunteerism and highlighted ways the Saudi community can contribute philanthropically.
The IUPUI Saudi Students Club has also written a guidebook, in Arabic, to help fellow international students transition to the university and succeed academically. It includes a list of tutoring and other assistance resources, what to expect from a variety of majors, frequently asked questions for defending a doctoral dissertation, and it even offers advice for when students need a Plan B for their time here.
During final exam week, the club reserved space at University Library for tutoring and motivation.
"We had one of the rooms with coffee and snacks with small, encouraging statements: 'We love you.' 'You can make it.' You can do it," Alzeer said, laughing lightly. "People grabbed some coffee, chatted a little bit and then went back to study. We encouraged them to stay at the library instead of going out to restaurants where they realize they missed two valuable hours."
Alzeer spends his personal time doing outreach as well, acting as an interpreter for local high schools, serving at food banks and even translating an emergency preparedness program to Arabic for FEMA in 2013.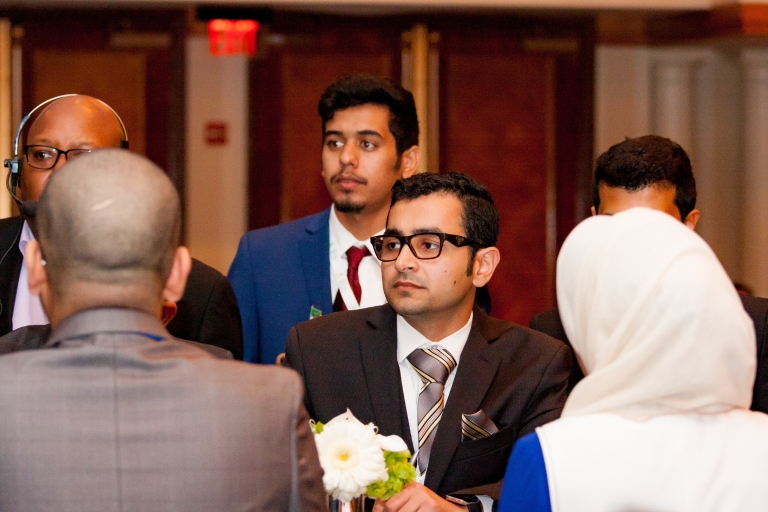 Alzeer's motivation can be traced back to what he perceives as a need to change an image, both his own and that of Saudis around the world. He recalls the shock of 9/11.
"I remember the country changed then," he said. "We realized something was not right."
Hence the drive for positive change, which for Alzeer is rooted in education.
"More Saudi students started coming to the States for two reasons," he said. "Number one is educating the community. We have a huge base of youth in Saudi Arabia, and the local universities cannot accept all of them. We need to find other places that can help to educate and accelerate the process of learning and educating the youth in Saudi Arabia.
"The second is to tell the world, and to tell ourselves, that there are other ways of accepted living in this world. We need to understand other cultures. We need to accept the differences. Many students, when they went to the States and studied and came back, became the basis of the reform we are seeing today in Saudi Arabia."
Alzeer came to the United States seven years ago. He followed a language program in Washington, D.C., with a master's degree in health informatics at Northern Kentucky University, where he helped win Best New Saudi Club honors in 2011. He's now completing his Ph.D. in health informatics in the School of Informatics and Computing at IUPUI and using his background in pharmaceuticals to develop a model that could predict opioid use disorder.
"I've had a great time, and great help from the American community in general, students and families." He then added, referring to last year's U.S. presidential election, "We were overwhelmed by kindness from the IUPUI campus. We felt the U.S. is not the place we used to know, but IUPUI helped reverse that."