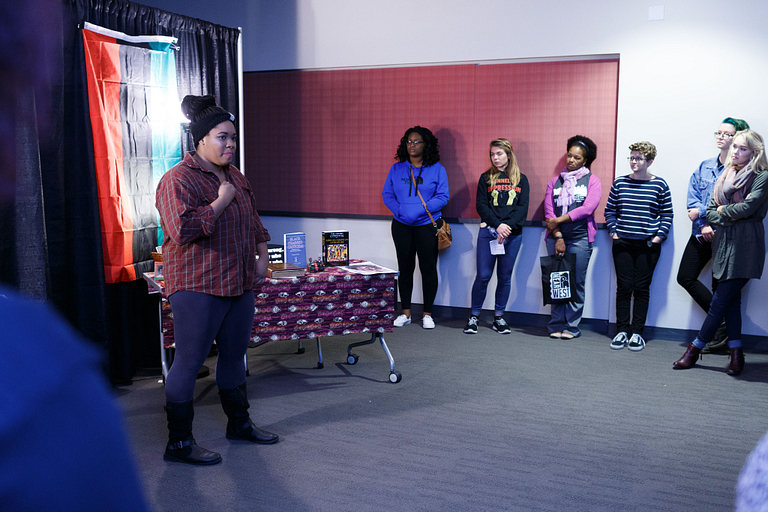 IUPUI's Social Justice Education program addresses issues near and far, abroad and in its own community.
The fifth annual Tunnel of Oppression is presented by the Social Justice Scholars, students from the program within the Multicultural Center; Housing and Residence Life; and allied faculty and staff members. The event will take over the fourth floor of the Campus Center Nov. 7-9. 
Tunnel of Oppression 2017
Six rooms will tackle an issue each: Palestine, addiction, mass incarceration, Native American representation, Desi-American identity and food deserts. Students, staff and faculty will present poems, monologues, videos and original skits touching on these sobering issues. 
Groups of 30 to 40 experience the Tunnel together. Each tour takes about 30 minutes and is followed by a discussion facilitated by IUPUI Social Justice Education leaders to process the experience.
"I feel like all scholars come into this program knowing our passions for one or two things," said Marissa Smith, a junior Social Justice Education lead scholar and journalism major. "But you learn so many new things and discover so many new passions through the programs we host, like Tunnel of Oppression. It's truly a unique program and a learning experience for all of us."
The event has grown each year, with 2016's exhibit drawing 1,200 visitors. Already, 500 are signed up for tours this year as part of classes that utilize the event as a learning tool. Many more walk-ups from students, staff, faculty and community members are expected.
Last year's event looked at a range of topics: environmental racism, sexism, mental health, Islamophobia, LGBT issues and immigration. Some of these issues are quite broad, leading to heavy discussion. Others are more focused yet still offer tremendous opportunity for thought and insight.
The subjects are selected from surveys taken at the end of every tour as well as scholar brainstorming. Last year's LGBT topic was honed by students who personally experienced hardships from their intersectional identities. A single room can contain a plethora of issues. 
"That perspective is very valuable and helps others connect with the issues," Smith said. "It's a great opportunity for students to learn what others have gone through."
An active campus
Activism and a passion for social issues have increased at IUPUI in the last several years, according to Smith. She is working on a project documenting social justice programming history on campus.
"Activism has become more of a topic of conversation," Smith said, "and folks from IUPUI wanted to get the community involved and have continued to do so." 
Tunnel of Oppression has been a part in that rise of awareness. It exposes students to issues they might be unaware of while giving a voice to others who are affected by the issues explored during the event.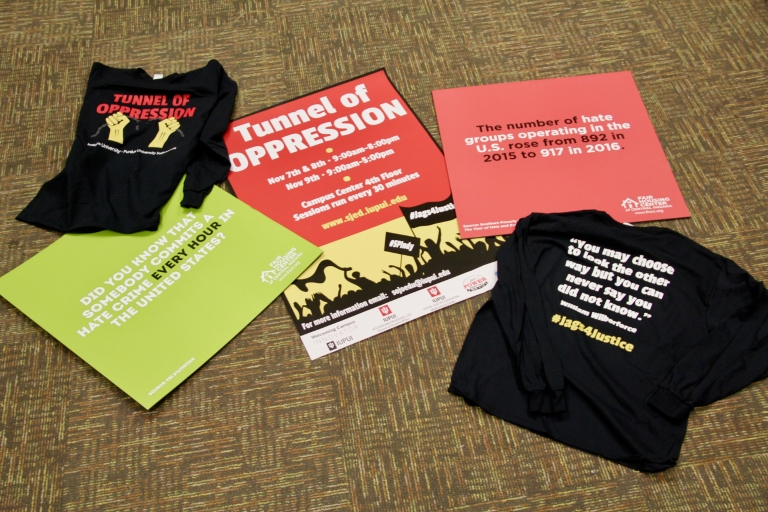 As the event has grown, so has the community involvement. The Sapphire Theatre Company, an Indianapolis theater organization that explores social issues, has helped Tunnel presenters with their monologues and skits. Other groups in the mix include the Fair Housing Center of Central Indiana and the Central Indiana Alliance Against Hate. The event will be included in the annual Spirit and Place Festival, which strives "to be a catalyst for civic engagement through creative collaborations among the arts, humanities and religion." 
Funding for the 2017 project came via the Welcoming Campus Initiative.
History of Oppression
The roots of Tunnel of Oppression stem from a 1994 event of the same name at Western Illinois University, which was inspired by the interactive learning experience at Los Angeles' Museum of Tolerance. Multiple versions of the Tunnel are produced nationwide on college campuses every year.
Since 2013, 24 different social issues have challenged and enlightened thousands of visitors at IUPUI's Tunnel of Oppression. Organizers' goals are for viewers to experience, process and discuss for better understanding. That understanding could then lead to advocacy and action. 
"There are a lot of social issues we could talk about," said Sarah Stalter Long, Social Justice Education coordinator. "We could have a tunnel every week of every year with six new topics."