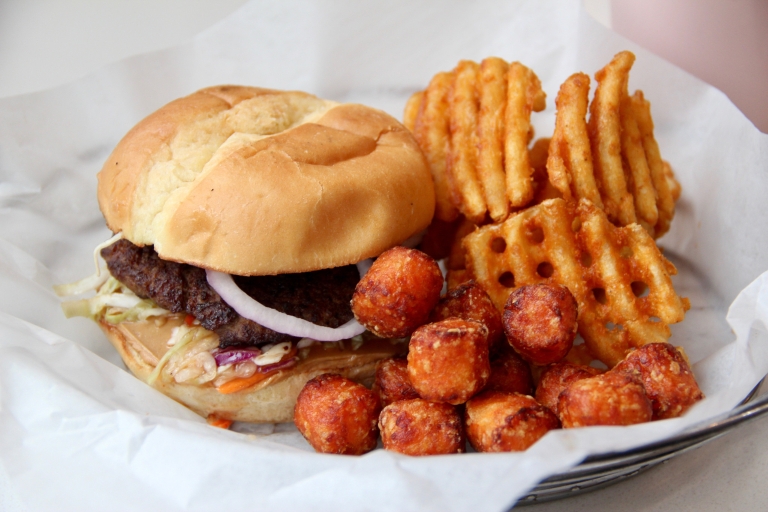 Punch Burger has been knocking out hamburger cravings in downtown Indianapolis since 2012.
The restaurant at 137 E. Ohio St. explores the many possibilities of the classic lunch favorite: atypical toppings; sauces that are sweet, spicy or both; and patties that range from beef to ground duck, turkey to veggie vegan.
Punch Burger accepted JagTag payments in the past and is continuing its IUPUI support by accepting the CrimsonCard. On Mondays, those paying with a CrimsonCard receive a free side with the purchase of burger.
"We get about 50/50 students to staff and faculty," said Punch Burger owner Travis Sealls of his Jaguar clientele. 
The sides include classic waffle fries and sweet-potato tots. The tots are sprinkled with sugar, which turns into a light caramelized crust. A healthier, spicier option is Asian slaw: The classic cabbage-and-carrot coleslaw mix is coated in a vinaigrette of rice wine, soy sauce and wasabi. 
Sealls said most patrons build their own burger. The combinations are mind-boggling – customers can choose their own buns (including Texas toast and pretzel buns), meat (angus beef, grilled chicken), toppings (pineapple, pico de gallo, fried egg), cheese (ghost pepper, cream cheese, Parmesan) and sauces (Caesar, teriyaki, ranch). If you want a duck burger on a wheat bun topped with pickled jalapeños, mushrooms, guacamole, blue cheese and buffalo sauce, you can get it at Punch Burger. 
Get Punched
If you don't have time to sort through the options, Punch Burger has several specialty burgers already mapped out. Among the most popular is the Burnt Cheese, with a layer of extra-sharp cheddar around the patty as it is grilled. The result is a crunchy, smoky, unique taste that many say reminds them of Cheetos. The Thai burger is dressed with peanut butter, onion, Asian slaw and sweet chili sauce, while the Good Morning boasts cream cheese, fried egg and Indiana-sourced bacon.
"All of our proteins come from Indiana farmers, like our beef from Fischer Farms," Sealls said. "Hormone-free, antibiotic-free."
Bacon will be celebrated during Indy Bacon Week, Nov. 13-19. Sealls is working on a pork patty with ground bacon mixed in, and strips of the stuff will be adorning many burgers next week. 
For dessert, Sealls keeps his milkshake menu fresh with seasonal flavors to go along with the classics and the fan-favorite Nutella, banana and mint shakes. Leaving the menu for now are pineapple and lime to make room for shortcake, toasted marshmallow and egg nog flavors.
"Our milkshake sales go up when it's cold," Sealls said with a laugh. "We sell more in the winter than we do in the summer."
Punch Burger opens at 11 a.m. daily.