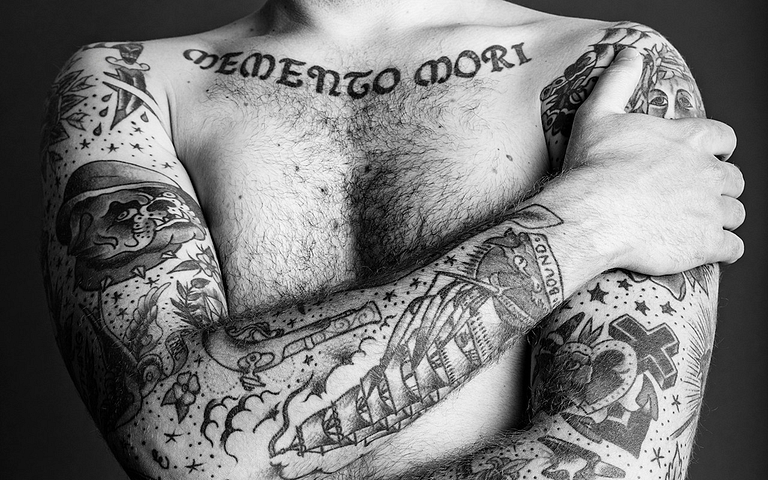 The impact of military service varies for the 1,200-plus IUPUI students, staff and faculty who have veteran status.
Generations of Jaguars who have served their country filter their experience in many different ways. Getting a tattoo is one method. Veterans often express through ink what they went through while stationed overseas or getting ready to serve right after basic training.
A new photography exhibit opening Nov. 9 in the Cultural Arts Gallery in the Campus Center explores the different tattoos of IUPUI men and women. The permanent artwork varies significantly, touching on how military service has affected each veteran. The experiences are unique, just like the tattoos.
"It depends on the individual," said Kim Bloodgood, director of the IUPUI Office for Veterans and Military Personnel.
"Military Tattoos @ IUPUI" runs through Jan. 3. An opening reception is set for 1 p.m. Thursday, Nov. 9. The show is presented by the Office for Veterans and Military Personnel with sponsorship from a variety of groups and individuals including the Veterans Faculty and Staff Council and the Kelley School of Business. 
Thirty veterans participated, including one young vet from IUPU Columbus. Each veteran was photographed by Herron School of Art and Design photography students Shelby Flora and Zach Carrico. Starting in the spring and through early this semester, the 30 veterans came to a studio in Eskenazi Hall where the students set up a red background and dramatic lighting. The vets are identified by their first name only, except one who is listed as "anonymous."
"The red background helped bring more attention to the colors in the tattoos," said Flora, a senior. "We wanted a background that would cater well to all different skin tones, too."
The students shot two series. One is black-and-white portraits with each veteran wearing their military branch hat or helmet; the other is color photos of the exposed tattoos. The range of shots is interesting and impressive, from a small, faded rose tattoo on a chest to a full-back piece. Some subjects have only the one tattoo that commemorates their service, while others have several designs mixed in with nonmilitary pieces. 
Flora worked not only with the tattoos but with the personalities of each veteran. Some were open to talk about their experiences, while others were more private. She said her favorite shots included subjects with multiple tattoos. She had one veteran wrap his arms around himself to create an interesting composition. Another favorite has the subject seated on the floor. His right arm has a tattoo of an American flag with the outline of Indiana replacing the stars. The eye then travels to the young man's left pectoral area, which displays the United States Marine Corps seal on a playing card behind an ace of spades. 
The tattoo shots are framed and displayed in 18-by-26-inch prints. Due to limited space, only about 20 subjects fit in the gallery, but an online component for the show will be posted soon.
Emotional stories
Half of the 30 subjects penned the stories behind their ink. Some gave brief hints as to why they decided to literally wear their service story on their arm; others poured lengthy, emotional stories onto the page. Herron art therapy graduate student Heather Davis, an Air Force veteran, and English alumna Rachel Sirinek worked with the veterans on the stories and edited them to be more concise for display next to the photography. 
Other IUPUI Veterans Day events
"There are some stories of loss," Bloodgood said. "There are some stories behind different symbols. It's hard to pinpoint every piece. 
"Some pull from heritage. A young lady wanted to keep the words of encouragement from her parents, so she had their handwriting tattooed on her."
Flora and Carrico created a warm, friendly environment in their studio. They found that the more time they spent with their subject, the better the photos became.
"They would talk about their experiences, and it was nice to get more perspective," Flora said. "It was a touching thing to talk about." 
Personal experiences
Bloodgood said she got her tattoo of a purple panther after basic training and during her time at the Lowry Air Force Base tech school near Denver. She kept the reasoning for it private for decades before finally telling colleagues in the veterans' office this summer while starting work on the exhibit. She said the panther represents strength, and purple was her high school color. The tattoo was a dedication to a friend from high school and an uncle who both passed away during her time in basic training. 
Bloodgood said she hopes the 30 veterans found more healing during their involvement with the exhibit, and she hopes nonmilitary viewers will appreciate their stories and the artwork that is forever inked on the subjects' bodies and minds. 
"This has been one of the hardest projects I've ever had to do, but it's been so worth it," Bloodgood said.