Traffic switch on Michigan Street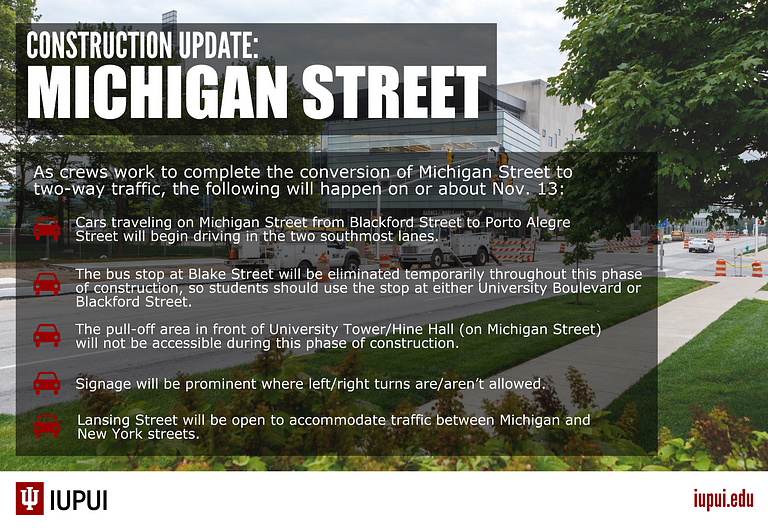 Westbound traffic on Michigan Street is switching to the south side of the road on the stretch from Blackford Street to Porto Alegre Street. Changes will take place on or about Nov. 13, so keep your eyes peeled and drive safe.
Right turns onto Blake Street to head north from Michigan Street will not be allowed, although Blake Street will be accessible from North Street. Detour signs will be posted.
The bus stop at Blake Street will be eliminated temporarily throughout this phase of construction, so students should use the stop at either University Boulevard or Blackford Street.
The pull-off area in front of University Tower/Hine Hall, on Michigan Street, will not be accessible during this phase of construction.
Signage will be prominent to indicate where turns are or aren't allowed.
Lansing Street will be open to accommodate traffic between Michigan and New York streets.
Indianapolis Power and Light will be removing the poles along West Street in December.
Fight hunger and homelessness with IUPUI
The week of Nov. 11-19, the IUPUI community will be taking action for Hunger and Homelessness Awareness Week. During this week, Paw's Pantry, the campus food pantry, is offering several events. 
The Campus Kitchen will be hosting a community dinner featuring a Chef's Table cooking demonstration and sampling. Several students and community leaders will speak at the dinner; the goal is to help increase awareness of the hunger and homelessness that impact the IUPUI and Indianapolis communities.
On Tuesday, Nov. 14, bring donations of menstrual products for homeless women to the first floor of the Campus Center. Also on Tuesday, bring nonperishable items to donate to Jam the Pantry, IUPUI's annual campuswide food drive.
Finally, the entire week culminate in a visual demonstration of food waste at IUPUI.
Sponsor a family in the spirit of the season
Spread the joy of the holidays and sponsor a family or individual through the Office of Community Engagement! Their goal is to sponsor 60 families this year, and they can't do it alone. This is a great way to get involved in the spirit of giving, so lend a helping hand and support your neighbors who need it this year. Download and submit the form today!
Skip being sick with a free flu shot
Don't miss out on getting your free flu shot before the season of sickness rolls around! Avoid being the one out of work and feeling ill by visiting a free flu clinic through Campus Health. A full schedule of when and where you can get your shot is available on the Health Services webpage.
IUPD-Indy police chief community forums
The IU Police Department-Indianapolis will be hosting community forums to introduce the final candidates for the IUPD-Indy chief of police. Two candidates are internal, and one is external. Each candidate will give a 10-minute presentation, with each followed by a Q&A. The sessions will take place in Room 1006 of University Hall and run from 9:30 to 10:30 a.m. Come on out and meet your candidates for chief!
Nov. 13: Doug Johnson
Nov. 14: Thomas Remender
Nov. 17: Jill Lees
Don't miss open enrollment
It's that time of year again: open enrollment. If you've had a child, changed your marital status, sent a kid to college or started taking new medications, you may want to re-evaluate your benefit needs for the upcoming year.
Open Enrollment is officially open through One.IU. The deadline for elections is Nov. 17, and your changes will become effective Jan 1, 2018.
Information on open enrollment will be delivered to campus email addresses this week, and you can always visit the open enrollment website with questions.
Professor Estela Ene talks feedback
Everyone has given feedback to a friend, student or colleague at some point, but few of us are experts. But professor Estela Ene is. In this edition of Liberal Arts Talks, Ene discusses research-based practices for providing student feedback, whether your course is online or face-to-face. Learn more from 4 to 5 p.m. Nov. 16 in Campus Center Room 305.
Undergraduate Research Showcase
The 23rd annual Indiana University Undergraduate Research Conference will take place Nov. 17 in the IUPUI Campus Center. The conference will highlight undergraduate research creativity and excellence from all IU campuses. The event will take place over the whole day, with anyone involved in undergraduate research welcome to register and attend. The deadline to register is tomorrow, Friday, Nov. 10, but onsite registration will be available at the conference.