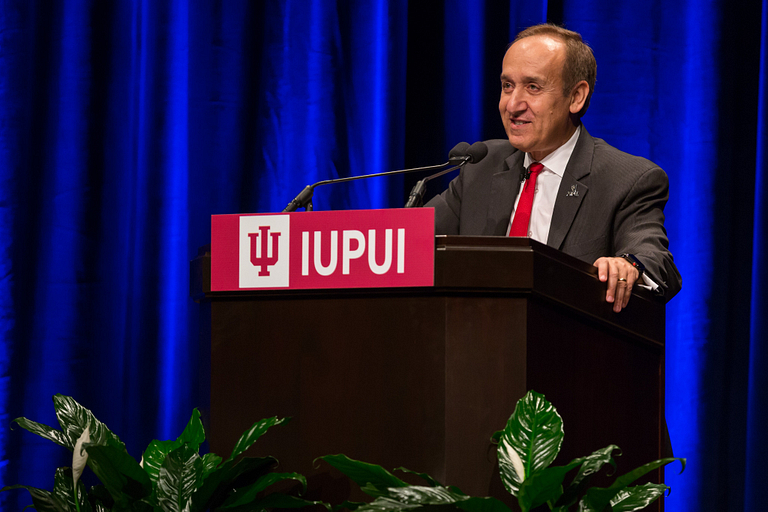 Chancellor Nasser H. Paydar delivered the State of the Campus address Tuesday afternoon. Here are some highlights:
William M. Plater received the Chancellor's Medallion, the highest award with which the IUPUI chancellor may recognize an individual for their contributions.
87 percent of IUPUI students are residents, and 28 percent are students of color.
IUPUI has students from 145 countries, all 92 of Indiana's counties, and all U.S. states but one: Vermont.
Applications for fall 2018 are up nearly 50 percent.
From the Desk
In the past five years, IUPUI has added 61 degree programs, including 46 graduate degree and graduate certificate programs.
IUPUI is creating a new Institute for Engaged Learning within the Division of Undergraduate Education that will encompass the Center for Service and Learning, the Center for Research and Learning, and the RISE programs, among others. It is set to launch in the fall of 2018.
IUPUI will begin overseeing IU Fort Wayne programs in July 2018.
IUPUI currently has 2,087 international students – 7.2 percent of students – and almost 600 students who study abroad.
Conversion of Michigan Street to a two-way street will be finished in spring 2018, with improved bike lanes and major landscaping improvements.
IUPUI is collaborating with the Indiana Sports Corp. and the State of Indiana on a sports district planning study that will help strengthen Indianapolis' position as a leader in the sports industry.
In spring 2018, IUPUI will dedicate the new Indiana University School of Dentistry clinical facilities, which will add 45,000 square feet that will house approximately 125 state-of-the-art clinics to train the next generation of dentists.
The Jaguar Fitness Center in the lower level of the Campus Center is scheduled to open in January. It will feature free weights and fitness equipment, workout and activity space, showers, and staff offices.
The University Library renovation will feature a new Graduate Commons area. The commons will open in spring 2018.
The chancellor noted many faculty members who have received honors and recognition: Alexander Its, Julia Arciero, Andrea Jain, Jeff Dean, J. Reed Smith, J.D. Mendez, Larita Killian, Carol Shieh, Ukamaka Oruche, Catherine Ivory, Linda Chase, Robin Newhouse, Valerie Eickmeier, Jane Luzar and Michael Patchner.
The chancellor also recognized staff members who have contributed to the campus: Niki Messmore, Missy Cooper, Kelsey Cox, Gregory Moore, Patrick Jobe, John O'Rourke III, Amanda Botts, Gill Journey and Bob True.
Several students were honored by the chancellor: Shivani Bajpai, Rick Shore, Michael Stottlemyer, Janice Miller, Alycia Berman, Jordan Williams, the Jagathon Dance Marathoners, the Saudi Students Club, the women's soccer team, V. Pursey and Sophia Lipka.
The chancellor allocated another half-million dollars to the Welcoming Campus Innovator projects, part of the Welcoming Campus Initiative, for spring 2018.
Two new gateways designed to mark entry to the IUPUI campus will be built: one at Michigan and West streets and one at New York and West streets.
The campaign goal of the For All Bicentennial Campaign has been raised from $2.5 billion to $3 billion by IU President Michael McRobbie.
IUPUI's 50th anniversary is less than a year away, and IUPUI has made remarkable achievements in the last 50 years. What do the next 50 years hold for this campus?