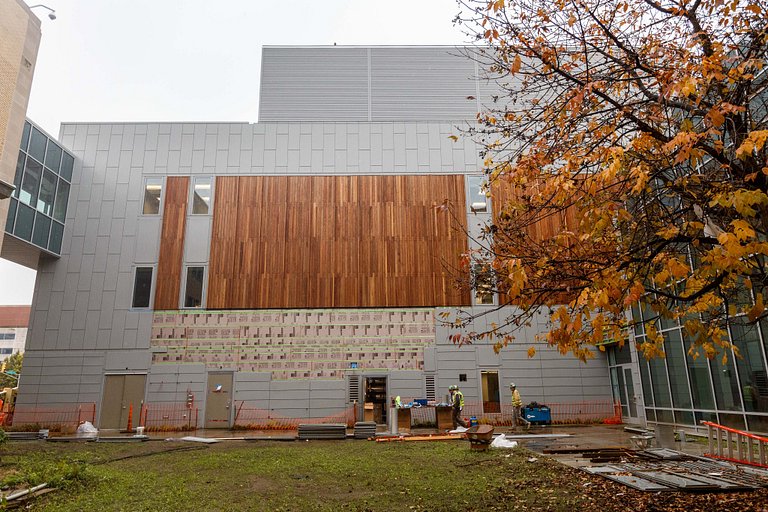 IUPUI's newest building will have some classic touches from some woody reshuffling.
In the 1980s and early '90s, most of IUPUI's then-new parking garages were given redwood vertical slats for aesthetics. Thousands of these redwood boards were installed while garages on Vermont, Barnhill and North streets were completed over 10-plus years.
Today, the older garages are getting facelifts. Thousands of vertical redwood slats that once clung to the exterior of the Vermont Street garage started to come down in September 2016 and were stored in a warehouse. They were replaced by a metal facade in an effort to blend the garage with the context of IUPUI's urban campus.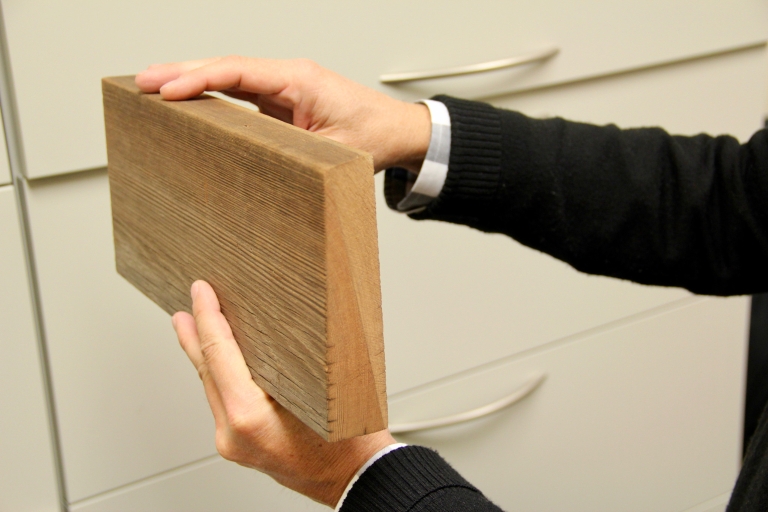 This fall, about 1,000 of those old redwood slats were installed at the new School of Dentistry addition – the James J. Fritts, DDS Clinical Care Center near Hansen Avenue. The wood has been repurposed to give the new building a "softer" touch in the interior courtyard looking west, which will see a lot of sun, said Brett Hatchett, senior associate university architect. A smaller amount of wood was attached to the connecting walkway between the Fritts Center and the current School of Dentistry building on the south side of the courtyard. 
"Originally, the elevations surrounding the courtyard were going to be all metal panel," Hatchett said. "The realization was that these elevations could potentially be a bit harsh in the courtyard. We thought it would be a cold environment, so we decided to incorporate the redwood we just took off of the Vermont Street garage to soften those elevations. From a material standpoint and from the sun beating on it, we wanted to make the courtyard more personable."
Though originally installed in 1980, the boards are still durable. Decades in the elements did create some chips and hairline cracks in a small fraction of the panels, which are about 6 feet long. The boards used for the dental addition were cleaned up, sanded and run through a planer for new life. 
"We sliced off an eighth of an inch and squared off the edges – and 30-plus-year-old boards, with just a minimal amount of effort, turned out beautifully," Hatchett said. "The amazing aspect of redwood is its ability to remain dimensionally stable and resist decay after years of being exposed to the elements."
More of the redwood will be used for outdoor furniture outside of Taylor, Cavanaugh and Lecture halls. Nine large butcher-block standing tables will be placed outside of Taylor Hall, while 24 huge U- and L-shaped benches will give students more seating between classes near Cavanaugh and Lecture halls. The first prototypes are expected this month.
Why is redwood so good?
Hatchett marveled at the durability of the redwood. Other wood used in construction would be falling apart after 37 years in Indianapolis' notorious weather extremes – intense heat to subzero temperatures all in one school year. 
"Redwood doesn't warp. It's a very stable wood," Hatchett said. "This has held up extremely well. It's a super-dense wood; that's what makes it durable."
The panels used on the addition to the dental school – as well as the connecting tunnel to the school's current building – were hand-selected by Hatchett and his team. The redwood motif is still visible in IUPUI parking garages and other IU buildings in Bloomington, Kokomo and South Bend, according to Hatchett.
Some boards developed white streaks over time. Again, the imperfections were so few that thousands of boards were available to choose from. The large fraction left over will be turned into the furniture, which will be debuted later this semester. 
Red-hot commodity
"Just the interest in this wood is amazing. When people see it, they want to work with it," Hatchett said. "It could have been discarded, but now it's found a home on a brand-new building."
While redwood isn't officially banned from construction use, it's more difficult to obtain for large projects now than it was in the 1980s.
"Industrywide, redwood use began to diminish as supplies declined and prices went up," Hatchett said. "Historically, redwood supply was quickly depleted, and the remaining redwoods were found in our protected parks.
"While it is more readily available now than in the recent past, redwood continues to maintain a premium material status. This is partly due to the public's perception that redwood is only available in old-growth forests. Also, many manufactured materials offer similar performance capabilities at a lesser cost."
Being able to reuse any material for an impressive new structure like the Dentistry addition is a victory for any architect. But to be able to work with high-quality redwood with a unique IUPUI history is even better.
"As a professional, this is fantastic," Hatchett said. "All of our buildings are sustainable, and this just takes that to another level – actually reusing material from another building on campus for a brand-new building."