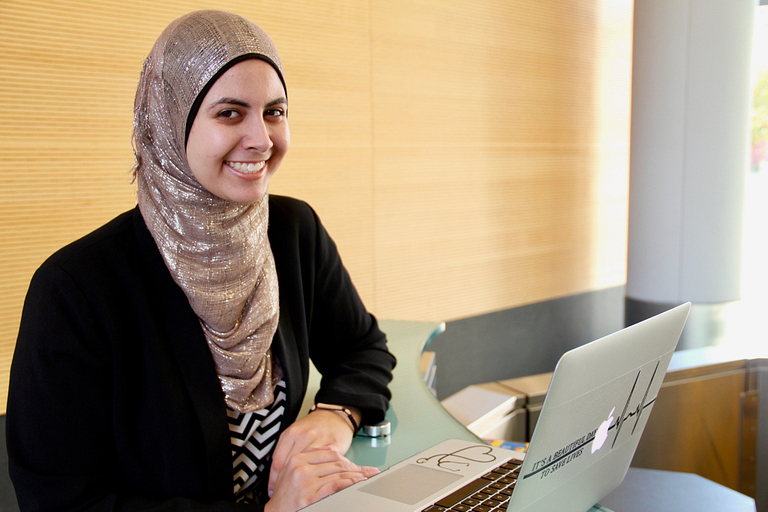 Amira Nafiseh's fast track to health care research started thanks to her skills in Piktochart.
During her first year at IUPUI, Nafiseh, a pre-med biology and neuroscience major, joined the Advancing Women Mentoring Program, where she met Dr. Nerissa Bauer, associate professor in pediatrics in the Indiana University School of Medicine. Her first task wasn't medicine-related, though; it was to design program handouts. 
The student from Fishers had an eye for visual design but also a desire for research. Nafiseh had previous wet lab research experience but desired to work in a clinical setting. Bauer had her student fire up the MacBook once again to work on digital ways to improve the health care process for patients. 
Nafiseh will present her clinical findings from her second research project under Bauer, "Qualitative Coding, Community Engagement, and Decision Making in Healthcare," at the annual IU Undergraduate Research Conference, which is set for 9 a.m. Friday, Nov. 17, at the Campus Center at IUPUI. A total of 144 students from IU campuses across the state will participate in the conference. 
"Doing research has increased my drive for doing what I'm doing. I hope to keep doing it through my senior year," said Nafiseh, who is one of two IUPUI finalists for the conference awards. Mathematics and science senior Sean Turner is the other Jaguar up for top research honors. 
"Undergraduate research
While some biology majors use pipettes and beakers in their research, Nafiseh used a digital recorder for interviews of students, parents and physicians regarding health care communication and experience. She used Microsoft and NVivo software to organize her data and visualize her findings.
"We used qualitative coding to design new interventions to help patients find their voice," said Nafiseh, who is a Chancellor's Scholar in the Honors College. "How they can better their health care and know what's going on, essentially."
The current project targets doctors treating children with ADHD. Her research indicated that group sessions with doctors, the young patients and parents are key. The emphasis is on the children better understanding what the doctor is telling them and the parents better using the short amount of face-to-face time with doctors so they can ask better questions. The work may also redesign interventions being implemented at area hospitals like Eskenazi Hospital. 
Bauer sees her student's work as crucial for patients.
"Health services research examines how individuals get access to care, how much care costs and what happens to patients as a result of care," Bauer said. "Health can be influenced by factors outside of the patient. By being involved in research that examines innovative ways to improve how health care is delivered, Amira has developed a broader appreciation of the importance of health and research."
Video gaming and health care research?
Nafiseh's first dip into research helped pave the way for her current work. She looked at videos aimed at patients dealing with doctor interaction. She realized that young people who have left the nest are encountering potentially vital decisions at the hospital or doctor's office. Nerves, inexperience, confusing medical jargon, insurance issues – it all adds up to a potentially stressful experience.
Nafiseh looked to create a better way than dry, role-play videos for her peers. She interviewed 12 students from Pike High School to gauge their knowledge and attitudes toward health care, using a video game format to help gather her data.
"The students thought the videos were too long and not interactive enough to help them retain the information," Nafiseh said. "With the video game, students can put themselves in the scenarios and not just watch the videos. They go inside and play games and have different scenarios and medical cases. 
"We are currently working with the Yale Center for Health and Learning Games to create a prototype of a game through a grant we received. We hope it will be used in health and wellness classes across Indiana."
Description of the following video:
[Video: Sean Turner is in the lab of Prof. Randall Roper.]
[Words appear: IUPUI Presents]
[Words appear: Sean Turner, senior, mathematics and science.]
[Sean Turner speaks: So, we study Down syndrome in our lab. I'm on a bone project comparing bone phenotypes between different mouse models. The intent is to kinda narrow down some gene interactions that take place, between inside the different mouse models that cause the bone phenotypes of deficits that we see.
And I want to compare the phenotypes between all the mouse models and narrow down the specific gene that may or may not be interacting with DYRK1A to contribute to these bone deficits. And the point of a pulmonary chain reaction in our lab is to look for different segments of DNA, and it's separated by molecular weight.
So, what this does is it sends an electrical charge through here, and since DNA has a negative charge to it, it runs away from the negative charge. So, the smaller particles move faster through the agarose gel. The samples would kinda fall depending on what it is. You'd see, except for TS, you'd see a top band and a lower band. If it's positive.
I was originally hesitant to do it, because I didn't think I would find it particularly interesting, but I actually really like it. It helps a lot with all the science classes, it kinda helps to tie everything together, and puts it in a kind of a practical realm for you.
And then it's really expanding my understanding of what takes place in research to get to new medicines or treatments or whatever.]
[Words appear: IUPUI Fulfilling the Promise, iupui.edu]
[End of transcript]
A leader in the lab
As a senior, Sean Turner has experience that has helped him lead his fellow undergrad researchers in biology associate professor Randall Roper's lab, which "seeks to understand the genetic and developmental bases of phenotypes related to Down syndrome." And Turner's 15 years in the military – first in the Army, now in the Air Force – have helped make him a standout researcher.
Turner will present "Contrasting Bone Phenotypes in the Different Mouse Models of Down Syndrome Suggests Trisomic Dyrkl A Does Not Act Alone." He has been poring over the genes of various mouse models on the lookout for patterns or anomalies. The hope is that the bone samples will reveal more on treatments and understanding of early osteoporosis in people with Down syndrome.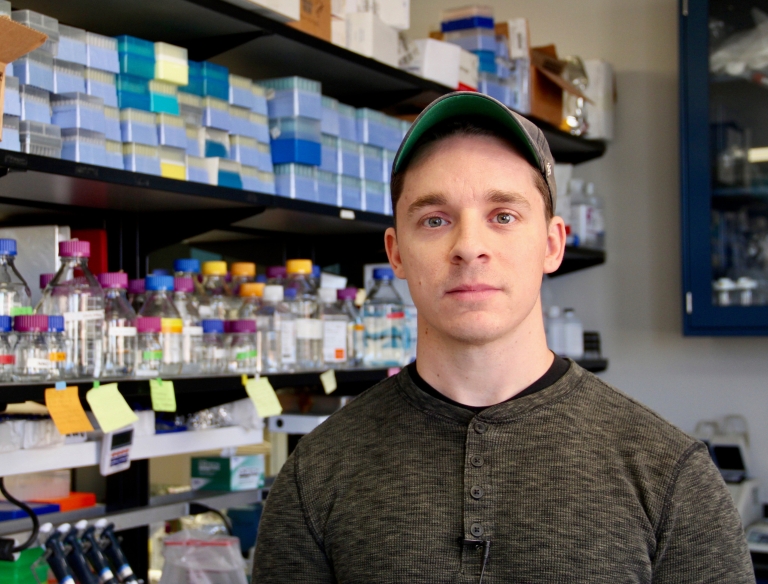 "I do some polymerase chain reaction to genotype the mice, mostly to ensure if they're trisomic or not," Turner said. "Then, I do bone analysis on the computer after they're put through a micro-CT scan and three-point bending test."
Turner used Roper's centrifuge to separate sample segments and then an electrophoresis machine to look for genetic signals.
"We're looking for different segments of DNA separated by molecular weight," Turner explained while demonstrating in the lab. "It sends an electrical charge through here, and since DNA has a negative charge to it, it runs away from the negative charge. The smaller particles move faster through the agarose gel." 
While the work has potentially significant real-world implications for the millions worldwide who have Down syndrome, Turner wasn't sure at first if research was for him. But he is now thankful for the opportunity to gain the experience.
"I was originally hesitant to do it because I didn't think I would find it particularly interesting, but I actually really like it," he admitted. "It helps a lot with all of the science classes. It helps tie everything together. It puts it in a practical realm. It's expanded my understanding of what takes place to get to new medicine or treatments."
Talking research almost as important as doing research 
As award finalists, Turner and Nafiseh will give TED Talk-style presentations at the conference, but they – and the 142 other IU student researchers – will be explaining their work to judges, professors and their fellow students all day. 
Roper and Bauer believe this opportunity is crucial for their students. Roper, who has 10 undergrads currently working in his lab, takes time every week to make sure his students can communicate clearly, in various time frames, what they are working on. Some summaries must be made in two minutes, while other scenarios must be stretched out to 60-minute presentations.
"The student should be able to talk about their research in a way that is understandable to the larger community, not only to the scientific community but also to the larger community outside of the university," Roper explained. "I want them to talk about their research. I want them to feel comfortable doing that, and I try to train them how to do that. What Sean is doing is nothing more than what we do in the lab every week, and it's great to see that training being recognized and him being recognized in his ability to talk about his work."