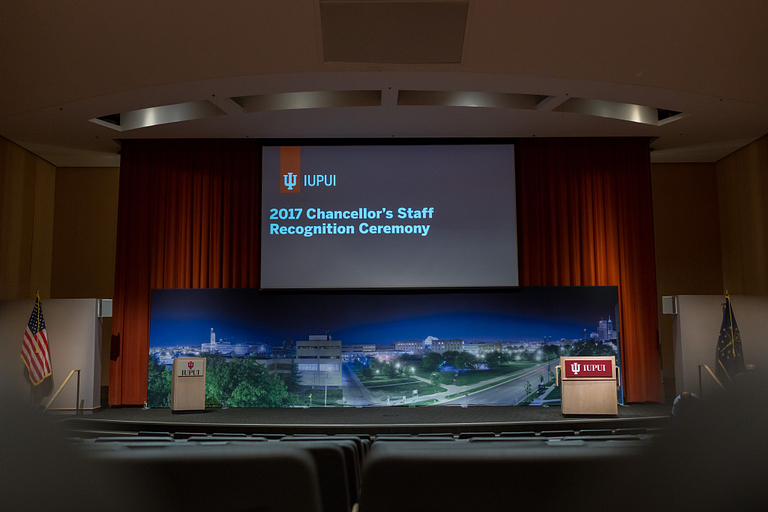 On Nov. 1, Chancellor Nasser H. Paydar celebrated and honored staff members for service and achievements. Staff with 15 to 45 years of service were honored. Several staff awards were also given: the Multicultural Impact Staff Award, the Nan Bohan Community Engagement Staff Award, the Gerald L. Bepko Staff Council Spirit Award, the Glenn W. Irwin Jr., M.D. Experience Excellence Award and the Carol D. Nathan Staff Council Scholarship. 
45 years at IUPUI
In 1972, when IUPUI was only a few years old and when the campus would have been unrecognizable to today's students, two young women began what would become more than four decades of employment at the campus. 
On Nov. 1, 2017, Judy L. Savage and Gayle Massa were recognized for 45 years of service at IUPUI at the Chancellor's Staff Recognition Ceremony.
Judy Savage started as an order typist in the purchasing department. She worked "on New York Street in an old four-story brick building that was also a warehouse. There were houses all around us; it was a neighborhood," she said.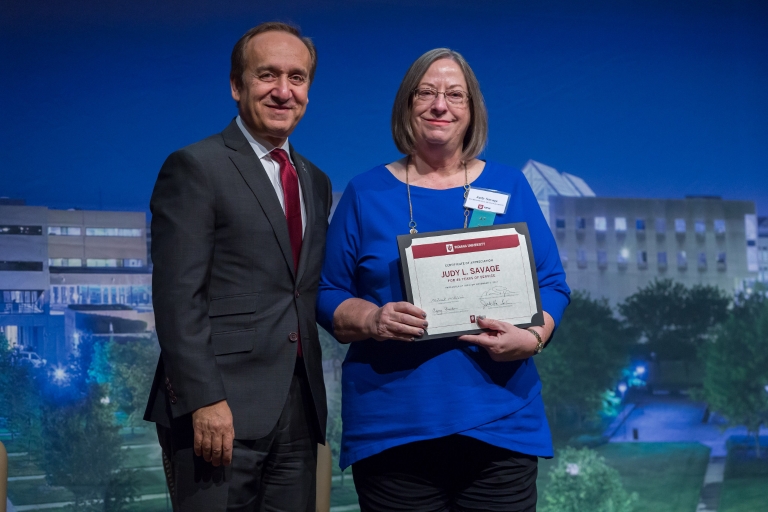 How have things changed in 45 years? "We went from using typewriters to word processors to computers, and there was a lot to learn over the years, certainly. And, of course, the changes to the physical campus have been considerable."
And, to Savage, why is working at IUPUI great?
"I have felt really blessed because I've been able to move up over the years," she said. "I did a couple of jobs in purchasing, and I moved to radiation safety. Being able to move up is certainly a good option. And the benefits of the university are great."
Gayle Massa started out as a temp in the Department of Orthodontics in the School of Dentistry. She was replacing a woman who was on maternity leave. A few months later, the woman decided not to return, and Massa was hired full-time for the position.
She's now the clinical administrator. Says Massa of her time in the Department of Orthodontics: "I can't even tell you the number of students I've seen graduate from here. It's in the thousands. I've worked through two generations. I've had two or three sets where I had a student and then years later had their child come through. I was going to try to make it to three generations, but I'm not sure I'll get there."
And the best part about working for IUPUI? Massa explains: "I think it's the students, and, with this department, it's like a family. Even once you graduate, you're always part of the orthodontic family. I still get Christmas cards every year from former students. I can't say enough good things about the department and the dental school. There have been a lot of kind people here."
Note: For more IU staff anniversaries, see Inside IU's Milestones.