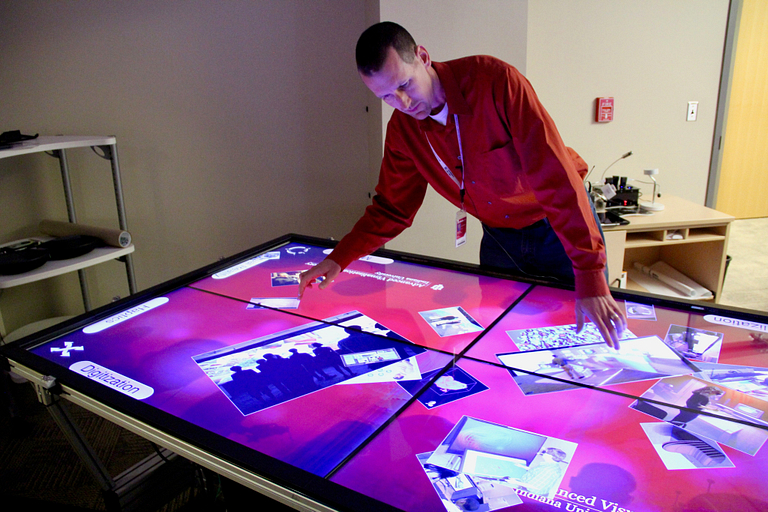 Twenty years ago, the top tech trends included high-speed internet, zip disks and DVDs.
1997 was also the year the Advanced Visualization Lab made its debut. Spread across Indiana University and IUPUI, the lab didn't concentrate on dial-up modems and boxy PCs, which were typical of the time. The labs looked at the future of visualizing research in ways that seemed light years ahead of the times. The star in IUPUI's lab was the ImmersaDesk, a then-state-of-the-art augmented reality facility to enhance the user's experience with programming. It was also established as part of the Research Technologies division of UITS and the Pervasive Technology Institute.
Today, the Advanced Visualization Lab at IUPUI has expanded to two spaces on the fourth floor of the Informatics and Communications Technology Complex. The rooms concentrate on virtual and augmented reality experiences, 3-D scanning and printing, and visualization through portable IQ-Walls and the futuristic IQ-Table, the 94-inch cousin to IQ-Walls that specializes in showcasing media collections from IUPUI.
Description of the following video:
[Video: IUPUI Presents bug appears.]
[Mike Boyles speaks: This cord comes out about 15 feet or so. This whole area is what we call tracks so the computer knows where the user is. I can look around, I can point to different things there and choose and select and such.]
[Music]
[Words appear: Advanced Visualization Lab – UITS]
[Mike speaks: OK, it's a multi touch surface. This one's a 94-inch diagonal. It's running our collection software. So, what we're able to do is showcase different media collections. These can be images, videos, 3-D objects. And there's been some iterations of this software, probably been utilized here at IU, I don't know, 15, 16 times or more. 
This collection is the AVL collection, so you can tell me or you can say I wanna see this topic, I wanna see haptics. Which ones are my haptics project? Here's a haptics project. So this was a dental simulation using virtual reality, stereoscopic 3-D and haptics. This is one of our digitization stations.
So, in these cases, we've got our 3-D scanners. So, we take the scanner, connect a couple cables. This runs from a laptop, and then we're able to put an appropriately sized object here. We can use the turntable to spin it and get a precise scan or we can scan this ourselves by moving this around in different orientations. 
And then once we have that data, we're able to take those digital objects, put those in virtual reality. We're able to put those in high resolution, or we're able to print those out. The example, things we printed out, we've scanned the artifact of the elephant and reprinted that out just as a simple proof of concept to show the exact scale.
We printed out a bleeding bowl. This is, I don't know, 18, 20 inches or so in diameter. An old artifact, and so we scaled that down. This is a 3-D print of the Showalter Fountain down in Bloomington.]
[Music]
[Words appear: IUPUI Fulfilling the Promise, iupui.edu]
[End of transcript]
Both spaces are open to students and faculty members to assist with research or class projects. While the amount of technology has expanded, Lab staff members like Mike Boyles say the expansion includes users. What was once designed for the few dozens of the techiest of technology students has grown to include thousands of users from almost every discipline at IUPUI.
"We are able to scale out services and help people more than ever," said Boyles, the Lab manager. "We are doing things at a bigger scale than we ever have."
That scale involves serving all of the IU campuses around the state. The democratization of the technology means this is no longer the domain of the elite.
In the lab
It's quiet in the morning. Students start to trickle into the lab around lunchtime and often don't leave until well after dark. Yes, there are projects to work on, but Boyles believes the atmosphere and access have made the Lab a hotspot on campus.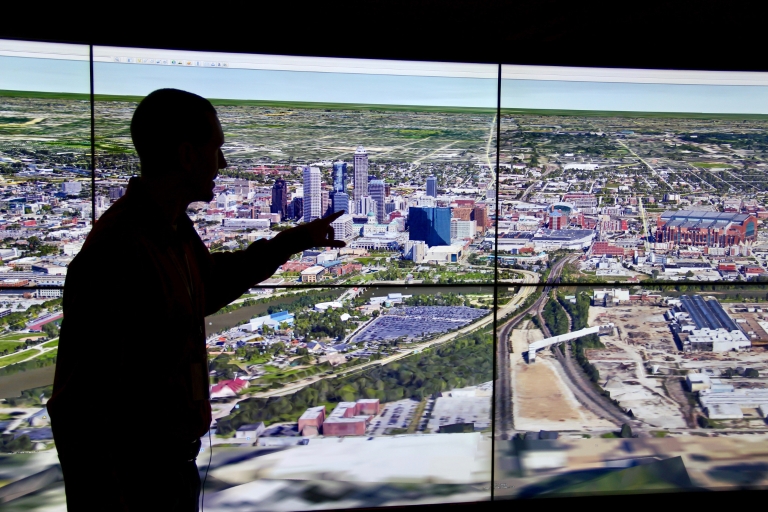 Recent visits saw the construction of the biggest IQ-Wall of all IU campuses. The structure will consist of 32 large flat-screens assembled together in an eight-by-four grid to become one large screen or multiple smaller screens, depending on the need. The Wall will be installed in the lab soon, and it will have stereoscopic capabilities for large-format virtual reality. 
Numerous augmented and virtual reality projects were being prototyped in the lab. The IUPUI campus and Washington Street projects are ongoing. Undergraduate media arts and science students Rob Sunderlin, Kennedy Davis and Justin Abbott-Sylvester revealed their latest work on an impressive virtual museum for the Benjamin Harrison Presidential Site.
The team of digital artists and web developers took scans of numerous objects from the Harrison museum for users to examine and even "pick up" in the virtual website. The project, titled "23rd Floor" for Harrison's status as the 23rd U.S. president, won't debut until 2018, but the site allows history buffs to see artifacts not on display. There are 10,000 artifacts in the Harrison collection, ranging from priceless vases to yellowed letters. The actual site is about 10,000 square feet, which allows only a small percentage of the collection to be seen, despite changing exhibits. The space is unlimited in the digital museum.
"This will help put history right in their hands and minds and share stories," said Charles A. Hyde, president and CEO of the Benjamin Harrison Presidential Site. "Museums have been trying to figure out for a long time how to leverage technology constructively. For a museum like ours, we recognize that it's a means to an end. It engages different audiences, so we are able to share these stories with them more deeply." 
A project within the Harrison project can be summed up with a jarring phrase: "print a president." The media arts and science students made scans of President Harrison's image and created a 3-D rendering. The rendering has been divided into eight pieces that people will be able to print with 3-D printers and then assemble the former president in their home. The project will be upped to 130 pieces. 
"To our minds, this enhances the likelihood that people will want to visit us," Hyde said. "They will be able to see these objects in concert." 
Scanning faces and places
Boyles displayed handheld digital scanning devices that capture all measurements of an object for digitization. Bringing large statues or even buildings into your computer is possible with this technology. The biggest success in this venture was a successful scanning of the humongous Venus portion of the Showalter Fountain at Indiana University.
The next scanning step involves objects for which handheld scanning would be difficult or impossible.
"There's work, initiatives and interest to get drones in on the same digitization efforts, all the way up to buildings," Boyles revealed. "We can put cameras on drones. We'll get there."
The Lab is a longtime collaborator with the schools of medicine and dentistry. Most work has been from the neck up for patients. The most recent gave a man a new nose; after numerous scans, digital sculpting and a 3-D-printed mold, the prosthetic fit perfectly. More than 30 patients have benefited from the AV Lab's facial-scanning technology.
Eric Wernert, one of the founders of the Lab, said the recent prosthetic success stems from a National Institutes of Health project on fetal alcohol syndrome that took place 15 years ago. It was the lab's first foray into 3-D scanning. Since that project's completion, the lab has built upon those early scanning skills to become what it is today.
'They are the problem-solvers'
Boyles foresees more and more collaborations with various IUPUI programs. Many current collaborations will be on display during Capstone 2017, which runs from 4 to 7 p.m. Dec. 8 throughout the Informatics and Communications Technology Complex. The School of Informatics and Computing will showcase research projects, many of which utilized the Lab.
It starts with an email
Many of Zeb Wood's students will be showcasing their work at Capstone, and he is a firm believer that the AV Lab has helped them succeed. To him, it's not just a lab, but a support system.
"Most often, our guys in the AV Lab are way ahead of the faculty," said Wood, a lecturer in media arts and science. "And we have some students who practically live there.
"They can anticipate where the trends are going for the campuses. Almost always, they're anticipating what we need in giving us really great direction."
While the technology is impressive, the expertise of Boyles and his team keeps students coming back, and the space allows students adept at augmented reality or digital sculpting to find each other and share ideas.
"They are the problem-solvers, the tinkerers, the people who aren't afraid to fail," Wood said. "It's a really good culture that they've learned to support.
"We try to integrate the AVL in everything."