Don't miss Herron's year-end exhibitions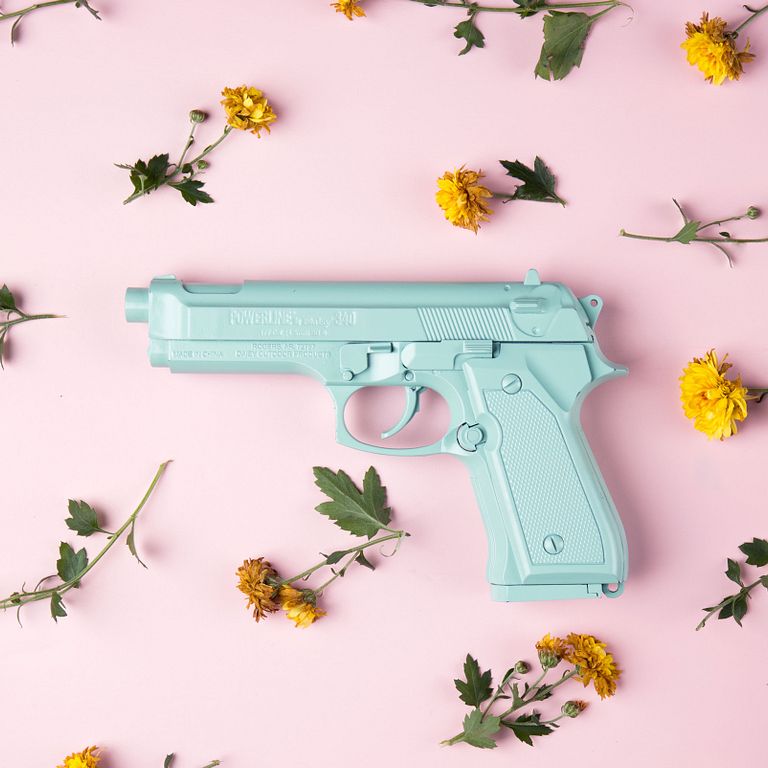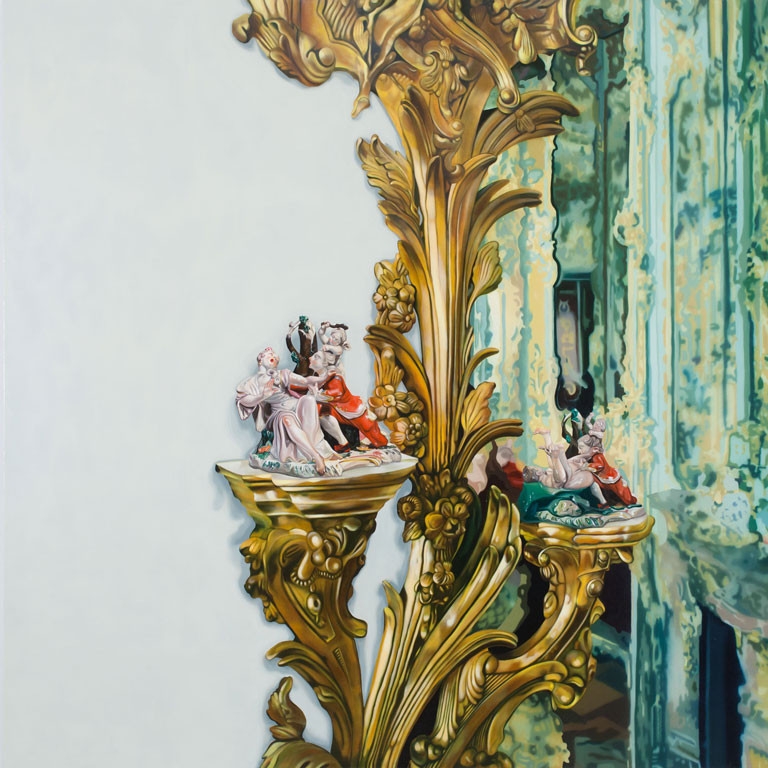 This year's Undergraduate Student Exhibition at Herron coincides with a sabbatical exhibition of works by professor Robert Horvath. The student exhibition runs Nov. 29 to Dec. 11 in various galleries at Eskenazi Hall. The Horvath exhibition runs Nov. 29 to Dec. 20 in the Basile Gallery of Eskenazi Hall.
The student exhibition is a beloved tradition at Herron, with a variety of student works being showcased and prizes given to the most exceptional entries. New this year is professor Horvath's "Petit Mort," a selection of works that see the collision of 18th-century figurative porcelain and modern LGBTQ social issues.
Find more info on when you can visit the exhibitions at Herron's website. 
Year-end concerts from Music and Arts Technology
The Department of Music and Arts Technology will be hosting a variety of student performances to celebrate the end of the semester. Students will be presenting classics as well as premiering never-before-heard works. Concerts range from traditional jazz to the unexpected, like the Telematic Collective Ensemble, so there is sure to be something for everyone. For all the details on performances, visit the IUPUI events page.
Nominate your students for the Plater Medallion
Faculty are now invited to nominate their exceptional students or encourage them to apply for the William M. Plater Civic Engagement Medallion award. The award recognizes students who have shown continuous commitment to their communities; to civic engagement; and to positively impacting the community through such avenues as political engagement, community service, social advocacy or others. Eligible students are undergraduate, graduate or doctorate students graduating from December 2017 through summer 2018. Nominations close Feb. 12, so nominate your students now!
Undergraduate Research Conference spells success for IU students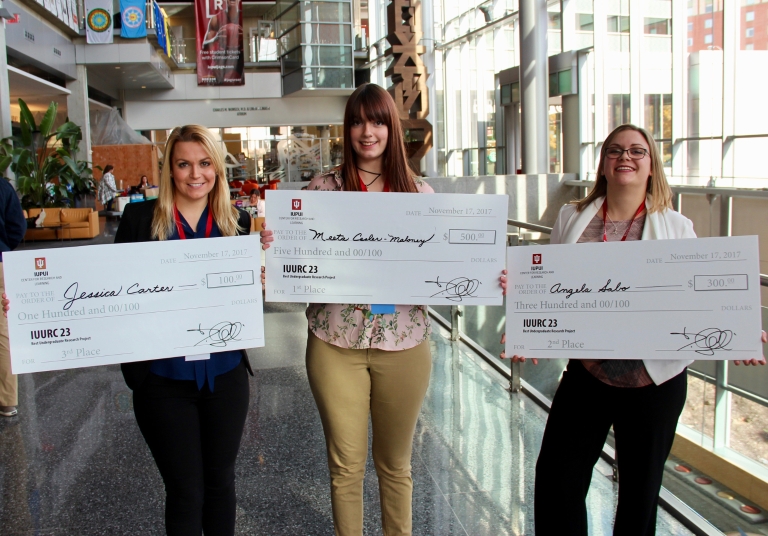 Nearly 150 student researchers competed for cash prizes while gaining experience talking about their work with fellow students and faculty members from throughout the Indiana University campuses.
The 23rd annual IU Undergraduate Research Conference took over the fourth floor of the Campus Center Nov. 17. Students from all of the IU campuses set up research posters and discussed their findings all morning and afternoon. Fifty-six presented their work in the Campus Center Theater as well as rooms on the fourth floor. 
Meeta Cesler-Maloney of IU Southeast earned first-place honors and an oversized check for $500 for her project, "Quantifying the Relationship Between Ozone and Meteorology During the Arctic Spring." The second-place winner was fellow IU Southeast student Angela Sabo for her work, "Isolating, Purifying, and Genetically Identifying Novel Bacteriophages from Southern Indiana Water Samples." Third place went to IU Bloomington's Jessica Carter for her presentation, "Foolish or Heroic? The Influence of Perpetrator Status on Perceptions of Those Who Confront Prejudice."
Honorable mention awards went to IUPUI students: junior Amira Nafiseh for "Qualitative Coding, Community Engagement and Decision Making in Health Care" and senior Sean Turner for "Contrasting Bone Phenotypes in the Different Mouse Models of Down Syndrome Suggests Trisomic Dyrkl A Does Not Act Alone."
The event was presented by the Center for Research and Learning.
Faculty/Staff lunch for only 5 bucks
Tower Dining will be hosting a $5 lunch special for all faculty and staff this Friday, so make sure not to miss it! Don't forget to bring your ID and an empty stomach, as there will be lots of options to fill your plate.
Short film 'Michael' is long on impact
IUPUI's own C. Thomas Lewis and Carole McAteer, from the schools of informatics and medicine, respectively, traveled to Los Angeles on Oct. 7-9 to present their HIV-stigma film at the Awareness Film Festival. They represented IUPUI at the festival with a short film called "Michael," which depicts the life of a Kenyan adolescent living with HIV. After Michael's father neglects to take him to get medicine, Michael must find the courage to take responsibility for his own health.
Though approximately 80 percent of the world's HIV-infected children reside in sub-Saharan Africa, an HIV diagnosis in Kenya carries a heavy stigma. This stigma can be life-threatening, as it prevents those infected from getting treatment. This is what filmmaker Lewis said he wanted to fight. "It is my hope that exploring the issue and bringing it to light can help create empathy for adolescents who face this stigma every day," he said.
While in Kenya, Lewis and his team made four films, all focusing on different types of stigma that HIV patients face there. They worked closely with AMPATH, a partnership of a consortium led by the IU School of Medicine with Kenya's Moi University, and others to control HIV/AIDS in Kenya, as well as with local philanthropy The Pocket Square Project. The Pocket Square Project was created to help children who live with HIV know that their diagnosis isn't the end of the story; it sells Kenyan-made pocket squares to raise money. Lewis' team also engaged in a partnership with the film faculty and students at Moi University, who acted and participated as crew.
So far, the films have been screened at events such as The Heartland Film Festival, The Awareness Film Festival, The Africa International Film Festival and the Global Public Health Film Festival, just to name a few.  You can watch the films online or read the story of how they were made.
Additionally, "Michael" will be shown at a World Aids Day event hosted by the Pocket Square Project. The event will take place Friday, Dec. 1, at the Do317 Lounge in Fountain Square from 6 to 9 p.m. Admission is free, though a donation is encouraged with each ticket reservation. Come show your support for the group's work with this fun and educational night!