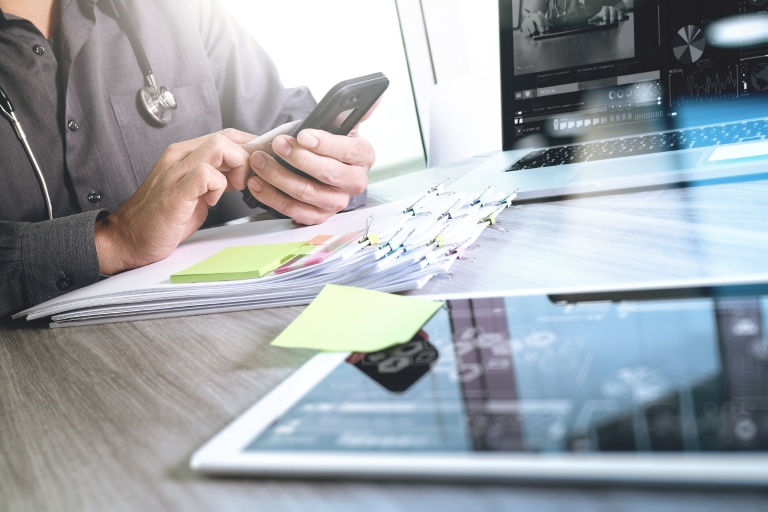 INDIANAPOLIS – Together, the Indiana University School of Nursing and School of Informatics and Computing at IUPUI are offering students the opportunity to earn a Master of Science in health informatics while earning a bachelor's degree in nursing. Nicknamed the "Four Plus One" program, this option is designed to be a flexible, affordable option to give students a leg up on their career path.
According to the U.S. Bureau of Labor Statistics, employment of health information technicians is projected to grow 15 percent by 2024. As of May 2016, the median annual wage for this field was approximately $38,000.
"From an informatics standpoint, graduates with bachelor's degrees can struggle to find good-paying jobs," said Josette Jones, an associate professor of health informatics and nursing. "This opportunity gives them a better chance of finding midlevel careers straight out of college."
Nursing students, traditional or accelerated, can begin taking graduate-level courses during their junior year of nursing school. This means they are earning graduate credits at an undergraduate tuition rate. During their second year of the program, students can work while taking classes part-time or apply for an assistantship, plus they will be eligible to apply for scholarship support. In total, the program requires 150 credit hours, which means an additional three semesters.
Maria Enriquez, a registered nurse and a recent graduate of the program, wanted to join the program to advance her career in working to improve electronic health records and providing technical support to fellow health care staff members.
"I was excited to learn that I could utilize both of my passions because I have always enjoyed technology as well as caring for people," Enriquez said. "I saw this as a great opportunity to apply my technological side with my nursing side."
For more information or questions on the program, contact Josette Jones at jofjones@iupui.edu or 317-274-8059.
About the Indiana University School of Nursing
For over 100 years, the Indiana University School of Nursing has been empowering leaders in practice, research, education and service. Ranked 14th among public schools and colleges of nursing for National Institutes of Health funding, the school is known for its robust program of research focused on quality of life in chronic illness, nursing education, and cancer prevention and control. Programs range from three undergraduate options, nine tracks in the master's program, post-master's options, a Ph.D. in nursing science, a leadership-focused DNP and continuing education opportunities. The 2017 Best Graduate School rankings by U.S. News & World Report place the master's and DNP programs at No. 1 in the state of Indiana, with the master's in the top 10 percent and the DNP in the top 12 percent of all schools surveyed. See the website for more information on the IU School of Nursing.