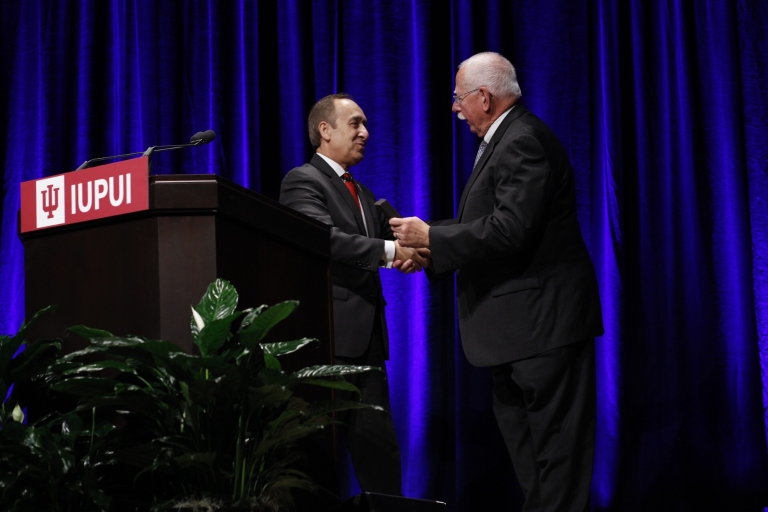 INDIANAPOLIS – William M. Plater was awarded the IUPUI Chancellor's Medallion in recognition of the pivotal role he played in laying the foundations of the Indianapolis campus. The Chancellor's Medallion is the highest honor an IUPUI chancellor can bestow.
IUPUI Chancellor Nasser H. Paydar presented the medallion Nov. 7 to Plater, Chancellor's Professor emeritus of public affairs, philanthropy and English and executive vice chancellor and dean of the faculties emeritus, during the chancellor's 2017 State of the Campus address.
"This State of the Campus address is the right place to honor Bill Plater as we think about IUPUI's history, our shared achievements and our next 50 years," Paydar said. "Bill started his career here as dean of the School of Liberal Arts and professor of English in 1983. He began his service as dean of faculties in 1987. And he is the longest-serving executive vice chancellor in campus history, holding that position from 1988 to 2006."
Paydar cited Plater's numerous contributions to IUPUI, including:
Leading the development of IUPUI's first comprehensive campuswide strategic plan.
Spearheading the establishment of University College as the entry point for IUPUI beginning students.
Presiding over the establishment of the Center on Philanthropy, which has grown into the world's first school of philanthropy.
Embracing the power of technology, establishing what was then called the School of Informatics at IUPUI.
"It's been such a great privilege to see how we as a team could make IUPUI happen," Plater said. "It has become one of the great universities of the world, and an inspiration in many ways for other universities around the world that would like to figure out how to be of service to the communities they need to support and to do so with the character, integrity, style and commitment to excellence that IUPUI has shown."
As chief academic officer, Plater led campus efforts to improve undergraduate retention, strengthen civic engagement, incorporate assessment of programs and learning, foster international programs, develop IUPUI as a model for comprehensive faculty development programs, and increase research productivity – all components of his vision for IUPUI to become a leading urban research university.
In 2006, the American Association of State Colleges and Universities established the William M. Plater Award for Leadership in Civic Engagement, the first national award of any kind to recognize chief academic officers for their leadership in higher education. Plater was the first recipient of that award.
IUPUI honored Plater in 2006, establishing the Plater Medallion for Civic Engagement, which is awarded to students graduating from IUPUI – with degrees from bachelor's to Ph.D.s – who have outstanding records of civic engagement. IUPUI also established the Plater International Scholars Program, providing a four-year tuition scholarship, residency in International House and a study abroad opportunity for a cohort of entering undergraduates.