INDIANAPOLIS – An Indiana University School of Dentistry-led team at IUPUI has dramatically cut the length of time it takes to make artificial facial parts, giving its latest patient a new tip for his nose in a matter of hours.
The team has refined its use of digital technology to the point where it "can make a thought into a thing very quickly," said the team's leader, Dr. Travis Bellicchi, a fourth-year maxillofacial prosthodontics resident.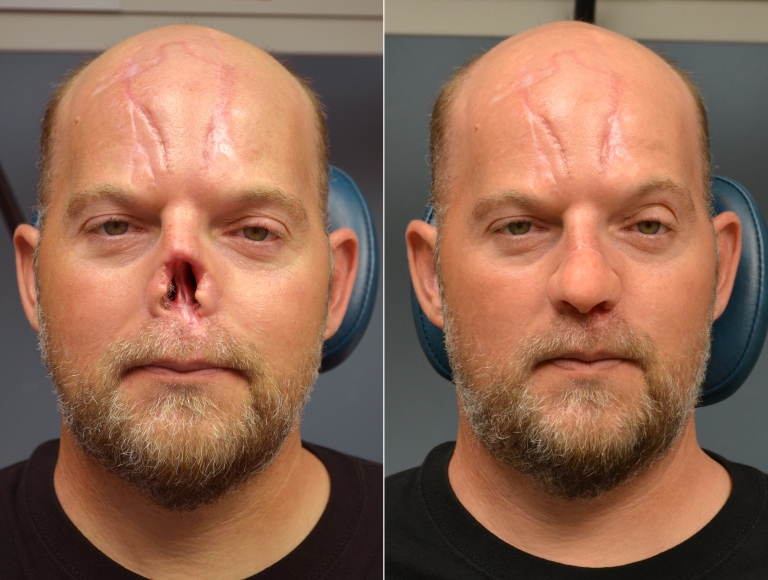 "The digital workflow allows us to move much faster," Bellicchi said. "We capture the facial geometry with an LED structured light scanner. That happens in a matter of seconds. So you instantly have a three-dimensional volumetric representation of the patient's face in a digital form, upon which you can virtually sculpt a prosthesis using organic modeling software."
Jerry Faber of Osgood, Indiana, received the nose prosthesis. He used one word to describe it: "Wonderful."
Faber lost part of his nose to cancer. After three failed plastic surgeries, Faber said, "I was done. I couldn't take being cut on anymore." He was referred to Bellicchi and "hoped for the best."
Faber received the nose prosthesis in less than 24 hours after his first visit to Bellicchi.
"I'm just flabbergasted," Faber said. "A lot of people don't even notice it. It's fake, but it looks so real."
The fabrication of a prosthesis begins with facial scanning, moves to digital design and ends with 3-D printing.
"We are unique in the sense that we commit completely to the digital workflow for every new prosthesis patient," Bellicchi said. "This is the way I work now. It's not a backup plan, not an alternative option."
It was possible for the team to fabricate the prosthesis for Faber so quickly because it lent itself extraordinarily well to a digital workflow, Bellicchi said. Fabricating prostheses digitally can take longer if, for example, a magnetic retention system is needed to keep a prosthesis in place.
Still, the digital fabrication process makes it possible to do in hours what used to take weeks or even months to do using the traditional time-consuming process that involved making a facial impression using a papier-mâché-type material and a plaster cast, sculpting the artificial part from clay or wax, and then creating another plaster mold to produce the prosthesis.
"With a digital workflow, we get closer to a more precise first prosthesis because I can rely on digital design and rapid prototyping," Bellicchi said. "Even if it's the first prosthesis we do for a patient, it usually fits better and has more aesthetic appeal than what I was able to accomplish sculpting with clay or wax and relying on plaster molds to fabricate a silicone prosthesis."
"It's thrilling to see patients' reactions to the work we do," he said. "I just love my job. I just love it."
The Digital team that worked to produce the nose prosthesis included Cade B.T. Jacobs, a design specialist/digital artist who recently graduated from the IU School of Informatics and Computing's Media Arts and Science program, Jordan N. Nelsen a design specialist/digital artist who is an undergraduate in the School of Informatics and Computing's Media Arts and Science program, and Nicole Alderson, a School of Dentistry Department of Illustrations staff member who characterizes and colors the prosthetic after its molded, is a recent IU Herron School of Art and Design graduate trained in fine art portraiture and sculpting.