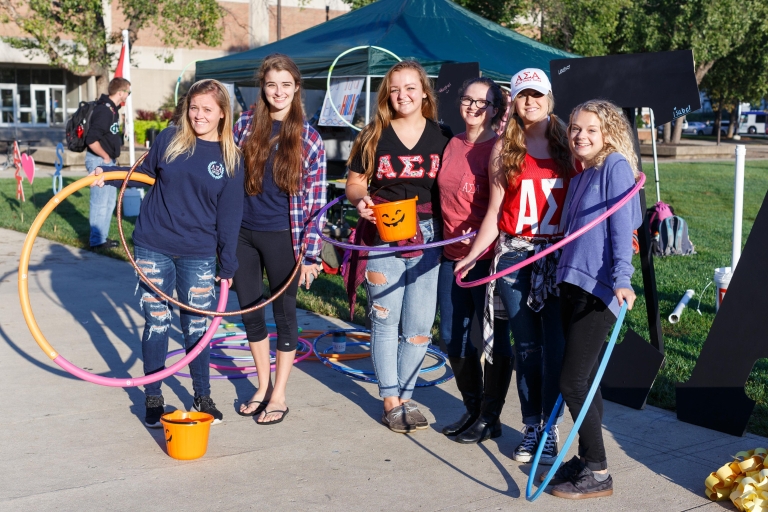 INDIANAPOLIS – Fraternity and Sorority Life, within the IUPUI Division of Student Affairs, will host Ginny Carroll, founder of Circle of Sisterhood and CEO of consulting firm inGiNuity, for its Panhellenic Association Academy Nov. 27 at the Campus Center. The academy kicks off FSL's fundraising campaign for Circle of Sisterhood, supporting girls' education in impoverished countries.
The official philanthropy for the National Panhellenic Conference, Circle of Sisterhood raises money to provide tuition, school lunches, uniforms and textbooks for girls and women in underdeveloped nations. IUPUI is launching its largest council-wide campaign in support of the charity. The IUPUI council, composed of 600 women from six chapters, plans to donate the funds to support 600 girls' education.
"Panhellenic was formed as a women's empowerment movement. What better way to ensure that women can be empowered than by affording them a great education?" said Mat Greer, coordinator for fraternity and sorority life advising. "Even though we're in Indianapolis and not necessarily going to Africa or South America, this really helps show that we are being philanthropic, but also hopefully down the road sending people to these places to do some mission work through Circle of Sisterhood."
According to Circle of Sisterhood, a $4 donation provides lunches to one student for the year, while $7 provides textbooks, $13 tuition and $29 a new uniform. Those wishing to donate to FSL's Circle of Sisterhood 2018 campaign should contact the vice president of service and programming on Panhellenic Council at iupui.pha.programming@gmail.com.
As part of the annual academy, sorority members will participate in cohort-specific educational sessions. Seniors will focus on how to continue philanthropic activities after graduation through a "backpack to briefcase" approach. Juniors, expected to transition into leadership roles, will learn how to maintain awareness and momentum of existing philanthropy and service programs. Sessions for new members and sophomores will concentrate on the importance of giving at the foundation of Greek life.
"I think what makes us very different from other clubs or organizations is the philanthropic work that fraternities and sororities do," Greer said. "Obviously, the other thing is lifetime membership, and hopefully the philanthropic and service work continue through that lifetime membership.
"We were founded to be the leaders in the community. In order to be the leaders, we need to ensure that we're always helping to change the community for the better."
The Fraternity and Sorority Life community at IUPUI hosts a number of philanthropic and service events throughout the year for both its council's national organizations as well as chapter-specific causes. A sample of these events include Phi Mu's 36-hour Teeter-Totter-A-Thon benefiting Riley Hospital for Children, Alpha Sigma Alpha's Hula Hoop for Hope in support of Special Olympics Indiana, and Sigma Gamma Rho Sorority Inc.'s Swim 1922, which strengthens USA Swimming's commitment to diversity, increases access to swim participation and decreases drowning rates.
Fraternity and Sorority Life at IUPUI consists of 20 chapters representing organizations from the National Pan-Hellenic Council, the National Panhellenic Conference and the North American Interfraternity Conference. Its vision includes understanding the importance of and participating in sustained civic engagement and educationally meaningful service and philanthropy as well as increasing awareness of and respecting differences to build cultural competencies.
The Circle of Sisterhood Foundation is based in Indianapolis but has granted nearly $900,000 to organizations in 22 countries and founded 15 school builds in Malawi, Senegal, Haiti, Nepal and Nicaragua since 2010. Its mission is to leverage the collective influence of sorority women to raise financial resources for entities around the world that are removing educational barriers for girls and women facing poverty and oppression.