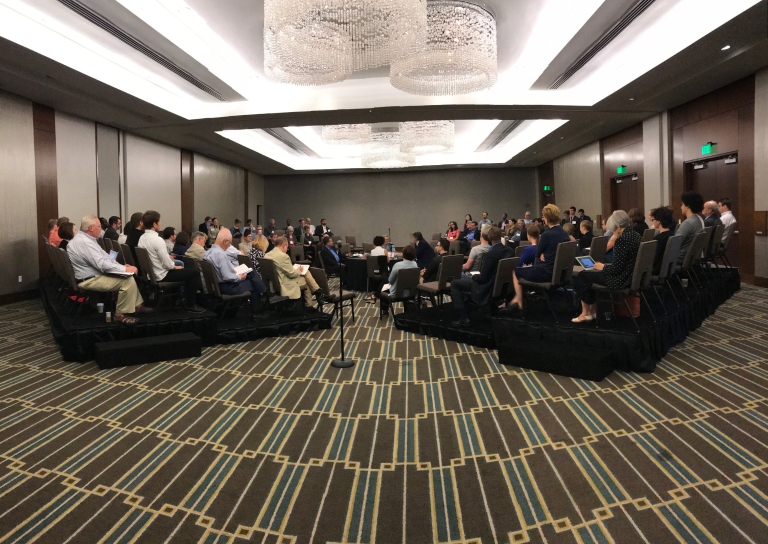 INDIANAPOLIS – There can be a sense of isolation for young professors teaching classes about religion in North America. They come out of graduate programs having spent plenty of time with peers and then begin their careers at small colleges or universities as the school's sole instructor on the subject.
Their professional outlook, and maybe even their personal well-being, would be greatly enhanced by a postgraduate peer group.
IUPUI offers just that in its Young Scholars in American Religion program through its Center for the Study of Religion and American Culture in the Indiana University School of Liberal Arts. And through a recent $1.15 million grant from Lilly Endowment Inc., the program will continue benefiting those just-starting-out scholars for the next five years.
"This gives them a community. Together they will work on issues related to scholarship, teaching, career goals, how to get promoted and tenured, how to get along with difficult colleagues, and life/work balance – and that group will stay close for the rest of their careers," said Philip Goff, Chancellor's Professor of American Studies and Religious Studies and the center's director since 2000. "A lot of these people don't know each other until they meet that first time in Indianapolis, and they become best friends by the end."
More than 160 faculty have gone through the program, which began in 1991 and has been funded by Lilly since 2002. Each installation of the program is composed of 10 to 12 new faculty paired with two senior mentors; they meet four to five times over two years. Admission is highly competitive, with only about 10 percent of applicants accepted.
"New faculty members stepping into their first teaching posts face several professional challenges as they work to balance teaching and research responsibilities," said Christopher L. Coble, Lilly Endowment's vice president for religion. "The Young Scholars in American Religion program has established an excellent track record in providing mentors to younger faculty to help them make this transition."
That track record includes many who now hold positions of leadership in higher education as department chairs, deans, provosts and center directors.
"The program not only helps young faculty survive – it helps them thrive," Goff said. "And they continue to turn to each other for good advice."
In addition to maintaining the Young Scholars in American Religion program, the grant from Lilly Endowment will also fund several more years of the Center's biennial conferences on religion and American culture. Launched in 2009, these interdisciplinary meetings highlight conversation among scholars in a unique format.
Held every June in odd-numbered years, the two-day conferences bring together about 120-140 scholars across various disciplines. Applications for speakers are not accepted; instead, faculty associated with the Center for the Study of Religion and American Culture seek out top minds in religious history, sociology of religion, anthropology and more.
These speakers, 24 in all, sit three at a time at a round table in the center of a room with risers all around it for the other conference attendees. They are given a question in advance and allowed only 10 minutes to offer their comments; then the discussion continues in the audience for the next hour. The circular arrangement of the room adds to the sense that everyone is around the table and there to talk.
"We purposely tried to remake the academic conference," Goff said. "We avoided multiple sessions where people go in different directions. Everyone's together in the same room for each discussion for several days, so the conversation builds. There's a lot of cross-fertilization of ideas – it's intense.
"It has quickly taken on an aura. At traditional conferences where speakers deliver papers, people talk about the 'Indianapolis way,' commenting on how IUPUI does things differently. We try to promote a culture of conversation."