Managing high-risk situations as a new nurse can be stressful. Imagine the pressure of performing advanced cardiac life support on a patient for the first time or the intensity of caring for a baby born addicted to opioids who is experiencing withdrawal.
These situations leave little room for nurses to make mistakes, but a newly accredited simulation lab at Indiana University-Purdue University Columbus is allowing students to practice skills in a controlled environment and decrease future mistakes in clinical settings.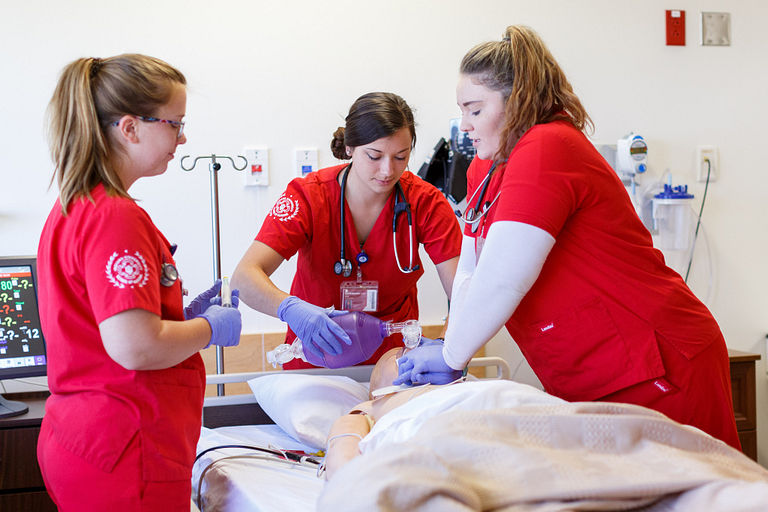 The IUPUC Simulation Center, which is one of only 100 labs in the world to be fully accredited by the Society for Simulation in Healthcare, gives students the opportunity to practice skills like IV and catheter insertion on life-like mannequins and patient communications with live actors.
"Historically, nursing students have only practiced on real patients, and if the opportunity didn't pop up to perform certain procedures on those patients, you didn't get the experience at all," said Carrie Shaver, director of the regional health care pipeline, nursing advising and simulation at IUPUC. "A mistake in the sim lab is an opportunity to grow, but a mistake in the real world could cost a patient their life."
Megan Bailey, a senior nursing student at IUPUC, said that even simulating the significant consequences that can result from mistakes makes an impression on someone studying to be a nurse.
"I've made mistakes in the sim lab that I can tell you I'll never make in the real world because it scares you," she said. "I am so much more likely to check myself and check my surroundings and listen to my patients now that I've been able to mess up without hurting anyone."
The IUPUC nursing faculty felt the best way to ensure they were adhering to best practices in simulation was to seek accreditation. The process requires lab representatives to submit a dossier providing evidence of meeting accreditation standards. It also includes a site visit from Society for Simulation in Healthcare administrators, who interview faculty and students and observe classes in the lab.
"The accreditation means a lot to us because it verifies that we are adhering to best practices and providing quality education," said Beth Sharer, division head at the IU School of Nursing at IUPUC. "It will also allow us to continue to grow and be proactive in the development of the program and continue to offer new activities."
In addition to the lab gaining accreditation, lab director Shannon Love is now one of only 1,000 certified health care simulation educators in the world. IUPUC also requires all nursing faculty to undergo simulation immersion training during their first month of employment and has incorporated a simulation element into nearly every one of its courses.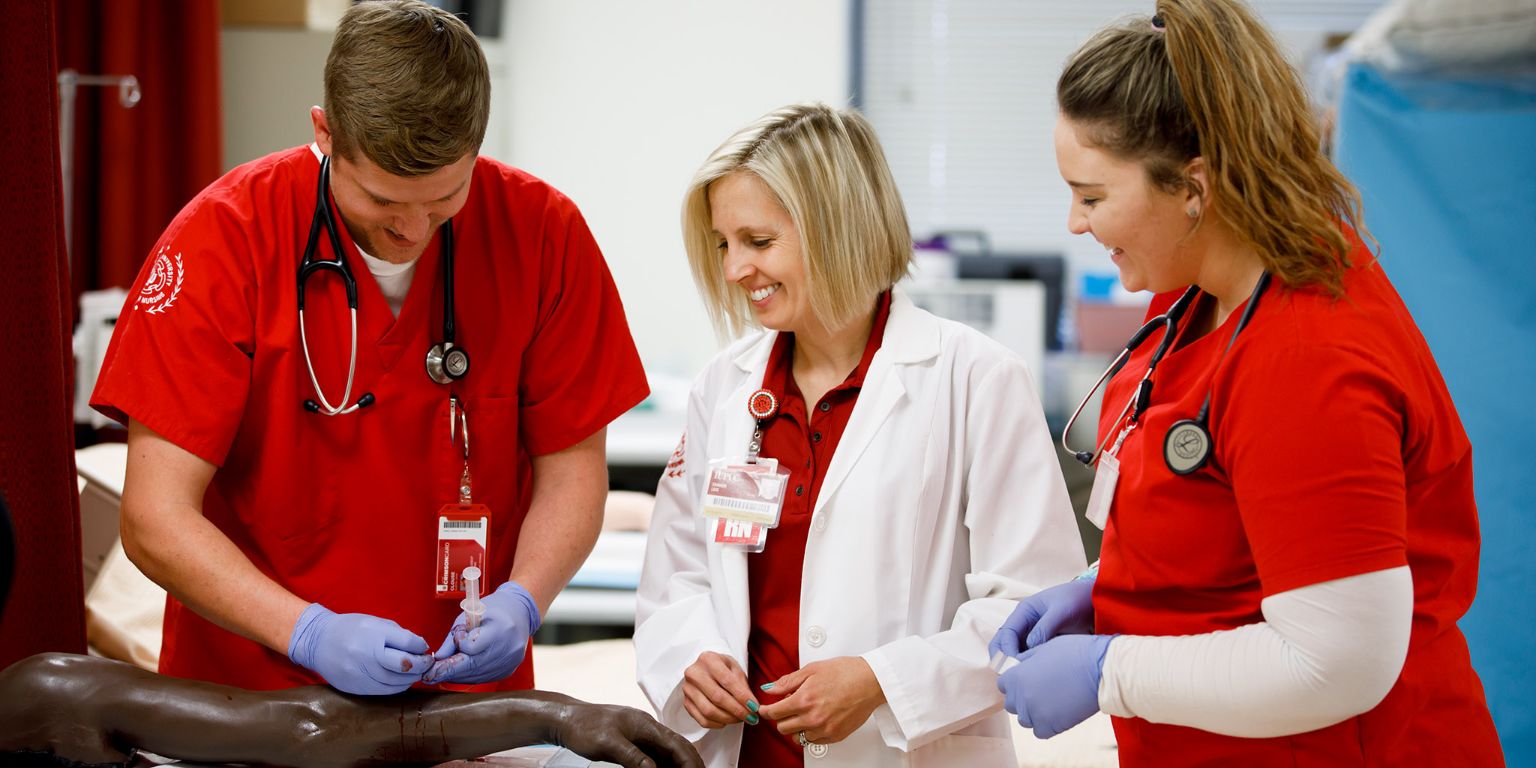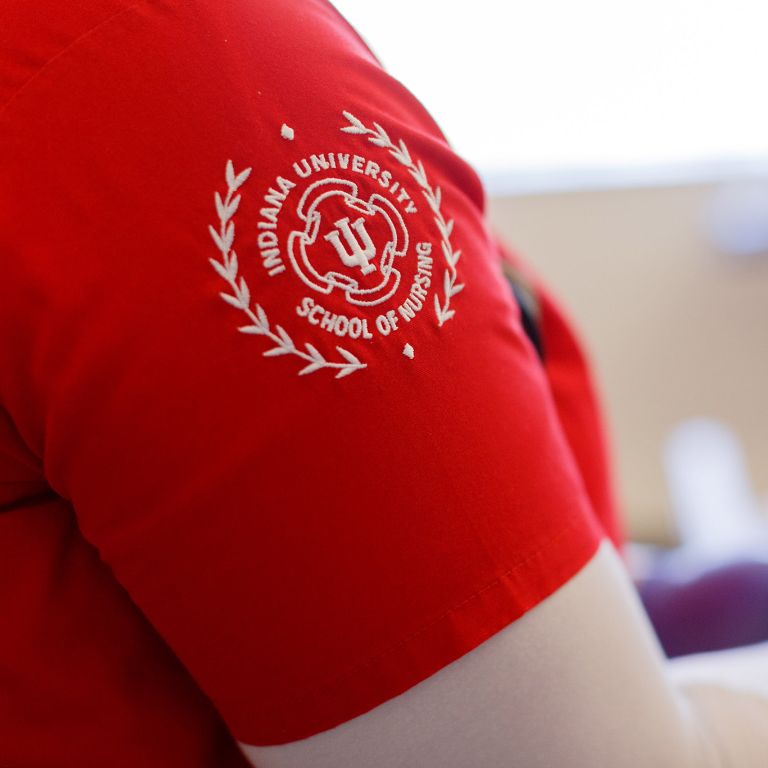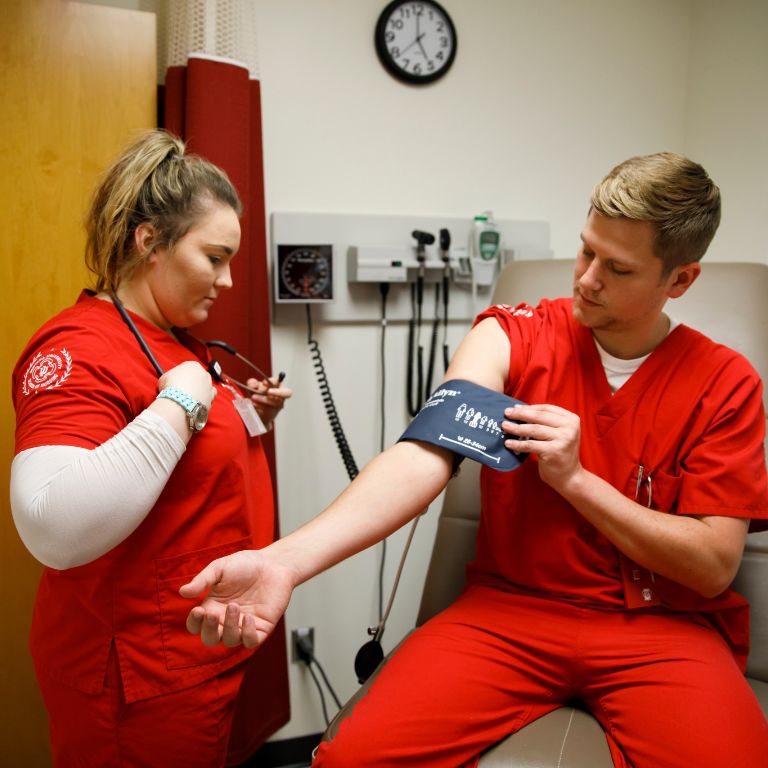 Photos by James Brosher, IU Communications
The IUPUC nursing faculty's commitment to simulation education has made them a leader and example for other health education and clinical institutions in the region, according to East Indiana Area Health Education Center executive director Jeff Hartz. The IUPUC lab is one of 15 simulation sites that receive support from the center, which administers grants to health professional programs in underserved and rural communities in the area.
"So many IUPUC faculty members have talents in different areas and focus on how to link simulation to identifying specific diseases and learning specific skills," Hartz said. "The involvement of IUPUC faculty in their community and their professionalism have gone hand in hand to drive the development of simulated learning in the region."
As a leader, IUPUC has opened the doors to its simulation lab to students and health professionals from across the state, including pharmacy students from Purdue, nursing students from Ivy Tech and direct service providers working in long-term care facilities in the Columbus area.
Hartz also said that IUPUC has been a leader in interprofessional education, a new trend in health education that encourages students from more than one profession to learn and train together. Mental health counselling students at IUPUC work with actors in the simulation lab, while business students practice employee performance evaluation and termination skills. In the future, Shaver said the faculty hopes more disciplines outside of nursing at IUPUC or other institutions in the region will explore using the simulation lab for learning.
"We are more than willing to accommodate any discipline interested in working with us," she said. "The IUPUC Simulation Center is an experiential learning resource for all campuses."
IUPUC is also planning to expand the technology available for experiential learning. The lab will be a beta test site for using virtual-reality and augmented-reality technology for simulated learning.
One augmented-reality experience possible with the technology will give students the experience of caring for a virtual infant showing signs of opioid withdrawal while interacting with an actor portraying the baby's mother. The technology will make students familiar with the blue lips and high-pitched cry associated with infant opioid addiction, while also allowing them to practice communicating with patients in difficult situations.
Whether it's by acquiring cutting-edge technology, forming strategic partnerships, developing creative ways to employ simulated learning or continuing to establish and adhere to best practices, Sharer said IUPUC plans to continue to push the envelope.
"We may be small, but we're doing some mighty things."