Instead of buying a pre-made gingerbread house kit from the grocery store, consider making one from scratch this holiday season.
And don't be intimidated; you don't have to be a chef to take part in this holiday tradition. Baking your own means you can make it as plain or elaborate as you'd like.
Bring the whole family together in the kitchen, and have fun with it!
Here are a few simple pointers to help you create your own sweet masterpiece: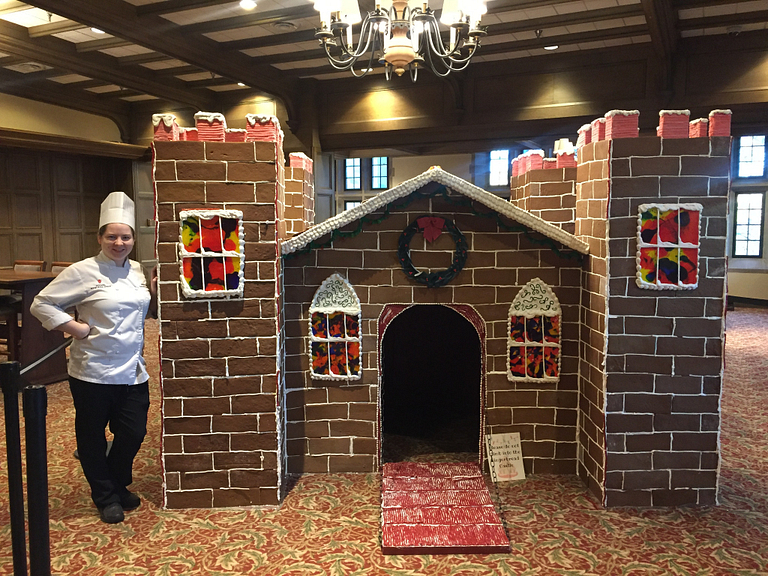 Choose the right recipe
It is very important to find the right recipe for your gingerbread house. There are multiple recipes online, and you may have to try a few different ones out, like this recipe from King Arthur Flour or this recipe from Simply Recipes. I find it key to use a recipe that measures in grams, rather than your traditional cups and teaspoons. Grams are more exact, which will help ensure your dough is sturdy. Look for a recipe that uses bread flour and a minimal amount of leaveners; these items will help keep your pieces from spreading. Also, remember to incorporate plenty of ginger, cinnamon, nutmeg and clove for the fantastic smell!
Ensure uniformity
Draw the design of your house beforehand. I recommend using graph paper to help keep your lines straight. Once you have a sketch, I recommend using a cardboard box or parchment paper to create a template or stencil; include any windows or doors you would like to have on your pieces as well. If you decide to use a cardboard box, you can use tape to temporarily build a house. This model can help you decide if all angles are correct.
Now you are ready to roll out your dough. Be sure to use a flat, even surface. Roll out the ginger dough to approximately a quarter inch thick. Using your template, and a smooth knife, cut the straight edges. Now, carefully move each piece to a flat sheet pan. Repeat this for all sides of your house.
Now you are ready to bake the dough, following the baking instructions on your recipe. Once each piece is properly baked, allow them to cool completely. Reduce your oven temperature to 200 degrees and place the pieces in the oven to dry. This will keep the pieces from warping once they are upright.
Choose the right building materials
Just as any house you would build, choosing the right building materials is important. I recommend making a royal icing as your glue, not only to build your house but to attach the décor as well. Royal icing is made from powdered sugar and egg whites, which harden solid to adhere each side of the house. I recommend filling a pastry bag with the royal icing and cutting a small hole in the tip. This will help give you a straight line of icing to attach your house pieces.
Be sure you are working on a steady and flat surface, and I would recommend using a sturdy box or plate to build your house on. This will help ensure that your house stays stable when you move it. Something like a paper plate would be too flimsy.
Provide variety
This is my favorite part about building a gingerbread house: the candy! Don't limit yourself to just a few colors and types of candy; choose a variety. You need different colors, shapes, sizes and textures. This will help give your house a unique look. When choosing your candy, try to think outside of the box. Also, be sure to buy a little extra so you can snack while you build.
Happy decorating!
Ashley Massie is the executive pastry chef for the Indiana Memorial Union.