In 1964, Lyndon B. Johnson was president of the United States, the Civil Rights Act was signed into law and Ron Hafft got his first part-time job with Indiana University Libraries. At that time, the main campus library was in Franklin Hall, a paper card catalog system helped students check books out, and Hafft was studying to be a high school English teacher.
In 2017, Hafft is celebrating his 50th year as a full-time employee of IU Libraries. In his current role as computer coordinator, he travels around campus to maintain and update public workstations and staff computers for the many library branch locations. But over the half century he's spent serving the university's libraries, he's done everything from managing the stacks to helping IUPD integrate library security into training for cadets. He's transitioned with the library from a mainly print world to a digital world and helped others along the way.
His first full-time gig was as a circulation desk supervisor for the night shift. The library had just expanded hours to close at midnight instead of 10 p.m. Hafft was drafted into the army in 1968, and when he returned in 1971, construction on the Wells Library was complete, and his position had been expanded to include stack supervision duties.
Hafft also spent time working in interlibrary loans. When another library wanted to borrow something from IU's collection, Hafft would coordinate lending the requested materials and billing for any overdue materials.
"We would send stuff literally around the world to places like Japan, Australia and Russia," Hafft said. "We were often lending much more than we were borrowing because our collection is so vast."
Wells Library was under construction from 1966 to 1969
That is still true today, with thousands of materials loaned by IU Libraries to other libraries in the state, in the country and around the world.
Most of Hafft's contribution to the libraries, though, have come through his willingness to embrace new roles and learn new skills. It would be an understatement to say that libraries have gone through a transformation over the past 50 years, and while many find change to be scary, Hafft has found it exciting. He's been called on more than once to share his excitement and ease the apprehensions of his colleagues.
When the library began automating the catalog system, Hafft managed the team tasked with barcoding nearly 2 million books. A team made of about 20 students and 20 staff members worked in two-hour shifts to chip away at the work and ultimately finished the task in just eight summer weeks. Once the catalog was fully automated, he helped train staff on computer software.
"They asked me to help because I could work with people," Hafft said. "It helped that I knew the circulation system, but it was even better that I knew what staff needed translated from computerese to something more generally understood."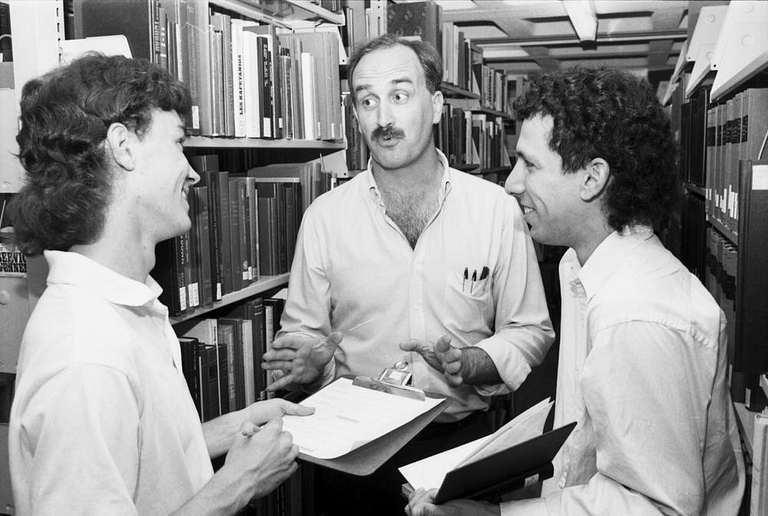 Hafft helped advocate for a print quota for students and a print release system in the library that required students to log in one at a time to print instead of overwhelming printers with multiple jobs at once. He saw the number of public work stations in the library dramatically increase, and then just as dramatically decrease as more and more students arrived on campus with their own laptops. Recently, he's seen a dramatic decrease in pages printed thanks to more online assignments and submissions.
Throughout all of the changes, though, Hafft said, the reason he remains at the library has stayed constant.
"The students are what has kept me here," he said. "In my duration I have seen a major change in basically everything at some time or another, but the bits and pieces that hold the library together and the reasons we are here will always be the same. If it weren't for the students, the university wouldn't exist. "
Hafft expects he'll retire within the next few years but will stay engaged with the university by possibly taking a photography course or attending the Little 500, an event he has volunteered for as a field judge for nearly 20 years. He will continue to see nearly every movie that comes to town and plans to read more spy and young adult novels. But even as he looks forward to retirement, Hafft feels fulfilled by his 50 years at IU.
"I'm finding out that as I look back on my career, it's all been very worthwhile."