A new software program will help Facility Operations better analyze the copious amounts of data that roll in from the hundreds of utility meters measuring electricity and water usage across the Bloomington campus. 
Keith Thompson, university director of energy management and utilities, said he'd become familiar with the cloud-based EnergyCAP program while working on a steam and chilled water rate project at the IUPUI campus. He immediately saw how useful the program could be for the Bloomington campus and implemented the new system here in August.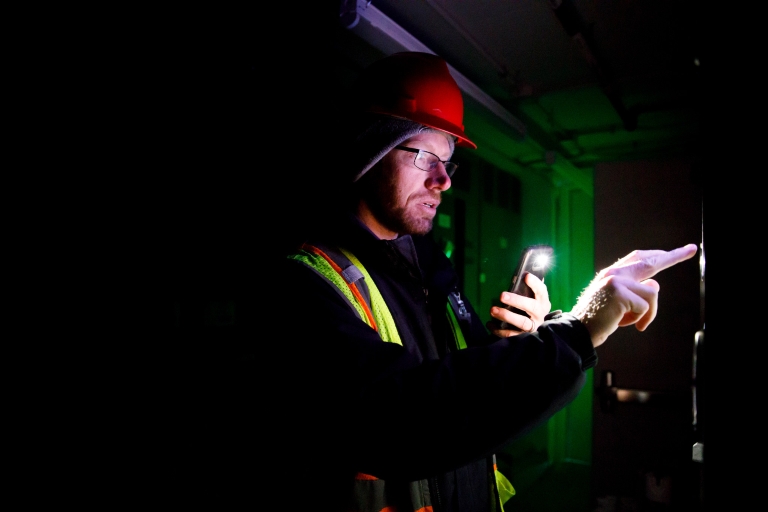 Facility Operations is responsible for supplying electricity as well as steam for heating and water in various forms – including chilled for cooling, drinking water, wastewater, stormwater and fire protection – to more than 400 buildings across campus. 
The campus's metering system has historically captured all that data, utility analyst Erica Steinfeldt said, but it's kept in myriad systems and spreadsheets that make it hard to analyze it, draw comparisons over time or look for trends.
"We had the tools, but our data was everywhere. It took a lot of labor to generate a report, and then it was a one-hit analysis that was difficult to apply over time," she said. "Numbers don't really mean anything without something to compare them to. Now, we'll be able to pull in all of a specific building's data in the blink of an eye and then really drill down into that."
That type of comparison data could help Facility Operations personnel make better decisions about maintenance or building projects, such as replacing lightbulbs in a building with LED lights, a project that dramatically decreased electricity usage and costs for IUPUI parking garages. 
"It will tell us how to prioritize what to do next," Steinfeldt said. "We're investing a lot of time and money into maintenance for the buildings across this campus, and this tool can really help us figure out how to get the best bang for our buck."
Since IU Bloomington began using the program, Steinfeldt has been working to pull in data for the 2017-18 fiscal year as well as part of the 2016-17 year. In the future, Thompson said, he will be working with the regional campuses to implement  the program on those campuses as well.
Both Thompson and Steinfeldt said they also hope to eventually open up the building consumption data for use by IU professors and students, many of whom have expressed interest in working with Facility Operations on analysis and sustainability-related projects.