BLOOMINGTON, Ind. – Thanks to the recent acquisition of a complete and well-documented archive, the Indiana University Libraries Moving Image Archive is the new home for tens of thousands of television commercials competing for the former Clio Awards in the 1960s, 1970s and 1980s.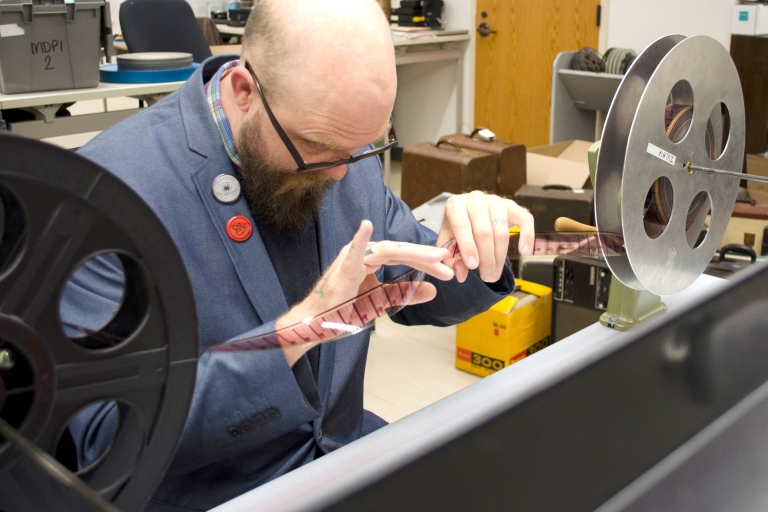 To date, the university has digitized about 100 of the commercials and offers several dozen in a free streaming service through IU Libraries' Media Collections Online.
Organized by category and year, the submissions on 16 mm and 35 mm film had been stored in a New York City warehouse since 1992, when the archive was purchased from the Clio organization by London International Advertising Awards. The organization recently began seeking a new home for the collection, and turned to IU's Moving Image Archive based on its international reputation for archival storage, digitization and preservation expertise. 
Now, what is believed to be the largest collection of historic, award-winning television commercials in existence will live permanently on the IU Bloomington campus.
"We are still examining and cataloging the collection and will be for years, but our initial estimate is that we have at least 80,000 commercials from around the world," said Rachael Stoeltje, director of the IU Libraries Moving Image Archive. "Maybe even as many as 100,000 or more."
The thousands of film reels contain television commercials from 85 countries. Although international submissions weren't accepted until 1975, U.S. commercials are dated from 1959 through 1991. The former Clio Archive, purchased by London International Awards in 1992, contains every entry into the contest during those decades.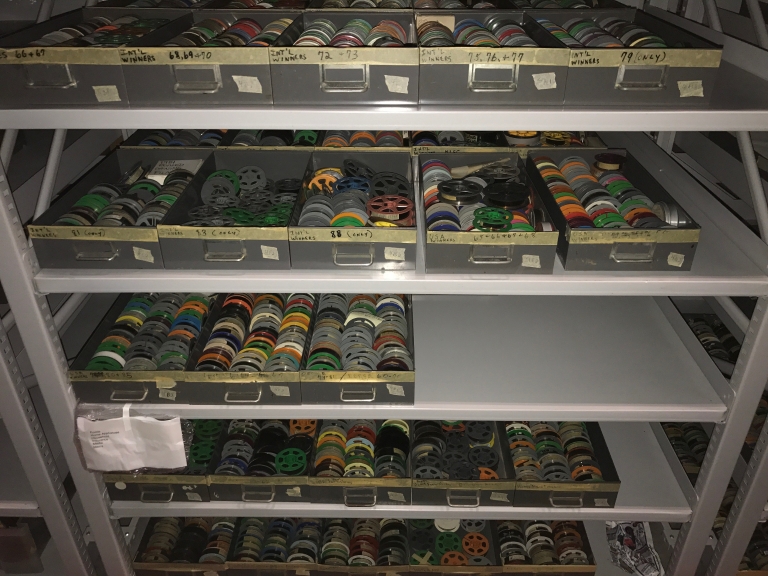 First awarded in 1960, and still a respected distinction today, the Clio is an international annual award established to recognize excellence in creative businesses such as advertising and design. Among many awards in the industry, the prestigious Clio is often viewed as the "Oscars of advertising."
Katie Lind, an IU doctoral candidate who works in the Moving Image Archive, is inspecting the collection as part of the initial processing. As a scholar of communication and culture, Lind immediately saw the academic value the collection presents. For example, she said, a reel of 1970s environmental public service announcements aligns well with her area of study and may inspire her next academic project.
It was a different category, however, that provided her most memorable inspection. "I learned there is just no good way to sell processed meats," she said with a chuckle.
The dozens of award categories also include confections, tobacco, U.S. office equipment and men's toiletries, many of which Lind has viewed in her inspection of more than 400 of the collection's 11,000 reels.
Andy Uhrich, an archivist in the Moving Image Archive, works with Lind as she winds through the reels, documenting details to populate a film database and online record information – a careful task that will make the collection discoverable by scholars. Lind's documentation also helps Uhrich and Stoeltje determine which reels to prioritize for digitization and to facilitate open, online streaming access when rights allow. 
"The use of this collection is infinite in both the classroom and in research," Uhrich said. "Advertisements are easy artifacts to show people. The ideology is so on the surface that it is useful for many different areas of scholarship and helps us study cultural norms of any given time."
In fact, the collection is already being used by at least one faculty member in The Media School at IU.
"There are so many possibilities, especially when you consider the international ads," Stoeltje said. "I especially enjoy the commercials that are about solving problems we don't even have anymore. There is so much history here. This collection won't be locked away while we are cataloging it."
In the meantime, scholars from around the world are invited to travel to Bloomington, Indiana, to view the many items in the archive's extensive collections. A continual increase in visiting scholars and requests for access to the film collection led to renovations at Herman B Wells Library, and construction of a new home for the Moving Image Archive, in 2016. Now, IU Libraries offers film and preservation scholars a comfortable work space, private viewing rooms and a large screening room with state-of-the-art technology.
The IU Libraries Moving Image Archive makes IU home to one of the largest and most comprehensive film collections held by an American academic library, with more than 120,000 items spanning eight decades of film production. In 2012, the Moving Image Archive was accepted as a member of the International Federation of Film Archives, an association of the world's leading institutions dedicated to the rescue, collection, preservation and screening of moving images.