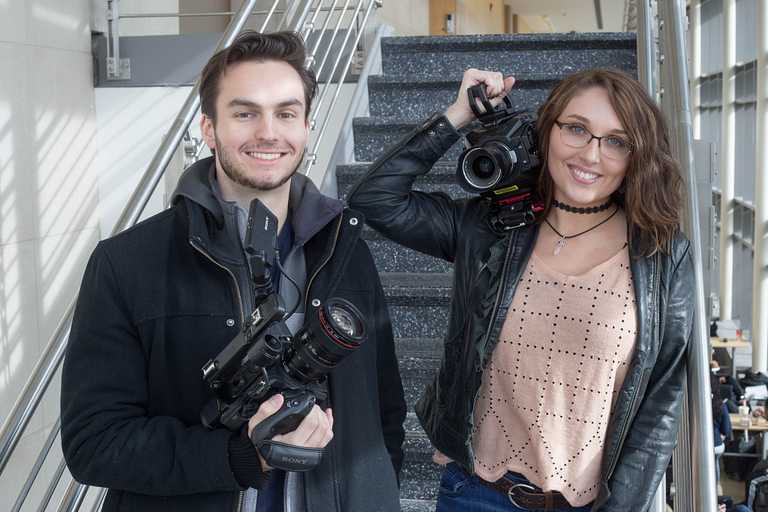 Two Media Arts and Science students in the School of Informatics and Computing at IUPUI had their entries accepted into the 2017 Heartland Film Festival held recently in Indianapolis. 
Sam Mirpoorian, who received his bachelor's degree in May and is now enrolled in the master's program, and Hannah West, a current senior, produced their films under the guidance of Media Arts and Science faculty member C. Thomas Lewis. 
Sam Mirpoorian's short, "Little Warriors," received this year's Indiana Spotlight Film Award, winning $5,000 and adding to accolades already earned at the Indy Film Festival, the Napa Valley Film Festival and the Global Impact Film Festival. 
"Little Warriors" captures a group of Indianapolis youth and their impassioned attempt to introduce legislation that would address climate recovery. 
Watch the "Little Warriors" trailer
Mirpoorian created the film for his senior capstone project. He attributes much of his success to the support he received from the program and his advisors.
"The program is very hands-on and truly allows for filmmakers like me to explore and unleash their abilities and interests," he said. "I mostly want to thank professor Lewis, as he provided excellent guidance and made sure I stayed on course."
As an undergraduate, Mirpoorian also produced "Under the Bridge: The Criminalization of Homelessness," which received critical acclaim last year and has been released for commercial distribution. 
West's film, "Not in Vain," was a class project created for the Video for Social Change course. She, too, credits Lewis for her success. "I'm very thankful for his help, support and guidance on this project, as well as throughout my undergrad degree work," she said.
"Not in Vain" explores Indiana's opioid crisis, a topic close to West's heart. "Moving forward, it would be great to find a way to have this film shown in Indiana public schools," West said. She pointed out that opioid abuse is a problem that is affecting many Hoosiers as early as high school, and she hopes that the film could create a dialogue with students.
The Media Arts and Science undergraduate degree with specialization in video production and sound design introduces students to the latest technical skills required in the video and sound industry and prepares them to develop, produce and ultimately deliver a professional-quality product.
"In the Media Arts and Science video courses, we educate students to create professional-level films that engage in important social issues. It is truly rewarding when we see our students get the recognition they deserve for their hard work," Lewis said.
Joanne Lovrinic is a content specialist in the School of Informatics and Computing.