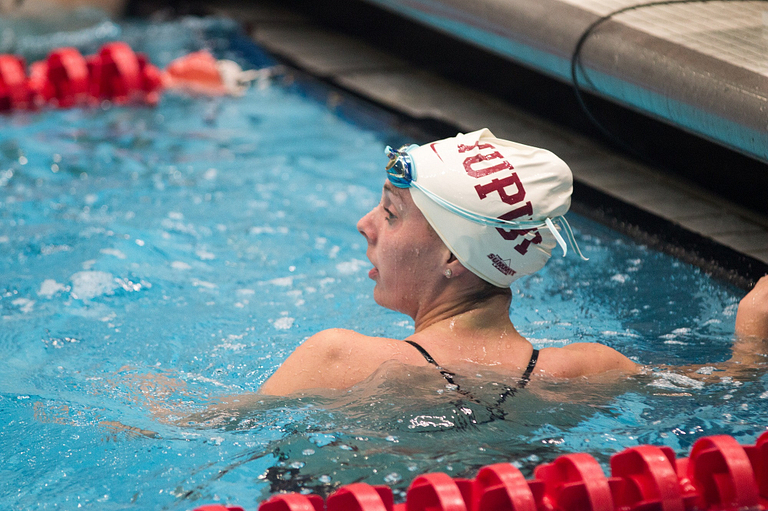 IUPUI swimmer Lauren Campbell was this year's recipient of the Michael A. Carroll Scholarship, awarded annually to a Jaguars athlete who excels in athletics, academics and community service. Campbell, a senior, won three medals at the Summit League Championships last year while thriving as an Honors College student and working as a student teacher and youth swim coach. She spoke with IU Communications in the IU Natatorium before Thanksgiving about how to pull off such a juggling act, the outlook for her final season in the pool and what awaits immediately after.
Q: Since we're here, one question I've always wanted to ask of someone in the know: Every great swimmer talks about the IU Natatorium being one of the fastest pools anywhere. Why is that?
Lauren Campbell: It's a lot of different factors – the engineering of the pool, like the depth and the temperature, and just kind of the environment that this pool creates. You travel to a lot of different pools. Some of them are really small, some are only six lanes, some don't have a lot of bleacher space. But from the very first time I swam here, in fourth grade at a club meet, the environment was just so different than any other meet I'd been to. It can be really overwhelming at first, but it also just creates a really great atmosphere for swimmers to compete.
Q: You swam here in fourth grade? That's like playing in a Little League game at Yankee Stadium.
LC: It was really, really intimidating. I also remember competing here in the high school state meet. The stands were just filled with people – loud people. I ended up swimming the best I had ever swum before, just because I had so much adrenaline from all the craziness in the stands.
Q: You have a unique opportunity to be a medalist in two different conferences, given IUPUI's move to the Horizon League. What do you know about the competition so far?
LC: Last night, we finished up our House of Champions meet and competed against a few Horizon teams – Wisconsin-Green Bay and Wright State – so we've had a little bit of competing already. I think compared to the Summit League, we have a lot more teams that are very similar to us – similar depth, similar speeds – so really when we go into the Horizon League championships, more than ever it's going to be about just trying to out-touch the person next to you to score as many points as you can. We talked about swimming the best we can in prelims, which is really where the meet is decided. You have to get your name on the (finals) wall first – especially in the races that I swim, the sprint races, it can be a difference of a tenth of a second that keeps you in or out of finals.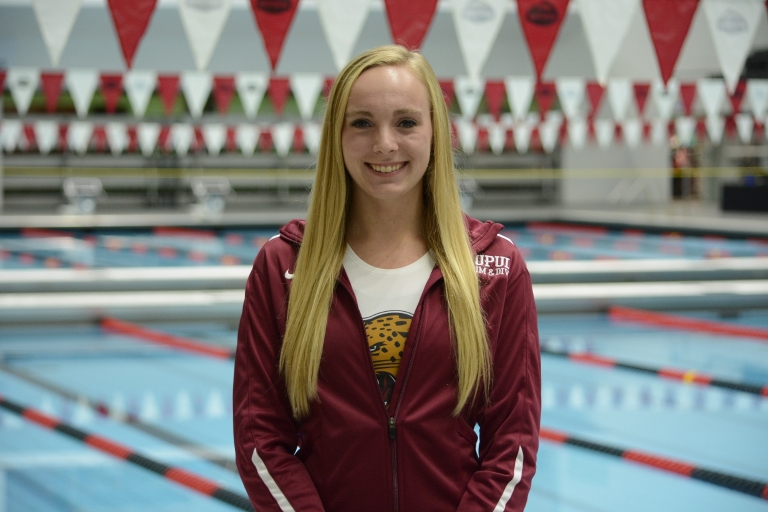 Q: You served as chair of the Jaguar Athletic Mentors group last year. How has that enhanced life for IUPUI student-athletes?
LC: The Jaguar Athletic Mentors was a brand-new program my sophomore year, started because a lot of people on different sports teams didn't necessarily feel comfortable approaching their coaches about certain things they were dealing with, like mental illness. So we wanted someone on each team to be a go-to person for those people, someone to trust with their information, to keep everything confidential and not spread things. That was something I didn't really know about until I received an email saying I had been nominated to be our team's mentor, and the more I got involved, the more I saw a program that I really liked, and I was able to take over as chairperson last year.
This year, I had to make some tough personal choices. I'm studying abroad in the spring and had to turn my focus more toward that than anything else.
Q: You're going to Costa Rica. How did that come about?
LC: I'm studying elementary education, and I'm also doing English as a second language certification, a dual certification. I've already finished 10 weeks of student teaching in Indiana, in a first-grade classroom, and in Costa Rica it will be more of an ESL specialty. I will be working in an elementary school, but I'll be specifically teaching English to Spanish-speaking kids.
Costa Rica is one of those things that made me think, "You know what, if I don't do this now, I'll never have a chance to do it again." I'll finish swimming in February and leave in March.
Q: We're familiar with how the IUPUI School of Education is improving opportunities for multilingual students. What's the attraction for you?
LC: I took some Spanish classes throughout high school, and then I think what really solidified my interest in ESL was the school I was placed in for student teaching, the Enlace Academy in Indianapolis. The school had a heavily Spanish-speaking population, and I loved just being able to use what I have learned. I didn't even have to use Spanish with those kids because of the strategies I learned, such as using pictures and allowing a lot of different ways to approach the subject.
I've always been interested in traveling and in different languages, so when I looked into the ESL program, it just seemed like something that would fit me.
Q: There can't be many things more rewarding than teaching a young person to communicate.
LC: Yes. There are so many kids in schools who are kind of misunderstood – people don't really understand how much they know, and how much they are capable of learning, just because of that language barrier. What I like about the ESL program is that it teaches us about that. Even as a general education teacher, if I were to go that route, I would be able to tap into those non-English-speaking students and find out what they are capable of doing and help them succeed.
Q: How have you balanced all of this? What were your days like?
LC: They were crazy. Luckily, I started student teaching last spring literally the day after we finished up our championships, so everything worked out really well. With my student teaching blocks, which is basically my last two semesters, we take six weeks of classes and then have eight weeks of student teaching. So the six weeks of classes lined up with swimming, and then I went right into student teaching. And the YMCA.
Q: You started a swim team at the YMCA, right?
LC: I worked at the YMCA last summer. It was something I had planned on doing just for the summer, but I carried in some of my private lessons as a swim teacher. One of my private-lesson students asked me if we were going to have a swim team. I approached my boss about it, brainstormed some ideas and then last September started a swim team. It's been awesome, building a program from the bottom up and sticking with those kids. They range from 6 years old to 14.
Q: I detect a theme here – teaching English, teaching swimming.
LC: (laughs) Yeah, I really like to teach.
Q: What's harder?
LC: They both have their challenges. It really depends on the kid you're working with and how willing they are to step outside of their comfort zone and try something new. I think as far as swimming goes, it's been good for teaching me some classroom-management skills. When students are in a classroom, they're at a desk – they're seated, contained. In a pool, they're bouncing up and down, some are under the water, they're in the locker room, they're all over the place. It's harder for me to keep track of all of them, and it's taught me a lot of skills that I can carry over to teaching.