You don't need Tony Danza or even Judith Light to know who's the real boss at Sushi Boss. 
Set up like a Chipotle, the sushi restaurant near IUPUI specializes in custom rolls. The customer first chooses a seaweed or soy wrap and then chooses a protein for the roll. Cooked options include the familiar – crabstick, spicy crab mix and tempura shrimp – to the innovative, like roasted tofu, beef short rib and roasted chicken. Of course, raw seafood options like spicy salmon, yellowtail and tuna are available, too.
Sushi Boss
Then it's time for the fresh produce: Mango, strawberry and jalapeño can comingle with avocado, cucumber and carrot. The creation is rolled and ready to get sauced. There's mild – eel, sweet chili and yakisoba – and medium – wasabi mayo and Sriracha. The hottest sauce is known as "Kamikaze."
Finally, the roll is ready for toppings like tempura crunch, wasabi almonds or fried jalapeños, to name a few. 
If crafting your own roll is too much to take, Sushi Boss' signature roll menu is worth a look. That One Roll (short rib, asparagus, green onion, jalapeño), The Crunchy Roll (spicy crab mix, cucumber, eel sauce, crunchy onions) and Shrimpin' Ain't Easy (tempura shrimp, avocado, Boss sauce, sesame seeds) are standouts.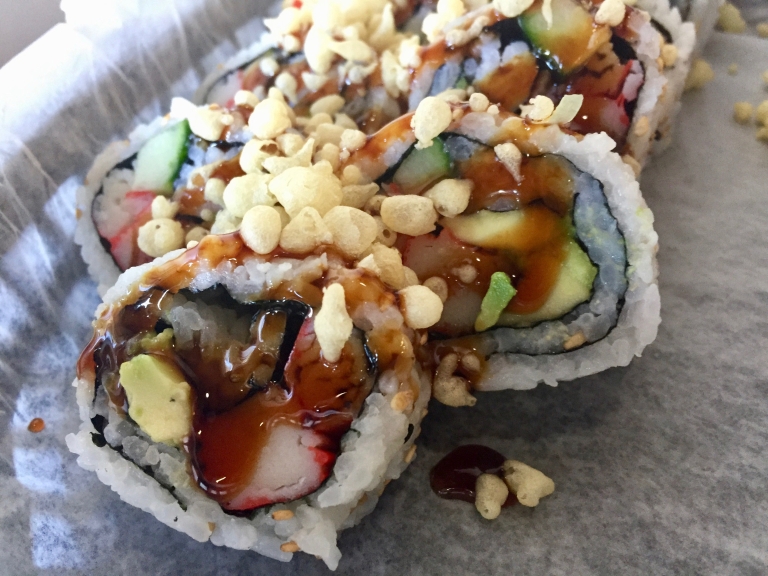 Sushi Boss is a CrimsonCard supporter, and those paying with the card can get California rolls for $5 on Wednesdays.
Other sushi and Asian lunch choices abound around IUPUI. Here are some of them:
Bento Asian Bistro – Bento is the ultimate boxed lunch. These meals consist of entrees like red curry beef, Thai mango chicken and hibachi shrimp flanked by California and spring rolls, fried rice, and a crab Rangoon. The restaurant has an impressive sushi menu as well.
Panda Express, 645 Oscar Robertson Blvd. – The national chain for fast Chinese food is open 10:30 a.m.-10 p.m. Monday-Friday, 11 a.m.-10 p.m. Saturday and 11 a.m.-9 p.m. Sunday.