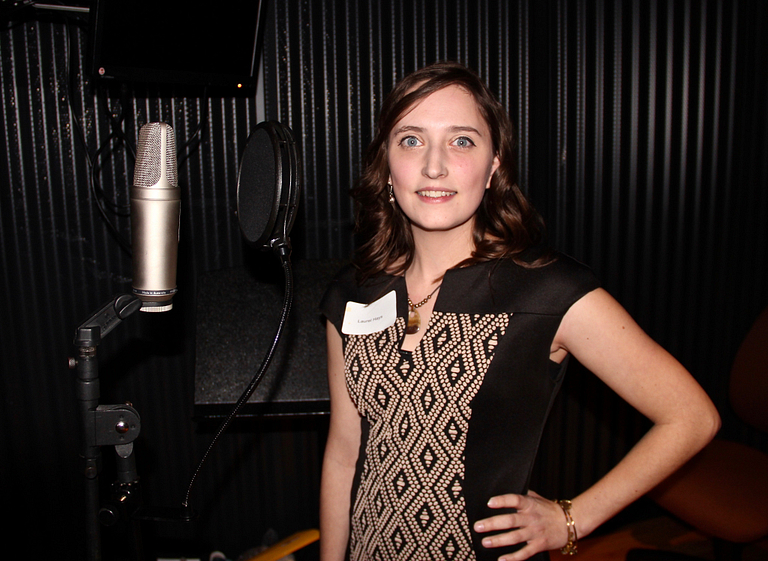 The latest homegrown innovations in 3-D printing, animation, scanning and much more took over the first three floors of the Informatics & Communications Technology Complex at IUPUI on Friday, Dec. 8.
The Fall 2017 edition of Capstone featured about 100 seniors and graduate students in the media arts and science program showcasing their semesterlong projects. The building teemed with students, faculty, staff and community members checking out the work.
The students allowed the curious to interact with their touch-screen programs. Dozens donned virtual reality goggles to navigate new digital worlds, and numerous Capstone-goers tentatively poked at a squishy 3-D-printed human liver.
There were 81 projects in all. Here is a sample of some of the diverse work that was celebrated.
"Behind the Scenes of 'Una Chica Named Hope'" 
Laurel Hays presented a mini promotional documentary that she had edited on the making of a short film titled "Una Chica Named Hope." The piece also showed off Hays' Foley work, which is the reproduction of everyday sound effects that are added to film, video and other media in postproduction to enhance audio quality.
Hays reserved a third-floor studio to screen her work – and to serve up popcorn and chocolate candy.
"You have to really promote yourself so people will come see your film," said Hays, who had come prepared with business cards and resumes to hand out to potential employers and collaborators. 
The sound and editing work dominated her semester, she said.
"You learn a lot about how to work with other people and schedule your interviews," said Hays, whose program specialization is video and audio. "You learn how to mix sound and make sound sound like it should – at the right volumes and levels.
"Web App Math Games" 
Daniel Gregorczyk teamed up with fellow seniors Krisha Hines and Joshua Lane to create mathematics educational games to appeal to teachers for classroom use. Gregorczyk took care of the front-end coding while his collaborators supplied the designs and animations. 
"I used a lot of JavaScript to make the linear equations work," said Gregorczyk, whose project was part of the N420 Multimedia Production Development class as taught by Zeb Wood. "The designs are a lot of HTML and CSS. The animations are GIF files made in Adobe Flash."
Gregorczyk foresaw his work to be Mac compliant and a way to help students realize the fun side of mathematics. He also believed there is a niche for math education apps. He and his team researched preexisting works, which were found to have poor user experience with outdated designs. 
"We want to 'gamify' math in a fun way," Gregorczyk said, "and make it more engaging than just sitting in a classroom taking notes and looking at numbers."
From writing code to pitching the finished work to potential clients, Gregorczyk's Capstone work has been a journey.
"I think it's something that's helped me gain more confidence as an individual and be more confident about the work I can do," he said. "Overall, I think it's going to be a successful endeavor." 
"3D Print Molds for Medical Education/Simulation Tools"
In a collaboration with Indiana University School of Medicine Research, senior Cassandra Jones put in hundreds of hours digitally modeling and prototyping different 3-D-printed organs for surgery demonstrations.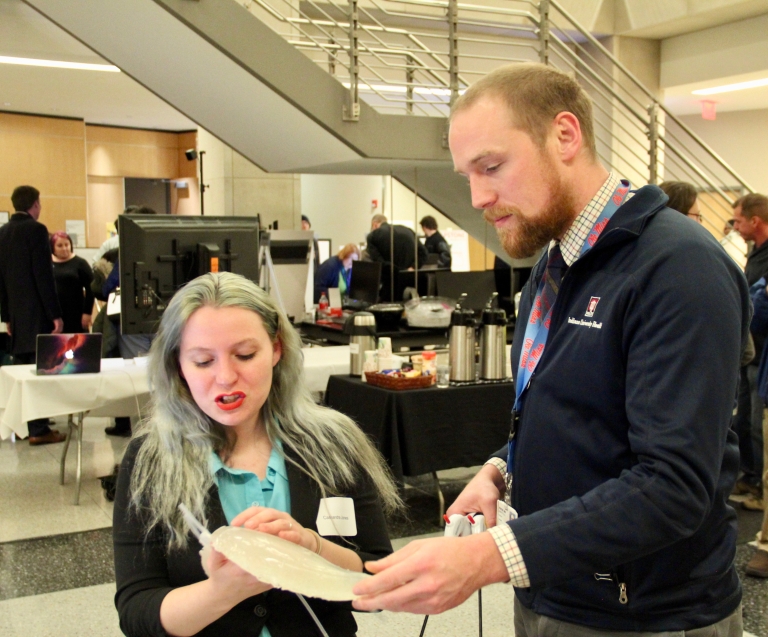 Jones spent more time than usual on finding the right consistency for the 3-D subjects. They had to mimic real human tissue to be effective in School of Medicine training. Jones printed out molds and then cast the organs, hoping to get an organic consistency. The pieces had to cure for hours, making for stressful anticipation to see if her artificial liver would be acceptable for operation training. 
Another N420 Multimedia Production Development student, Jones had to watch hours of surgery footage to see how organs reacted to being manipulated by the doctors' various instruments.
"It was absolutely crucial to understand what's happening in the surgery when replicating," she said. "It's great because I'm learning, and that's the best part." 
John Martin, a surgical education research fellow in the IU School of Medicine, was among the dozens who checked out Jones' work at the Capstone event. He effortlessly manipulated 3-D-printed tissue with pairs of long forceps before handling that rubbery liver, to which Martin then gave his approval.
"One of the things we struggle with in surgical simulation is representing what actual human tissue feels like," he said. "A lot of our virtual reality simulators don't provide any haptic feedback to your hands, so you can't feel the tension and the pressures and the forces being exerted over the instruments." 
Martin acknowledged that mimicking actual human tissue is a difficult task, and he was impressed and grateful for Jones' expertise, dedication and patience in getting just the right texture.
"Everyone's tissues are totally different," Martin said, "but she is well on her way in coming up with a great education and learning model for surgeons early in their career for practicing and training."