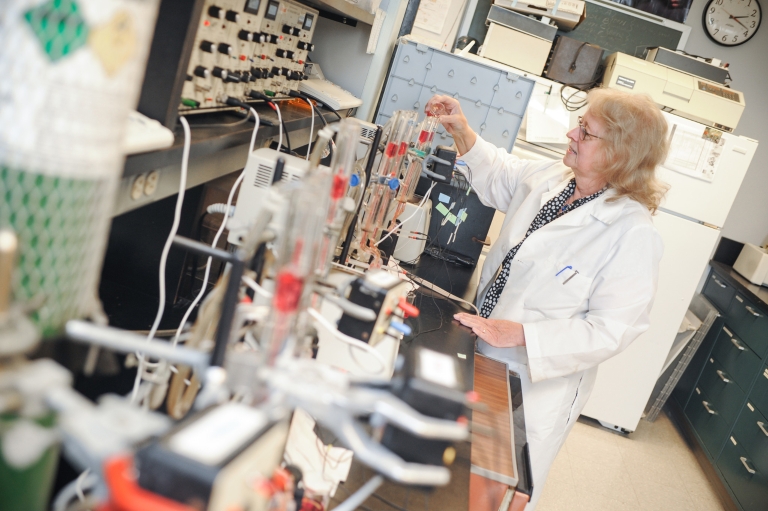 INDIANAPOLIS – No drug treatment exists for hydrocephalus, the buildup of fluid known as "water on the brain" that can occur at any age. 
A multidisciplinary team of researchers on the IUPUI campus has received a $1.8 million grant from the U.S. Department of Defense to gain a better understanding of hydrocephalus and commence developing potential treatments. 
The researchers, from the School of Science at IUPUI and the Indiana University School of Medicine, are conducting a preclinical evaluation of drug compounds, including one they have identified as a strong prospective candidate to treat hydrocephalus.
Hydrocephalus occurs when there is an accumulation of cerebrospinal fluid due to either an overproduction of fluid or a blockage of normal fluid circulation within the brain. Currently there are no pharmacological treatments for the condition. The only therapy is brain surgery, which carries numerous risks and often needs to be repeated.
Causes of hydrocephalus include traumatic brain injury, brain bleeds due to prematurity in newborns, birth defects and infection. A form of the disease can lead to premature dementia in older adults, which is often undiagnosed because the symptoms are similar to normal aging. 
If left untreated, hydrocephalus can result in progressive and irreversible brain and nerve degeneration, with symptoms such as movement disorders, cognitive impairment and even death.
"If drugs could be developed to diminish the production of cerebrospinal fluid, they would be a tremendous benefit to all hydrocephalic patients, including those who do not have easy emergency access to neurosurgical care such as those deployed in military situations," said Bonnie Blazer-Yost, professor of biology in the School of Science, who is the principal investigator on the grant.
"One roadblock to developing drugs to treat hydrocephalus has been lack of cell culture and animal models that faithfully reproduce the disease," Blazer-Yost said. "We now have those, and we have identified a compound that has a positive effect on the cultured cells and also seems beneficial in hydrocephalus in rodent brains."
Blazer-Yost is a physiologist whose research focus for many years has been renal disease. Her study of a potential drug treatment for polycystic kidney disease led her to a compound that did not have the desired effect on that condition but appears to have a positive effect on hydrocephalus.
"Our hope is that the long-term impact of our preclinical work will be the development of pharmaceutical agents that will lead to clinical trials for the treatment of hydrocephalus," she said.
In addition to Blazer-Yost, the IUPUI team includes basic scientists who are experts in cell biology, animal studies, behavioral testing and magnetic resonance imaging techniques as well as a neurosurgeon to advise the team on the direct applicability of its findings to human disease. The co-investigators are Nicolas Berbari, assistant professor of biology, School of Science at IUPUI; Dr. Daniel Fulkerson, associate professor of neurological surgery, IU School of Medicine; Charles Goodlett, professor of psychology, School of Science at IUPUI; and Paul Territo, associate research professor of radiology and imaging sciences, IU School of Medicine.
With pilot funding from Indiana University, the Indiana Clinical and Translational Sciences Institute, and the Hydrocephalus Association, the interdisciplinary IUPUI team acquired the data necessary to pursue the Department of Defense grant.