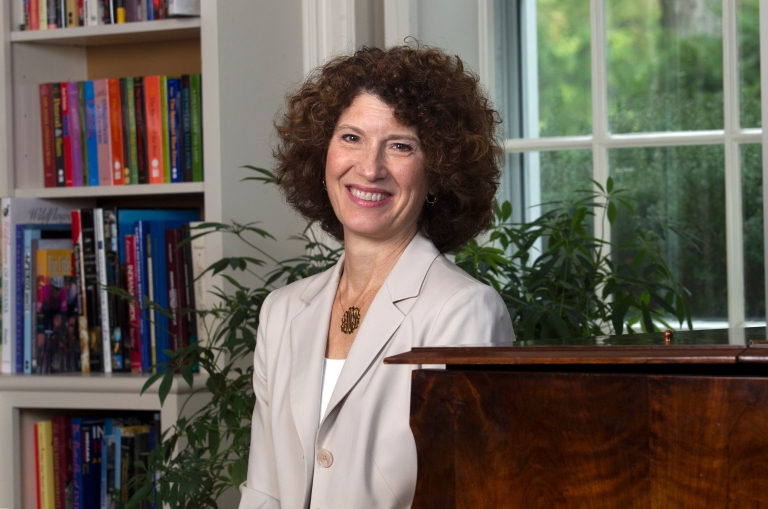 Women's Philanthropy at Indiana University celebrated a tremendous year of growth in 2017, with more than 2,300 women and men across the world engaged with IU through our program. 
We hosted many events featuring IU alumni, faculty and staff in Chicago, Washington, D.C.,  New York and Tucson. We welcomed the largest new class of Women's Philanthropy Leadership Council members – 14, bringing the total number of IU alumnae and friends who've supported the council since its inception in 2010 to 82. 
At the heart of our 2017 events was the Colloquium for Women of IU, which took place in Bloomington on a crisp and vibrant October weekend. Our signature biennial event, the 15th colloquium drew 100 alumnae and female friends back to IU, and provided learning experiences rich in IU's past, present and future. We heard from renowned speakers such as IU alumna Jane Chu, chair of the National Endowment for the Arts, who received the council's Women Leading the Way Award, our highest honor; and from Michele Norris, former NPR correspondent and creator of The Race Card Project. We heard compelling updates on IU's new academic directions from deans Peg Faimon, Lee Feinstein and James Shanahan, and we were treated to inspiring presentations by Kelley School of Business's Tatiana Kolovou, coach Teri Moren and the women of IU Athletics, IU alumna Tracey Carisch and more. 
And we enjoyed a surprise visit by actress and philanthropist Glenn Close, who was on campus for the announcement of the gift of her treasured costume collection to Indiana University, among other activities. Glenn also received the council's Women Leading the Way Award. Each woman in attendance brings something special to colloquium weekend, and I'm always inspired by the deep connectedness, enrichment and empowerment we share and then take with us as we go out into the world.
2017 also marked the advent of a new concept for Women's Philanthropy at IU, called the "Woman of IU." An outgrowth of both the evolution of our program and where we are today as a nation and a culture, the "Woman of IU" exemplifies what it means to be part of creating positive change through helping to build IU's future.
The "Woman of IU" believes that everyone, everywhere, should have the opportunity to achieve their dreams. She fosters health and wellbeing through her commitment to medical and public health research and practice; she helps shape the arts and sciences through her involvement in the liberal arts and humanities; she's leading by giving of her time, talent and treasure; and she's changing the world through her interest in global issues and the perspectives of other cultures.
And, perhaps most importantly in this time of upheaval and challenge, the "Woman of IU" has a voice, and helps give others a voice, in standing up for the values of inclusion, tolerance, civility and openness to the world. As Oprah Winfrey reminded us in her timely, and timeless, Golden Globes speech, role models matter. Seeing others standing up for what's true and right inspires others to act in service of positive change. The "Woman of IU" is that role model, and we invite all IU women, and our male friends and allies, to join us in holding up these ideals.
As we approach IU's bicentennial, Women's Philanthropy is committed to amplifying the voices of IU women who came before us and helped shape the university we love.
More of IU's monuments will be named after the women who made them happen, like the Student Building now named for Frances Morgan Swain, IU's ninth first lady who lobbied for space devoted to female students. More women will be honored through brushstroke, like Carrie Parker Taylor, IU's first African-American female student, whose portrait was created and dedicated in March 2017. As we enter 2018, I am incredibly excited about all the opportunities we have to honor the legacies of these often invisible, unsung contributors to Indiana University.
There are many ways to get involved with Women's Philanthropy and to make a difference through IU. To learn more about our program, visit women.iuf.iu.edu. You can also connect with us on social media and by signing up for Link, the official email newsletter of Women's Philanthropy at IU. 
Laurie Burns McRobbie is the Indiana University first lady.