Today's college students face many barriers to success – and socioeconomic factors top the list.
The Office of the Dean of Students at IU East recognizes this concern. In fall 2017, a student advocate position was created to address some of the burdens getting in the way of education for some students.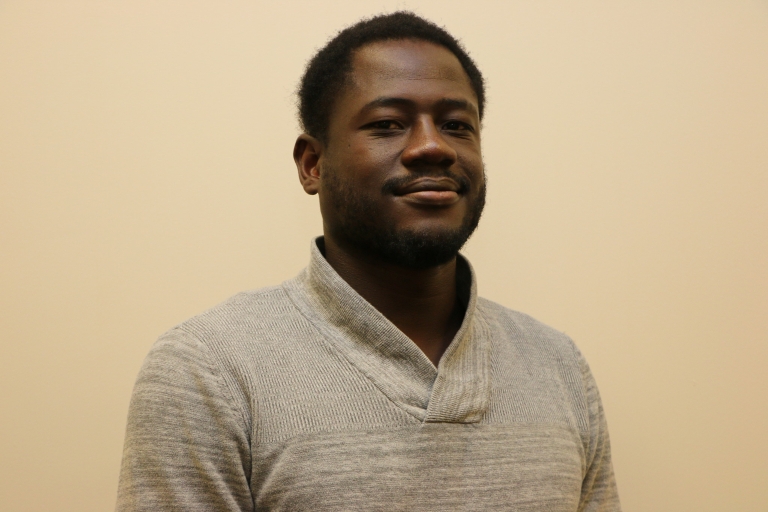 "Our number one priority is for them to be successful in school. And with all the issues and the problems weighing on their shoulders, it's hard for them to concentrate on school," said Ibrahim Diarra, the IU East student advocate and a student himself in the Master of Social Work program.
Diarra spent the semester meeting with students who were experiencing financial instability, facing possible eviction or struggling to balance raising a child on top of completing their school work, among other issues. In his role, he helps connect those students to campus and community resources that can help them move forward, such as services for obtaining a steady job or accessing affordable childcare.
Because of Diarra's guidance, every student he met with during the fall semester was able to stay enrolled in their courses, despite the challenges they faced. And nearly 70 percent of those students are enrolled again for the spring semester.
"Many times students will come in to talk about dropping a class or a similar concern, and in discussing their situation we learn that there are complicated underlying financial issues – food insecurity, loss of job, homelessness, etc.," said Carrie Reisner, interim dean of students at IU East. "Unfortunately, higher education professionals are not usually experts in social services and the types of resources that are available in a local community. Ibrahim's position was created to bridge that gap between campus and community support systems."
While Diarra quickly connects students to helpful resources to solve the problem in the moment, his larger goal is to help them develop long-term solutions. He manages each case throughout the semester, checking in frequently on the student's status.
"If someone is going to get evicted, I help them get funds to pay their rent, and then from there we will work on a more permanent solution," Diarra said. "We are not just putting a Band-Aid on it. We are trying to overcome issues for the long-run."
The combination of his work in the community, his studies and his own background drew Diarra to this position at IU East.
Originally from Mali, West Africa, Diarra came to the United States to pursue higher education, earning his undergraduate degree from Earlham College. After graduating, he worked in the social services field for a year in Richmond, Indiana. Now he is enrolled in the Master of Social Work program at IU East in addition to fulfilling the part-time student advocate position.
"Richmond has been my home since I came to college, so I am drawn to this community and want to give back by making the community better," he said. "As a social worker, you can make change on a micro-level that eventually makes a change on a bigger scale, and that's what I'm hoping for."
And while his background makes him a good fit for the position, Reisner said that what makes him excel in the role is his attitude.
"He is a great fit for the position because he has a genuine desire to help students and to learn about the many different types of organizations that are available to help individuals in crisis," she said.
Diarra has spent a lot of time out on campus hosting tabling events and introducing himself to the student population, as his position has never existed before. Students interested in speaking with Diarra can drop in during his office hours, and faculty and staff are encouraged to refer students if they think they might benefit from Diarra's services.
"I encourage anyone who is struggling to come to me and seek help," he said. "We all need a helping hand sometimes. That's how the world works: No one gets anywhere without the help of someone else."