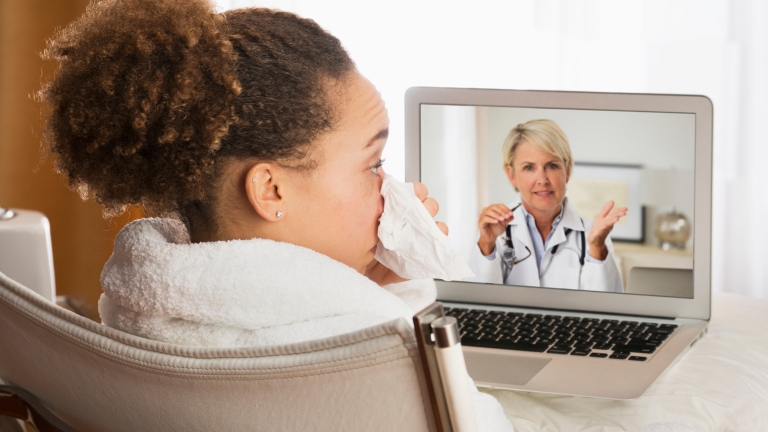 You're sick, and getting off the couch to go to the doctor feels like an impossible task. Or you live 30 miles from the nearest doctor's office. Maybe your child has a fever; you're not sure if you should go to the emergency room, but you can't reach your primary-care provider.
Telemedicine is working to overcome some of these barriers to health care, and the benefit is available to all IU medical plan members 18 and older.
Users can take a virtual visit to the doctor by using a smartphone, tablet or computer with a webcam. For non-emergency health issues – think flu symptoms, allergies or rashes – the board-certified doctors can provide a diagnosis, suggest treatment and even write prescriptions, all via the internet.
The doctors will perform similar procedures as they do in the office. If a sore throat is a symptom, doctors will examine the patient's throat through the camera. When a rash pops up, they can take a look at the bumps to determine the source. 
To minimize wait time, IU Human Resources recommends setting up an account through your provider before a medical situation arises. When the service is needed, patients can pick a doctor and be seen within minutes.
Claims for telemedicine visits apply to the annual deductible and out-of-pocket, just like any other medical claim. However, the virtual visit tends to be cheaper than an in-person doctor's visit.
Learn more about how to access the telemedicine option through your specific health care plan:
Anthem Medical Plan
Anthem Medical Plan carriers can receive telemedicine via LiveHealth Online. Sign up on the Live Health Online website or download the app.
A myriad of board-certified doctors, with an average of 15 years of experience, are available to choose from, and online visits are available 24 hours a day.
The cost is typically less than $50. 
In addition to general health care, patients can also talk virtually with a licensed therapist or psychologist through the service.
IU Health Medical Plan
IU Health provides access to health care through its telemedicine program, Video Visits. Sign up on the Video Visits website or download the app. 
Video Visits are conducted by highly skilled providers and are available 24 hours a day.
The cost is typically less than $50.