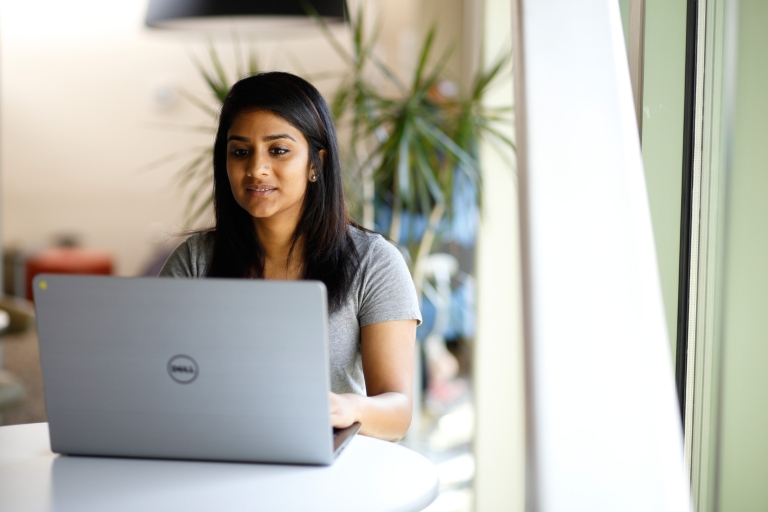 BLOOMINGTON, Ind. – In new rankings released today by U.S. News and World Report, Indiana University's Kelley School of Business is among the nation's leaders in online graduate business education. The university also ranks in the top 50 for its online bachelor's degree, graduate education and graduate nursing programs.
The 2018 edition of U.S. News and World Report's Best Online Education Program rankings have the Kelley Direct Online MBA program and the school's Master of Science program tied at No. 2 in the nation. IU's online bachelor's degree program ranks 41st, moving up 13 spots from 2017. The university's online graduate education program ranks 46th, and the School of Nursing at IUPUI ranks 39th among the nation's online graduate nursing programs.
IU has been a forerunner in online programs at both the undergraduate and graduate level for nearly 20 years, currently offering 116 online degree programs.
"The university's successful IU Online initiative is a true extension of IU's faculty and curriculum, and it builds on the best traditional classroom experiences," said John S. Applegate, executive vice president for university academic affairs. "The student experience is interactive and personal, with direct, individual communication with faculty, small class sizes and collaboration among students."
During the fall 2017 semester, IU's online programs saw a record-breaking 5,066 students enrolled, nearly doubling over the past four years. More than 29,000 students (30 percent of all IU students) take at least one class online, and almost 8,000 students are enrolled 100 percent online.
"We're very pleased to be recognized for our success in online education," said Chris Foley, assistant vice president and director of the IU Office of Online Education. "IU Online has a broad number of programs, and our focus is on providing a high-quality, authentically IU experience for our online students. Our approach reflects the increased blending of digital textbooks, resources, research tools, classrooms and in-person interactions, which we see throughout higher education."
Consistently ranked in the top three online programs are the university's graduate business degree programs. The Kelley Direct Online MBA program, started in 1999, was the first online MBA program offered by a top-ranked business school and today serves as a model for similar programs. In addition, the Kelley Master of Science online program allows students to earn a degree in a variety of strategic business areas, including finance, business analytics, entrepreneurship and innovation, and marketing.
"As these rankings and other indicators suggest, Kelley continues to lead the way in providing a quality graduate business education, whether it is presented online or on campus full time," said Idalene "Idie" Kesner, Kelley's dean and the Frank P. Popoff Chair of Strategic Management. "We're pleased that our Kelley Direct Program is a model for online graduate business programs worldwide. Students value our flexible, innovative and relevant approach of presenting business education and preparing them for the next level of leadership in their chosen career paths."
Since 1999, more than 3,300 students have earned Kelley MBAs through the program, and nearly 900 have earned Master of Science degrees through the online program.
In addition to the highly ranked online business programs, IU's School of Education and School of Nursing regularly see their programs ranked in the top 50 nationwide. The School of Nursing, based at IUPUI, offers students nine tracks within its MSN program, the majority of which is taught online. The School of Education provides online learning experiences for students working toward academic certificates, master's degrees and doctoral degrees.
"While we're seeing solid success in our online education – enrollments continue to grow, and we are adding new programs each year – there's still work to be done," Foley said. "We have many new programs in the pipeline, and we are continually developing new services to support our students who take online courses and pursue online degrees and certificates. And then, how can we help support all IU students with what we learn?"
U.S. News bases its rankings on five criteria: student engagement with faculty and each other (28 percent), admissions selectivity (25 percent), reputation among peers and employers (25 percent), and faculty credentials and training needed to effectively teach in an online environment (11 percent each).
A complete list of IU's online programs is available on IU Online's website.