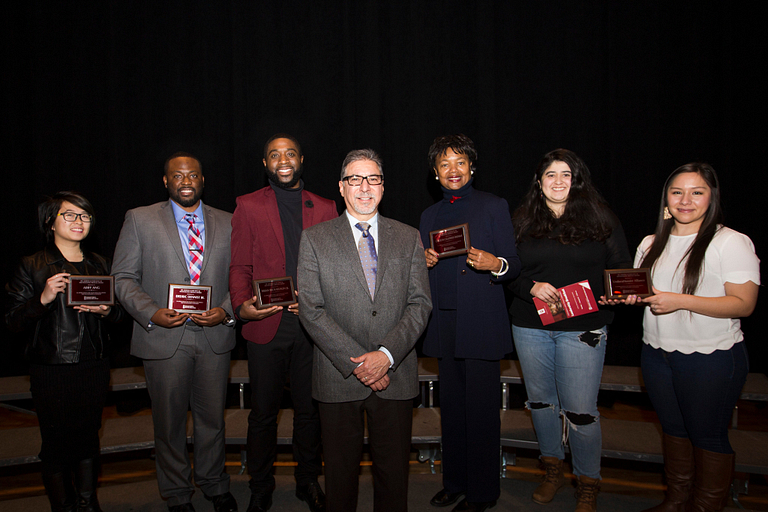 The Reverend Martin Luther King Jr. once said, "Everybody can be great, because anybody can serve. You don't have to have a college degree to serve. … You don't have to make your subject and verb agree to serve. You only need a heart full of grace, a soul generated by love."
As hundreds of people gathered today for the annual MLK Leadership Breakfast at IU Bloomington, a table of IU students, faculty and staff – this year's Building Bridges Award winners – were the shining example of King's words.
The award, given out each year, recognizes people who capture King's vision, spirit and leadership.
"This year's Building Bridges Award winners are a shining example of students, faculty and staff who have shown tremendous leadership and commitment – in ways big and small – to promoting equality, diversity and respect​," said John Nieto-Phillips, associate vice president for the Office of the Vice President for Diversity, Equity and Multicultural Affairs. "The faculty, staff and students honored today embody the vision, spirit and legacy of Dr. King, and we are proud to honor them for their dedication to serving others and commitment to making a difference right here at IU and within our community."​
This year's Building Bridges Awards winners were:
Undergraduate
Dedric Dennist Jr., a senior studying informatics with a cognate in telecommunications. Dennist is most passionate about two things: helping others and technology. He has turned those passions into community and campus engagement by taking part in numerous service projects, serving as a member of the IU Office of First Year Experience's "OTeam," being a resident assistant at Read Hall, serving on the 2017 homecoming court and serving as president of the executive board of the IU Bloomington National Society of Black Engineers. Dennist credits his younger brother Lotavion for being his inspiration in everything he does. "I am honored to receive the Building Bridges Award," he said. "Dr. King was a phenomenal individual, and for my contributions to be recognized under his light is a great feeling."
Graduate
Abby Ang, a Ph.D. student in the Department of English. A native of Rhode Island and first-generation Chinese American, Ang co-founded the IU English Grad Solidarity Coalition. The coalition is the first in the department to advocate for the needs of underrepresented students, including students of color, international students and the LGBTQ+ community, and the promotion of solidarity in and across the department. During her time at IU, Ang has also worked with Indivisible Bloomington and the Monroe County National Organization for Women. Community and coalition building has always been an important part of Ang's activism, and she said good activism should be rooted in care for others. "I'm proud to join the ranks of previous Building Bridges Award winners," Ang said. "While the award recognizes that one person can make a difference and inspire others, activism is a community effort. It is not only through my work, but the work of many people working together, that IU can foster an environment of inclusion and acceptance."
Faculty
Carolyn Calloway-Thomas, chair and professor of African American and African Diaspora studies. Calloway-Thomas has dedicated her work to intercultural communication, African-American communication, intersections between empathy and conflict, and pedagogy and civic engagement. She has served in several leadership positions at IU Bloomington and was instrumental in helping the College of Arts and Sciences develop voluntary diversity and inclusion training for students. Her work extends beyond IU, including helping the Bloomington Human Rights Commission add sexual orientation to the area of protected rights and serving as immediate past president of the World Communication Association. She has also won numerous awards for her work in local and national organizations and as an acclaimed author. "I am deeply honored to have been chosen to receive this year's Building Bridges Award on Martin Luther King Jr. Day, because Dr. King's beautiful life and vision of a beloved community have inspired me greatly," she said. "His lovely teachings and philosophy with echoes of humanism, helped me to understand so well that empathy and acts of kindness truly matter. So daily, I try to add more light than shadows in the world."
Staff
Brian Richardson Jr., assistant director of the Office of Student Diversity and Inclusion at the School of Public Health-Bloomington. In his role, Richardson focuses on recruitment and retention; programming; and community outreach. He said his goal is to create opportunities for students of color to know that they matter and can be successful. Outside of IU, Richardson serves as a mentor to young people in the community. He founded the Krimson Leadership Academy at Fairview Elementary School, where he introduces fourth- and fifth-grade boys to media, activities and discussions focused around the development of young men of color. He also participates in the Real Men Read program through the Monroe County Community School Corp. and has worked with youth at Banneker Community Center. "It is a true honor, and I am extremely humbled to have been thought of for this award," he said. "I am excited and grateful to have been named among the 2018 winners of this award, and I hope to continue to keep Dr. King's dream alive."
Group
UndocuHoosier Bloomington, which highlights the plight of undocumented students at IU. UndocuHoosier Bloomington serves the needs of undocumented people at IU and the community, which include providing or directing undocumented students to academic, financial and legal resources; raising awareness of undocumented issues on campus and the state; engaging in civic responsibilities that uplift the campus, local and national undocumented community; and providing undocumented students with leadership and advocacy opportunities. "It's an honor to receive the Building Bridges Award and to represent Dr. Martin Luther King's legacy of activism and advocacy for progressing positive change …," said Helenk Rubin de Celis, core leader of the organization. "We will continue reaching out to more students and individuals in fueling their passion for civic engagement."