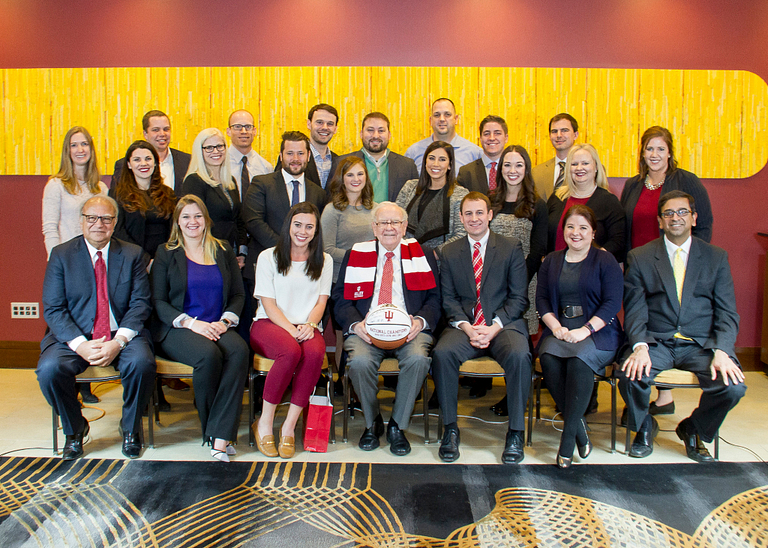 Twenty students in Indiana University's Kelley Direct Online MBA Program recently got a glimpse into one of America's most successful companies, Berkshire Hathaway, and met its legendary chairman and CEO, Warren Buffett.
During a snowy visit to Omaha earlier this month, the MBA students said they learned lessons from the "Oracle of Omaha" that both transcended their coursework and, as Kelley Direct student Elizabeth Daily said, "reinforced the Kelley's School's commitment to providing students with access to real-world experiences that bring book work to life."
A driving force behind arranging the visit with Buffett was Mark Hokanson, another Kelley Direct student. Hokanson, a new business development leader at Target Corp., based in Minneapolis, is a longtime Buffett admirer.
"I heard about Buffett about a decade ago and admired the fact that he lived modestly even though he had created tremendous wealth," Hokanson said. "I read my first book about him then, and it was on. I started reading everything possible about him."
For the past five years and every January, Hokanson reads each annual report Buffett has ever written, starting with the 1965 edition. Hokanson saw in one of those reports that Buffett welcomes graduate students to Omaha, so when he started with Kelley Direct in the fall, he wrote Buffett a letter requesting a meeting for him and his Kelley classmates.
He was unable to sleep the night he got a note with the formal invitation.
"Getting the invitation was an incredible honor," said Daily, a territory sales manager for Altria Group Distribution Co., based in Louisville. "The main thing that brought me back to Kelley was its unique ability to provide big opportunities and elite programs, professors and students, while maintaining a wonderful small-town feel. Meeting Mr. Buffett, one of the most successful and influential businessmen in history, provided this big opportunity."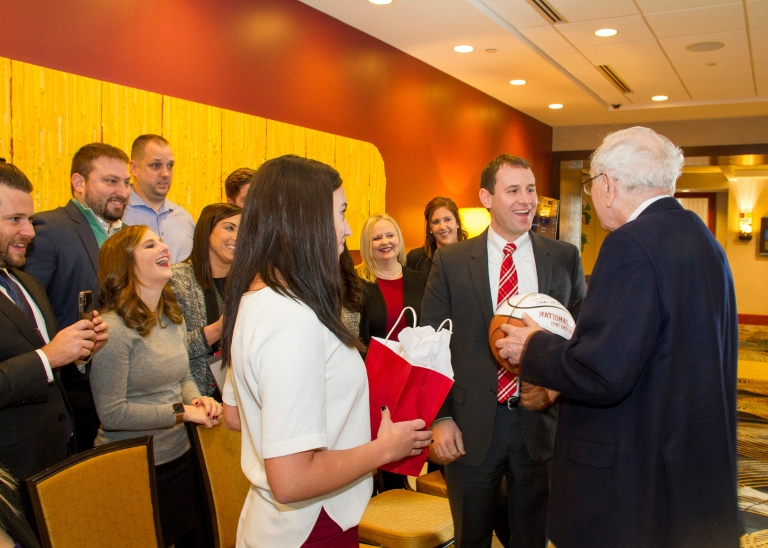 On Jan. 11, the night before the students met Buffett, they were treated to a dinner at his favorite restaurant, Gorat's Steak House, by Ash Soni, Kelley's executive associate dean of academic programs, and Ramesh Venkataraman, chair of Kelley Direct Online MBA and MS Programs.
"We had just missed Mr. Buffett," Hokanson said. "He had eaten lunch there a few hours before we arrived for dinner. I ordered his favorite meal, a T-Bone steak with hash browns, to see if I could channel his wisdom."
Before meeting Buffett on Jan. 12, students toured Nebraska Furniture Mart, a Berkshire Hathaway subsidiary. They then joined students from 10 other schools at a wide-ranging, two-and-a-half-hour discussion with Buffett about business and economics and about how to be successful in relationships and life.
"I was surprised at how many of his answers focused on the importance of people," said Daily, who earned a bachelor's degree from Kelley in 2014. "When discussing his business success, he credited most to his close connections and lifetime relationships. It was humbling to see someone with such success maintain an unmatched focus on family and relationships.
"When discussing his newly named successors, he spoke more of their commitment to the company and employees, instead of their business acumen and monetary success," she added. "He's also passionate about providing all talented individuals, regardless of age, gender and race, with equal opportunities, which provided great perspective on today's culture and current events."
"I took 12 pages of notes and one liners and can truly say that today was one of the most influential days of my life," said Susan Hanover, a Kelley Direct student and an enterprise account manager at Gartner, based in Chicago.
Afterward, Buffett hosted all the students to a lunch and photo session. Among the gifts Kelley students presented Buffett was a basketball signed by IU men's basketball coach Archie Miller.
By the end of the day, Hokanson, who earned a Bachelor of Science from Kelley in 2004, wasn't disappointed.
"His lessons transcend classwork, and work for all phases of life. Be a person that others want to work with, invest in businesses that you can understand and admire, and keep learning by reading and talking with others," he said. "He mentioned that when he was a child he tended to gravitate towards discussion with adults, and nowadays, it's reversed; he likes to have discussions with students. He's still a learning machine at age 87."
George Vlahakis is associate director of communications and media relations for the IU Kelley School of Business.