New "smart" parking meter kiosks have been installed at several sites on the Indiana University Bloomington campus, a move intended to make parking at those locations simpler for visitors as well as for staff, faculty and students.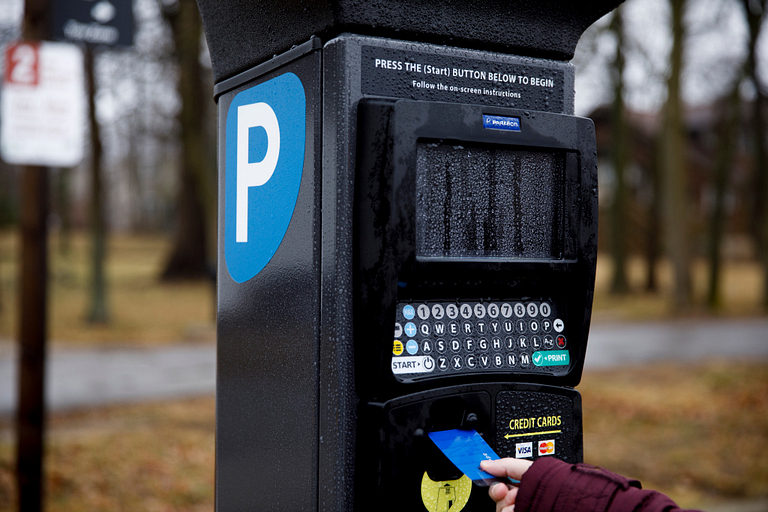 The kiosks were installed over winter break and went live Jan. 8. They replace meters located in lots at:
Herman B Wells Library, 1320 E. 10th St.
McCalla School, 525 E. Ninth St.
Residential Programs and Services, 801 N. Jordan St.
Cyber Infrastructure Building, 2709 E. 10th St.
A new parking meter kiosk was also installed in the lot at Sixth and Dunn streets to create six metered spaces meant specifically for visitors to the Poplars Building, replacing those lost when the Poplars garage changed to permit parking in April. To compensate for the six EMS spaces displaced for the metered spots, spaces were reclassified within the lot.
Additional kiosks were also installed for visitor parking at the Campus View, Tulip Tree, Redbud Hill and Evermann apartment buildings.
The parking meter kiosks handle payments for multiple parking spaces within a specific area and accept credit cards as well as cash – though they will not give change. Soon, users will also be able to pay via the Parkmobile smartphone application, the same that is used by the city of Bloomington.
"We're excited to offer this update for our users," IU Bloomington Parking Operations director Amanda Turnipseed said. "It's going to mean changes to some of our procedures, so bear with us as we work through any potential hiccups. But with additional payment options and a reduction in the labor-intensive work of collecting coins, we feel like this is a win for our campus."
The new kiosks also operate on solar power, eliminating the need for expensive batteries, and are compliant with the Americans with Disabilities Act.
Turnipseed said this installation is intended to function as a first phase and, provided all goes well, additional parking meter kiosks would be placed at other locations around campus.