While most Hoosiers see a fallen tree on campus as an eyesore, Kevin Jaques sees it as an opportunity. The associate professor in the Department of Religious Studies brings life to dead wood by making bowls, tools and pieces of furniture. 
"If a tree comes down on campus, I'll ask if I can have a piece and can turn it," he said. "At this point I have a massive stack of wood that I've collected."
Jaques first got interested in woodworking as a child helping his father, who worked multiple jobs such as home remodeling and carpentry to make ends meet.
As a teenager, Jaques traveled around the western United States with an aunt, eventually working for a one-man furniture shop and learning the fundamentals of furniture making.
When Jaques returned to school as an undergraduate, he decided to take his skills in a different direction. After getting involved in Model United Nations, he became interested in the Middle East. He went on to get his master's degree and Ph.D. in religious studies, focusing on Islamic studies. Now he's working on reconstructing and analyzing the earliest biography of the prophet Muhammad.
A full research and teaching schedule is plenty to keep Jaques busy, but his side passion of woodworking has remained steadfast.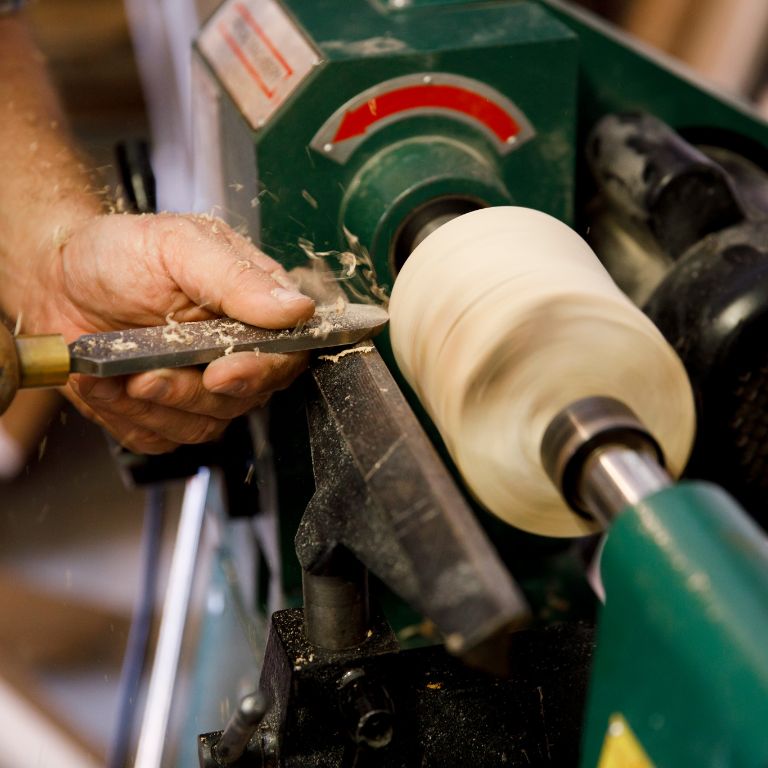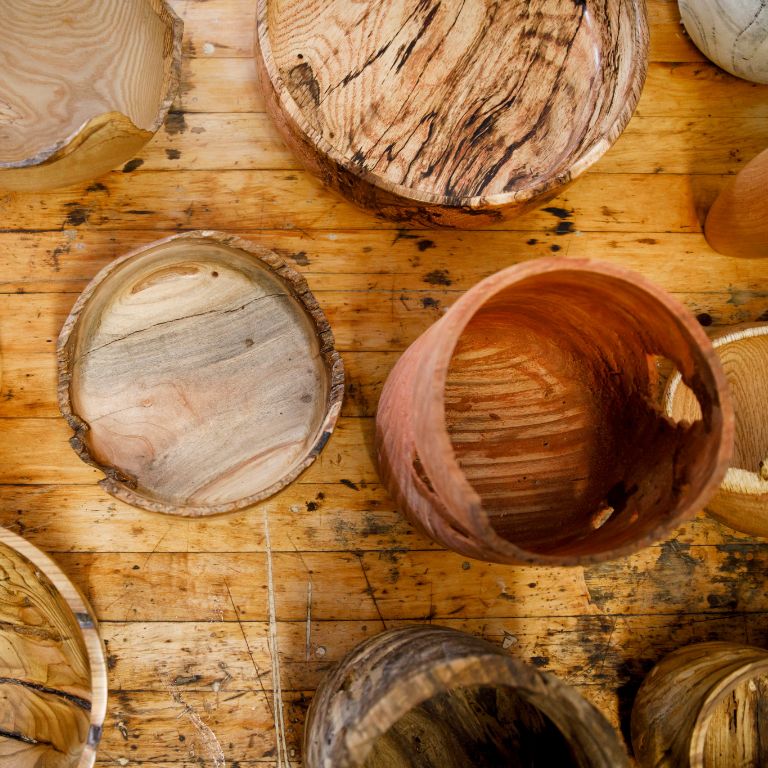 Photos by James Brosher, IU Communications
He's now constructed about 600 bowls and has also made tables, chairs, bedframes and work tools. He particularly likes working with local dead wood – trees that have come down because of storms or disease – because it comes with added challenges and interest.
"You have to deal with rot and fractures and things like that, which makes it more challenging, which is why I do it," he said. "But also it gives it kind of a unique look. I actually look for wood that's diseased and rotted and stuff like that instead of this pristine stuff."
One especially interesting project came from an Osage orange tree that was struck by lightning outside the Wells House. Lightning-struck wood is hard to come by, so the fact that the tree was struck and that it left usable wood was exciting in itself.
The visual effects of the lightning were even more exciting.
"When the lightning hit it, it dried the wood out so rapidly that it's given it a permanent kind of almost a chestnut color that's actually quite pretty," Jaques said. "Then the lightning down the core of the tree gave it kind of a starburst look."
The starburst patterns came from striations of the lightning, streaks coming down the wood. Jaques created four bowls with the wood to show off these patterns and still has two more blocks, enough to make two more bowls. One of the bowls is now on display inside the Wells House.
Interested in purchasing a bowl?
Jaques said he likes to give the bowls as gifts, like when former students get married. He sometimes gives them to people who gave him their fallen wood to say thank you for the resources. He's built up a collection at home as well.
It's easy to accumulate so many when the process of actually making each bowl is pleasant. Turning a bowl requires mental focus and carefulness, which allows for a break from thinking about any other day-to-day stressors.
"You have to be very present because it is kind of dangerous," Jaques said. "You're taking a block of wood that's been rounded on a band saw, and you're spinning it up to incredibly high speeds, and you're jabbing a piece of metal into it."
Bowl turning is not for the faint of heart – Jaques uses hearing protection, dust equipment, plastic liners and a face shield to protect himself from flying debris.
"They blow up all the time. They break and shatter and fly all over the place," he said. "I've got holes in my workshop ceiling from bowls that have shot straight up. I've been hit with fragments and stuff."