Struggling with obsessive-compulsive disorder, anxiety and low self-esteem, Haley Begay spent most of her childhood in and out of counseling.
If someone would have told her then that she would eventually be crowned Miss Indiana, she wouldn't have believed them, she said.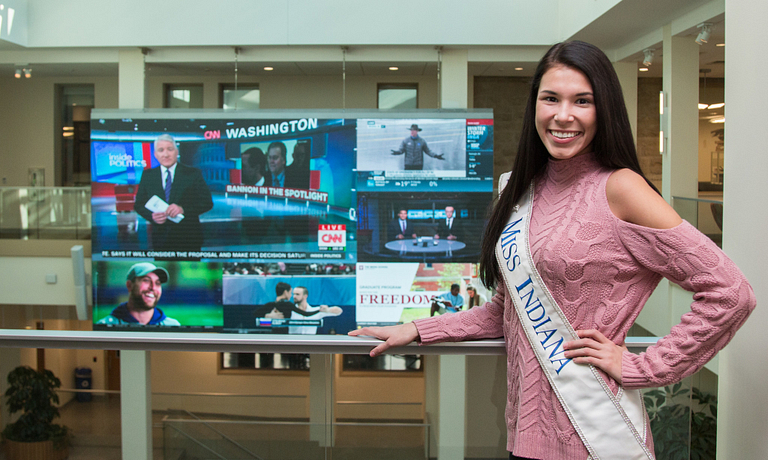 But in June, the now 19-year-old IU sophomore became one of the youngest to hold the title. And, within the Miss America circuit, she's also one of the first Native Americans to represent Indiana.

"One of my absolute favorite parts of this job is inspiring others," she said. "Letting people know that you can accomplish anything – no matter how old you are or what your skin color is – is incredible and humbling." 

Overwhelmed at first with the responsibilities – which include numerous appearances all over the state – Begay took a short hiatus from her studies at Indiana University Bloomington last semester. But Begay is back in action for the spring semester, and more determined than ever to further her education and inspire others along the way.

While her struggles and insecurities didn't magically melt away when she stepped on stage, little by little she felt herself become a more confident and goal-oriented person. 

"I just want to spread the message to anyone struggling to 'hang in there.' While sometimes things might seem hopeless, it's really not," she said. "The odds were never in my favor, but I made them in my favor."

She said her personal recipe for accomplishing goals is "a passionate heart, kindness and determination."
Begay, a double major in journalism and Spanish, will juggle her course work alongside her Miss Indiana duties, which include helping with the local pageantry scene at IU, reading to elementary school children and volunteering with various organizations.

"I have been nothing but impressed with her drive and determination to excel in all that she does in and out of the class room," said Rick Mulcahy, her academic advisor within IU's Hudson and Holland Scholars Program. "I have no doubt she will continue to excel academically despite the heavy time commitments she has elsewhere."
Making new friends on campus, taking part in IU Dance Marathon and learning as much as possible also top her to-do list for this semester. But her most important goal is to "use her crown as a megaphone" and champion for domestic violence awareness, especially among college-age students.

"I know how easy it is to fall in love and think you've found the one," she said. "I ignored many different signs that my partner was indeed a borderline emotional abuser. Although it hurts, there is a healing process but also a huge learning curve for victims to overcome."

In addition to speaking on the issue, she plans to fundraise for shelters across the state, including Bloomington's Middle Way House.

Whether she's here on campus or traveling the state for her Miss Indiana appearances, the Pittsboro, Indiana, native is proud to not only be representing her home state but also Indiana University.

"I'm definitely Hoosier proud," she said.