Most Indiana University Bloomington students have had at least one class in Ballantine Hall before graduation, and tackling the steep stairs in the iconic building in the heart of campus is a rite of passage for staff, faculty and students alike.
That's why a two-year renovation project at Ballantine Hall, slated to begin in fall 2018, will require a bit of fancy footwork by administrators to schedule classroom space.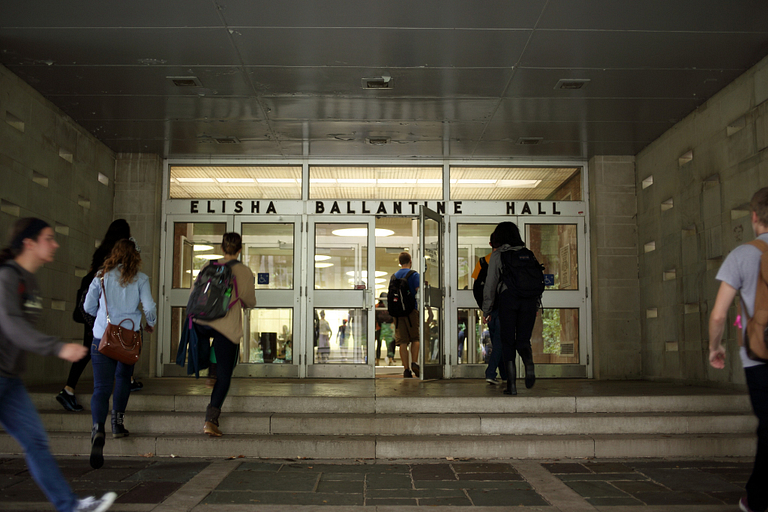 Ballantine's 77 classrooms and three auditoriums are home to about 25 percent of all classrooms and about 30 percent of all general inventory rooms. The building accommodates just over 15 percent of all regular classes that meet on campus.
"This much-needed renovation project will refresh and revitalize a vital building that is a cornerstone of our instructional space here on the Bloomington campus," associate vice provost and registrar Mark McConahay said. "The challenge that faces us for the fall semester and throughout the duration of the project is to use our teaching space as efficiently as possible and to find appropriate instructional space during the period when Ballantine isn't available."
How does this project affect faculty?
Many classes traditionally taught in Ballantine will be taught in alternate locations. For classes that remain in Ballantine during construction, steps will be taken to minimize the noise and other effects of renovation work.
Since Ballantine makes up such a large chunk of IU's classroom space, the rest of the campus will feel a ripple effect from the renovation, McConahay said. That could mean more evening classes, more classes taught outside the core of campus or more classes taught in spaces not initially designed for instruction.
While McConahay said his office has not yet identified all the replacement rooms needed during the renovation, he has:
Designated 14 classrooms at Lindley Hall – which housed some classes for the School of Informatics, Engineering and Computing, now held in the newly constructed Luddy Hall – as alternate locations.
Identified a set of student technology classrooms to be repurposed for instruction.
Begun working with Residential Programs and Services to identify potential space for use.
Begun working with the Alumni Association for potential classroom space.
Begun working with schools and departments to schedule any available classrooms.
How are faculty assigned classrooms?
Faculty members primarily work through their school, department or unit scheduling officer to schedule classes. The registrar's office is responsible for scheduling general inventory rooms, which make up the bulk of Ballantine's classrooms.
Room scheduling policies operate under a priority system, which includes:
Submitting a class schedule by the Feb. 1 priority deadline.
Determining whether the class is a prime-time versus non-prime-time offering.
Giving priority to standard time/day sequences, with the top priority given to 50-minute classes held daily, 50-minute classes held three or four days a week or 75-minute classes held twice a week.
Other classes are scheduled as rooms become available.
Why do faculty need to know this now?
Room scheduling for fall 2018 is happening now, with the first round of schedules expected to be complete by Feb. 1. In a typical year, about 100 classes are turned back to the requesting school, department or unit, which kicks off a negotiation process to find a different time or location. This year, McConahay said his office expects between 300 and 500 class requests may require alternative locations or times.
Normal room scheduling should return by fall 2020.
Faculty with questions about the process should contact their department scheduler first, and then email regsched@indiana.edu for additional information.
What will the renovations include?
The project will renovate the building's infrastructure – heating, cooling, roof, elevators, lighting, electrical and fire protection – as well as classroom and public spaces. It will be done in two phases, beginning on the south tower and then moving to the north tower once the south tower is complete.